Transforming Food And Health In Native Communities Through Vertical Farming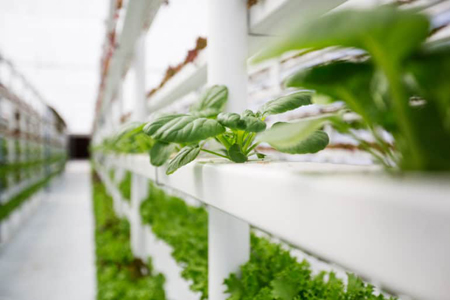 7 Generations, a Washington State-based AgTech farm development and food distribution company is introducing indoor vertical farms to Native communities across the United States. The company's big vision is to transform the health of Native communities by bringing AgTech education and indoor vertical farms into Native American classrooms. The initiative consists of a STEM (science, technology, engineering, and math) curriculum for K-12 students, a Grow Healthy Food Road Tour, and a business incubator indoor vertical farm. The goal of the initiative is to help Native communities achieve local food security, energy independence, improve wellness, and increase economic development, with a focus on youth. "The Native youth AgTech initiative takes a culturally correct, systems approach in addressing three pressing needs in Indian country related to—Food, Energy, Jobs," Ted Treanor, Co-Founder of 7 Generations, says.
Native American reservations often don't have access to healthful, nutritious, and affordable food options. American Indian and Alaskan Native tribal members also face increased rates of poverty, suicide, diabetes, and other chronic diseases, as well as chronic unemployment, low graduation rates, water shortages, and the lowest income of any ethnic group in the U.S. Native youth are particularly vulnerable in facing these challenges, as well as economic opportunity and access to the necessary resources to create thriving food and agriculture businesses.
According to Ted Treanor, 7 Generations, numerous social impact organizations, major corporations, and ag universities see an opportunity to work with young food AgTech (STEM) scholars from Native communities to ensure the creation of the next generation of Native professionals in food and agriculture, and to provide them with the necessary tools to thrive through the STEM AgTech initiative. The initiative involves providing solar power modules and indoor gardens to classrooms for three-hundred tribes, providing a twenty-foot container farm for seventy-five tribes, and a STEM curriculum consisting of AgTech farming, regenerative agriculture, food safety, food and nutrition, farm economics, and renewable energy. The STEM curriculum offers "hands-on learning about nutrition, renewable energy, and environmentally responsible sustainable farming as the priorities that will lead Native youth to higher education and employment opportunities."
The initiative also includes a 12-state Grow Healthy Food Road Tour across reservation-dense areas in Indian country, touring each of the reservations in an all-electric powered semi-truck equipped with a fully operational vertical farm and solar array. Eugene Wilkie, a Native American and Co-Founder of 7 Generations, says, "By taking the farm to the People, we are assured that over an academic school-year, many Native Americans will be exposed to clean solar energy and healthy indoor vertical farming, which will improve the adoption of this initiative—a new way to honor the old ways". There will also be a business incubator indoor vertical farm pilot that will be sited on one reservation. If successful, the pilot will be replicated on other reservations and will become a catalyst for creating many year-round jobs.
Indoor farm systems offer significant benefits to at-risk Native American youth and Native communities, including access to year-round, healthy, non-GMO, pesticide-free, fresh produce while using less water. The indoor farms and STEM curriculum also provide social capital, community well-being, civic engagement, and a brighter future, "The STEM AgTech initiative is inspiring a new generation of informed consumers, who are armed with education and hands-on experience that leads to higher education, job certifications, and future career opportunities, in other words—Hope!" says Eugene Wilkie of 7 Generations.
Morgan Murphy is a research and writing intern with Food Tank, as well as an aspiring herbalist, avid health researcher, and student. She is currently studying anthropology at New York University with a concentration in food studies, health, and policy, and is writing a thesis about organic regulation. Morgan has experience working with nonprofit organizations and works for an herb farmer at her local farmers market. Originally from Missouri, she resides in Brooklyn. In her free time, she enjoys the outdoors, cooking, dancing, and making DIY herbal products.
This article was republished from Food Tank.
See also:
The World's Smallest Garden Is Created In New York City
How Native American Food Is Tied To Important Sacred Stories