Truth And Reconciliation For Native Peoples Begins In Maine
"Dawnland" is a must-see documentary on PBS's Independent Lens.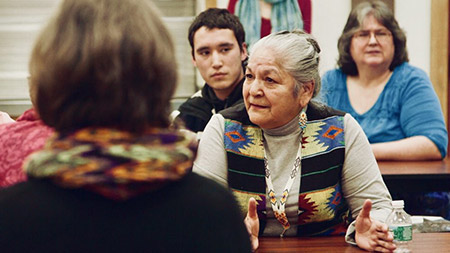 The Wabanaki, "People of the Dawn," have lived for 13,000 years in the land better known today as Maine and parts of Canada. There were once more than 20 tribes in their confederacy. Today, there are four tribes left in Maine, of just 8,000 Wabanaki people living in the United States.
The documentary "Dawnland" isn't about this genocide of Native Americans that left so few Wabanaki people alive.
Directors Adam Mazo and Ben Pender-Cudlip's "Dawnland" is about the cultural genocide that took place in Maine from 1978 to 2012.
Most people in the United States—even in Maine—probably don't know there was genocide happening right here in the United States during our lifetime.
"Dawnland" takes a chilling look at the Maine-Wabanaki Truth and Reconciliation Commission, formed in 2012, to address the cultural genocide that occurred when Native American children were forcibly removed from their families and tribes by Maine's child welfare system from 1978 to 2012, after the passing of the Indian Children Welfare Act of 1978, which was meant to prevent that removal from happening.
A truth and reconciliation commission is a way to find the truth and the facts of what happened, to recognize the horrors that have happened and to ensure those same horrors never happen again. The Maine-Wabanaki Truth and Reconciliation Commission was formed with the inspiration of the Truth and Reconciliation Commission of South Africa, formed after apartheid, as a restorative justice tool.
Victims tell their stories, and the oppressors can share their experience too, without fear of prosecution. The tool has also been used recently in Canada to address Indigenous child welfare travesties in that country.
The commission offers "the chance to go back and say, 'This is what went wrong. We own it. We see it. We acknowledge it,'" explains Heather Martin, executive director of the Maine-Wabanaki Truth and Reconciliation Commission, in the documentary. "'And we're going to start something fresh, not based upon that wrong. We're going to start a new foundation and we're going to try something different.' I genuinely believe this is the most important thing the state has ever done."
Endorsed by the state of Maine, it is the first government-endorsed truth and reconciliation commission in the United States. The commission is also endorsed by five Wabanaki tribal chiefs.
The documentary, airing now on PBS and on the PBS website, provides valuable historical background on the history of Native American child welfare in the United States. "Dawnland" highlights the legacy of child removal and boarding schools popularized in the 1800s and utilized well into the mid-20th century. Viewed as a progressive policy in the "kill the savage, save the man" ideology, the policy found its way into state child welfare, and the idea that Native children are better off in white homes became entrenched public policy. Indigenous children were forbidden to speak their own languages, to communicate with one another, and denied any access to their traditional ways of life.
The documentary also notes that social workers and judges liberally apply white middle-class standards to Native cultures—cultures entirely different from their standards, and, unfortunately, seen as 'wrong.'
One white social worker interviewed in the film says, while laughing, "Two sneakers on the feet is sometimes more important than learning an Indian dance."
This is what contemporary cultural genocide looks like. In your backyard, and these are the government bureaucrats who think it's funny.
"The softest example of eradication is social integration," notes Gkisedtanamoogk, Mashpee Wampanoag, one of just two Indigenous members of the five-member Maine-Wabanaki Truth and Reconciliation Commission, in the documentary. "But the result is the same… no more rights, no more lands, no more Indians."
The documentary follows the Maine-Wabanaki Truth and Reconciliation Commission's statement-gathering process and collaboration with Maine-Wabanaki REACH (Restoration, Engagement, Advocacy, Change, Healing) as the groups, white and Indigenous alike, strive to understand, tell their stories, and find some reconciliation—or at least, truth. And, maybe, some healing.
The statements gathered from Indigenous adult survivors of Maine's child welfare system are emotionally charged and terrifying. The film also features useful and disturbing flashbacks to equally disturbing congressional testimony of Native peoples in the 1970s.
"Dawnland" also digs into a heated conflict between white and Native peoples.
"You don't take 500 years of mistrust and wash it away with one commission," notes TRC member Matthew Dunlap in the film, who also serves as Maine's secretary of state.
Yet a bigger question was asked by one of the Indigenous victims: "Why did it take so long" for the state to seek truth?
The film concludes with the issuing of the Maine-Wabanaki Truth and Reconciliation Commission's report in 2015. The film, released in 2018, also provides some useful facts on moving forward, and where the state is at with Indian child welfare today.
While the film suffers from an overuse of images of iPad screens recording victim's statements and the timeline is a bit fuzzy, the film itself is an incredibly powerful look at something that might otherwise be forgotten to the shelves of history, and a process that would wisely be modeled in states nationwide, where Native child removal can be as much as 20 times the rate of white child removal.
While PBS is airing the documentary now—during the time of year our country's collective mind glances toward Indian Country—PBS might be wise to make the film available year-round.
In case it doesn't, try to see it while it's still online (and free).
"Dawnland" won a National Emmy award for Outstanding Research and is now available on PBS Passport and for educational purchase via the Upstander Project.
This article was produced by Local Peace Economy, a project of the Independent Media Institute.
Valerie Vande Panne is a writing fellow and chief correspondent at Local Peace Economy, a project of the Independent Media Institute. She is an independent journalist whose work has appeared in Columbia Journalism Review, In These Times, Politico, and many other publications.
See also:
The Hidden Health Inequalities That American Indians And Alaskan Natives Face
Indigenous People Invented The So-Called 'American Dream'