UpStaging Lung Cancer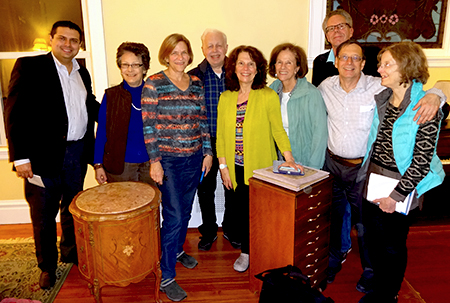 Just over 4 1/2 years ago, my dear college friend Art thought he was just going to see the doctor for bronchitis when his chronic cough would not go away. After a second visit and a chest x-ray, the news was unexpected and quite shocking: a lifelong non-smoker, Art was diagnosed with stage 4 lung cancer. He was given 6 – 9 months to live, having understood himself until that moment to be a healthy man in his early 50's. That he is alive today is nothing short of grace and a testament to his extraordinary spirit. But his past 4 1/2+ years have been very painful and challenging, and with the passing of each day, the looming weight of mortality grows more and more heavy.
A stage 4 non-smoker lung cancer diagnosis is a shock to most anyone, and their network of friends and family as well! And sadly, the number of people being diagnosed with lung cancer, including young people in the prime of their lives, is growing rapidly. "The reality is that anyone can get lung cancer. It is an equal opportunity disease that doesn't discriminate based on age, ethnicity, socio-economic level, or lifestyle," reflects Hildy Grossman, a psychologist and cabaret singer who herself was diagnosed with non-smoker lung cancer 10 years ago.
"Every two and a half minutes someone is diagnosed with lung cancer," Grossman. Recognizing that lung cancer takes more lives annually worldwide than breast, prostate and colon cancers combined, in 2008, Hildy founded Upstage Lung Cancer, a Brookline, MA non-profit using the performing arts to increase awareness, destigmatize the disease and raise funds for cutting-edge early detection research.
Three thousand miles away in San Francisco lung cancer survivor Bonnie J. Addario works to achieve the same end through the Addario Lung Cancer Foundation (ALCF) founded in 2006 and Addario Lung Cancer Medical Institute (ALCMI) established in 2008.
"There has always been a false sense of security that lung cancer can't come to your house if you don't smoke or are young," says Addario. "This is definitely a misconception that people need to know about."
The Addario Lung Cancer Foundation has embarked on a Young Lung Genome research study, the first-ever research study which includes patients worldwide focusing on patients less than age 40 when diagnosed. The Young Lung Genome Study hopes to provide insight into genetic risk factors, specific disease biomarkers and the unique lung cancer biology of young people. Unfortunately, as was the case with three vibrant, athletic, well-educated young women, Emily, Sandy and Corey, younger people tend to have more advanced lung cancer at the time of diagnosis than older patients. All three young women were diagnosed at stage 4.
Corey, age 23, says, "When I was diagnosed I had just run a marathon. I was on top of the world and thought I was invincible. I never believed that anyone like me could get lung cancer." As ALCF's patient spokeperson/advocate for the Genomics of Young Lung Cancer Study, Emily says, "I am driven to candidly share my story with everyone. I hope that people will pass it on to others because my story could be anyone's story. I want to survive and thrive." Emily and all the Young Lung Study participants hope their involvement will benefit future patients of all ages.
The Addario Lung Cancer Foundation and UpStage Lung Cancer have joined forces to present SingOut! To Upstage Lung Cancer on Friday, May 20 at 7:30 pm at Dana Farber Boston Red Sox Jimmy Fund Auditorium to raise money for the Young Lung Genome Study, and to bring together Boston's musical and medical communities with the common goal of upstaging lung cancer once and for all.
Performers in the show include young voices, Claire McFarland, 13, of Newton, who will join singer/songwriter Linda Marks and saxophone player Dave Birkin on an original song Linda wrote for UpStage Lung Cancer, and Northern Lights, a Newton North High School a cappella group. The Longwood Symphony Orchestra, whose members are primarily health care professionals, will provide a brass quintet, and the popular Bo and Bill Winiker trio will be featured performers, along with Hildy Grossman of the Follen Angels with Greg Woodsbie and adult a cappella group Peking and the Mystics.
Guest speakers include Dr. Deborah Morosini, a leading pathologist and sister of the late Dana Reeve, and K.C. Oakley of Jill's Legacy.
To purchase tickets, go to www.upstagelungcancer.org
Event details:
SingOut! To Upstage Lung Cancer
Friday, May 20, 2016 7:30 pm
Boston Red Sox Jimmy Fund Auditorium
35 Binney Street Boston
Tickets $25 general admission, $40 reserved, $100 VIP and complimentary for Lung Cancer Survivors