Ursula K. Le Guin Obliterates The Bundy Militia – And Oregon's Largest Newspaper – In 194 Words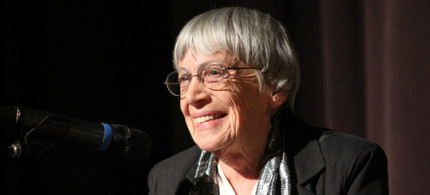 Award-winning author Ursula K. Le Guin has lived in Oregon for more than half a century, and has regularly visited the region surrounding the Malheur National Wildlife Refuge for 45 years. Ever since armed militants took over the refuge in a dispute over ranching fees on public lands, Le Guin has "been following the situation very closely," she said in an email to ThinkProgress.
So when she saw an article titled "Effort to free federal lands" in the Sunday Oregonian, she did what any self-respecting, world-renowned author would do.
She wrote an epic Letter to the Editor that was a spirited defense of American public lands:
The Oregonian's A1 headline on Sunday, Jan. 17, "Effort to free federal lands," is inaccurate and irresponsible. The article that follows it is a mere mouthpiece for the scofflaws illegally occupying public buildings and land, repeating their lies and distortions of history and law.
Ammon Bundy and his bullyboys aren't trying to free federal lands, but to hold them hostage. I can't go to the Malheur refuge now, though as a citizen of the United States, I own it and have the freedom of it. That's what public land is: land that belongs to the public — me, you, every law-abiding American. The people it doesn't belong to and who don't belong there are those who grabbed it by force of arms, flaunting their contempt for the local citizens.
Those citizens of Harney County have carefully hammered out agreements to manage the refuge in the best interest of landowners, scientists, visitors, tourists, livestock and wildlife. They're suffering more every day, economically and otherwise, from this invasion by outsiders.
Instead of parroting the meaningless rants of a flock of Right-Winged Loonybirds infesting the refuge, why doesn't The Oregonian talk to the people who live there?
Ursula K. Le Guin
Northwest Portland
Le Guin told ThinkProgress that the letter was printed unchanged, and she "got a pleasant note informing me it was to be published," but nothing more from the paper or the author. A request for comment to the Oregonian's public editor went unanswered as of publication.
The science fiction author is not alone in wanting the ranchers to return Malhuer to the public. Most Western voters, according to a recent poll, disagree with Bundy and do not want the states to take over public lands.
"We have been going out to the Steens Mountain area, on and near the Wildlife Refuge, for 45 years — first to teach summer classes at the field station, later just to be there in the grand high desert country," she said. "We spend a week every summer on a cattle ranch very close to Refuge lands. I am proud to consider the family who own the ranch and the local hotel as friends, and I have learned a great deal from them. The Refuge Headquarters is a quiet, fragile, beautiful little oasis that is particularly dear to us."
Le Guin, the Hugo- and Nebula-award-winning author of such sci-fi and fantasy classics as A Wizard of Earthsea, The Left Hand of Darkness, and The Dispossessed, often writes about political organization and environmentalism.
She believes the state and federal government "should speak up loud and clear in support and defense of the law-abiding citizens of Burns and the whole region."
"They should make it clear — by words first, then by deliberate actions — that ranting about the Constitution does not get you a permit to break the law, fail to pay your grazing fees, cut a rancher's fences, steal government cars, misuse public property, and keep a lot of good American citizens under a stupid, brutal reign of terror for (now) 18 days," she said. "How much longer? Enough is enough!"
The daily cost of the illegal occupation totals $133,400 per day, according to a ThinkProgress estimate.
Le Guin said the standoff would go on as long as the government allows it to, "unless they choose to leave it up to the Bundy boys and their daddy and their buddies."
Asked if she thought Bundy and his "bullyboys" would take their spare time in the refuge to write any good fiction, Le Guin replied, "Yep. When pigs fly."
Ryan Koronowski is the Editor of Climate Progress. He grew up on the north shore of Massachusetts and graduated from Vassar College with dual degrees in Psychology and Political Science, focusing on foreign policy and social persuasion. Previously, he was the Research Director and Rapid Response Manager at the Climate Reality Project. He has worked on senate and presidential campaigns, predominantly doing political research and rapid response. Ryan is pursuing his M.S. in Energy Policy and Climate at Johns Hopkins.