Want To Avoid Toxic Cosmetics? Look For This Mark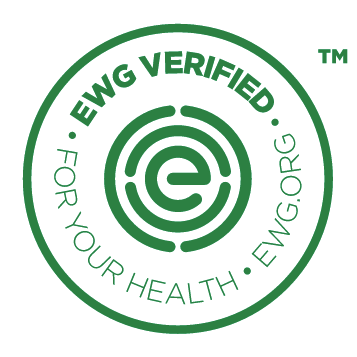 We often hear about the toxic brew of chemicals lurking in everyday items such as makeup, shampoo and nail polish, so how do we know which products won't do us any harm?
Today, the Environmental Working Group (EWG) launched its "EWG VERIFIED: For Your Health" program in order to help consumers avoid toxic and potentially harmful goods.
"So when you're walking around Target, or Whole Foods or Walmart, looking for safe, chemical-free products that have been checked for transparency, hazardous ingredients and for GMPs [Good Manufacturing Practices], look for the EWG VERIFIED mark," Jocelyn Lyle, the EWG's vice president of development, told EcoWatch.
Just because a product comes from the supermarket or a drugstore doesn't mean it's safe to use on our bodies. The U.S. Food and Drug Association (FDA) does not approve or review cosmetic products and ingredients before they hit shelves. And it's actually the responsibility of the manufacturer or distributor of a cosmetic to ensure that their products are safe when consumers use it, not the FDA.
This first-of-its-kind verification program is based off the environmental nonprofit's already popular Skin Deep cosmetics database that rates the safety of more than 64,000 consumer products on a 1 to 10 scale, with 1 representing the best and 10 representing the worst.
To achieve the new EWG VERIFIED seal, products must receive a "green" rating score between 1 and 2 and meet additional criteria set by EWG scientists. According to Lyle, there are about 5,000 products from 300 brands in the database that belong to this category.
EWG VERIFIED products are free of substances on EWG's "unacceptable" list (i.e. parabens, formaldehyde, triclosan, animal-derived ingredients, phthalates, microbeads and more). They also meet limits outlined in EWG's "restricted" list, which includes ingredients that have been banned or restricted by U.S. or international government agencies or other authoritative public health bodies, such as the World Health Organization.
"We're asking for what's not found in packaging, not found on their website, not found on their label," Lyle said. "We would like to work with brands that we know are committed to health and chemical-free cosmetics and personal care products."
And yes, it'll be an actual sticker or seal that brands can emblazon on their products. Check it out:
"For more than a decade, tens of millions of people have relied on Skin Deep ratings to limit their exposure to ingredients that do not meet our rigorous standards, but are still found in cosmetics because of weak regulations," said Ken Cook, EWG president and cofounder. "EWG VERIFIED goes beyond basic ingredient labels to hold companies on the cutting edge of making the healthiest products to an even higher standard."
"Our mark will make shopping even easier for overwhelmed consumers who want to quickly find a bottle of shampoo or a tube of toothpaste that is better for their health," Cook added.
EWG VERIFIED is initially launching with the companies Beautycounter and MyChelle Dermaceuticals. Other companies and products will be added to the program in the coming weeks.
"Beautycounter is mission-driven—we use a rigorous ingredient selection process to ensure we're making safer, effective skin care and beauty products, while simultaneously working to move the market and policy toward cleaner, healthier ingredients," said Gregg Renfrew, Beautycounter founder and CEO. "Early participation in the EWG VERIFIED program is in full alignment with who we are."
The EWG aims to increase transparency in the marketplace with its verification program. "Only products that include robust labels and meet our robust criteria, as opposed to minimal government standards, will be awarded our mark," said Nneka Leiba, EWG deputy director of research. "We aim to spur the development of safer products in the marketplace."
Eventually, the EWG plans to expand the program to include other goods, including household cleaners, food and more.
"It's not just personal care products that are poorly regulated—it is household cleaners, food and a wide range of other goods," Cook said. "It is our hope that products bearing the EWG VERIFIED mark will be available to consumers everywhere they shop to better inform their buying decisions."
See also:
Sunscreen Manufacturers And Dermatologists Depend On You Being Misinformed So They Can Sell Their Snake Oil
EarthTalk: The Parabens-Breast Cancer Link