Weekly Musings 11/10/15: Natural Living Expo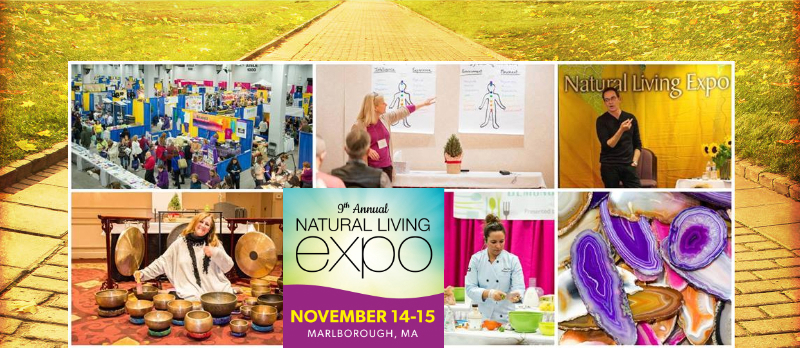 Today we're launching the new Weekly Musings column in celebration of the ninth annual Natural Living Expo being held this weekend, Nov 14-15, in Marlboro, MA. The big day for 2015 has finally arrived!
A year's worth of meticulous planning by expo producer Michella Brudner, myself and our staff make this expo New England's largest mind/body/spirit annual event. A completely full house of exhibitors, workshops, food demos and samples, shopping, healing treatments and soothing spaces ensures that you can explore alternative medicine and green living ideas, products and services all weekend long and still not see it all.
But do all those healing treatments really work?
I used to ask myself that same question in my first two decades of publishing Spirit of Change. I experienced, read or heard about thousands of healing techniques, teachers and modalities during that time, and especially when I was positively convinced some healing treatment was completely a sham, I would receive a timely recommendation for exactly that practitioner or technique from someone I trusted and respected.
Ultimately I came to understand how much healing is belief-based. I learned there is a patient for every healing treatment, practitioner or pathway. But not every path is for every person. While something may not work for me, it might be the vital key for your wellbeing once you discover it.
Much like Dorothy's twister in The Wizard of Oz, holistic expos create a potent energy vortex drawing together a vast array of people, information and resources that can lead to personal health transformation. We are each born with our own inner healer who knows exactly which exhibitor booth, workshop or product to engage with at the expo. Give yourself the affirmation to heal and follow your yellow brick road and you will find your healers along the way.
Carol Bedrosian is the publisher of Spirit of Change holistic magazine.
See also:
10 Tips for Quickly Relieving Stress
Seeds of Change —Transitions in Mothering