Weekly Musings: Expo Afterglow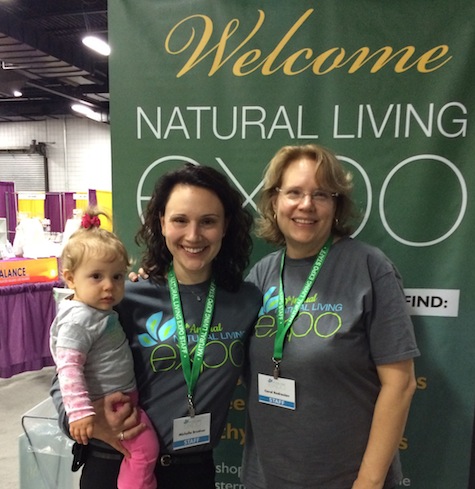 I believe this is the first year I actually enjoyed the Natural Living Expo! While I dearly love the expo, the staff, vendors, speakers and all the 9000 attendees who somehow find parking spaces, producing an event this big makes you reach deep, both during the weekend production and all the months preceding. You grab moments of enjoyment where you can and then savor the afterglow.
While there are so many people I didn't get to meet this year, I shared extraordinarily meaningful moments with others. Good friends old and new showed up everywhere. Even amidst the rush of being pulled in many directions at once, a space opens up when the time is precisely right and there is Nancy Canning before you at the elevator and you get to do the greeting you hoped for. Or Sherri Snyder's painted Reach Deep stone that cradled perfectly in my fingers the first time I picked it up from among its dozens of other equally attractive family members. Unbelievably, Sherri had gone home and painted all those gorgeous talismans on Saturday night after selling out her entire stock that day.
I met up with Susan Pollack of the Brahma Kumaris on Sunday in front of Lucy's Love Bus. She slipped me a present she had been sweetly toting around all day and delightedly reported that the 12:30 guided meditation on Saturday in the Experience Mediation Room had been completely full at 50 without a single defector. Now that's success!
I marveled at the continuous lines at the Ecopolitan booth of Dr. Adiel Tel-Oren, alternative skin and colon cancer expert, even while staffed by assistants when he was away from the booth. Those lines of patient people waiting for more were a testament to the vital health information Dr. T presented in both Saturday and Sunday workshops and the readiness of people to reclaim their health through their own healing efforts.
We are building a new health paradigm with our Natural Living Expos and Spirit of Change Magazines and each one of us plugging directly into the healing source we are born with that heals us throughout our entire lives. Knowledge is power. The more you know about it, the better you will work with this inner healer.
In addition to all the healing, connections and sales that took place, this year the expo donated over $12,000 to our various charities: Lucy's Love Bus, ACAM Guatemalan Midwife Center and Ecopolitan. A vividly bright and colorful sunset closed the day on Sunday with the sky itself mirroring my own expo afterglow.
Carol Bedrosian is the publisher of Spirit of Change Magazine.