What Small Farms Need To Compete With Corporate Food
Most small farms have to follow the same rules as big corporate ones. In Maine, flexible food ordinances have increased the number of small farmers.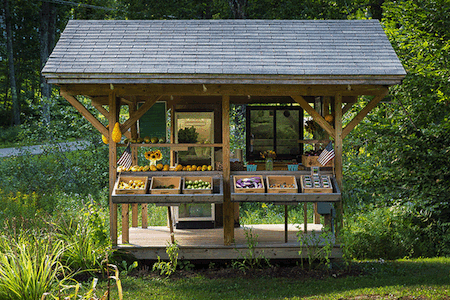 When Heather Retberg started selling raw milk a few years ago, she ran up against an obstacle that she felt sure would ruin her family's farm.
Retberg, of Penobscot, Maine, remembers the state quality assurance and regulations inspector walking up her driveway to deliver the news: Her farm of two goats and six cows didn't have the proper facilities to bottle and sell raw milk. Nor could it continue to use the neighbor's facility to slaughter its chickens.
The family had few options: Construct their own facilities, costing thousands of dollars they didn't have; drive hours to an approved facility and risk exposing the food to pathogens; or stop farming.
"I had this feeling in my gut, 'oh no we're done,'" Retberg said. "This is how small farms disappear."
But they didn't disappear. In March 2011, the Retbergs attended a town meeting to discuss a proposed local law: the Local Food and Community Self-Governance Ordinance. It protected small farmers' rights to produce their own food without licensure and inspection. The ordinance passed, prompting the Retbergs the very next day to affix a sign at the end of their driveway advertising raw milk, along with poultry and eggs.
Since 2011, ordinances have passed in 16 other Maine towns, the most recent of which was in March, in the town of Liberty, home to fewer than 1,000 people.
Small farmers across the United States are fighting for food sovereignty—the freedom to produce and sell food without government regulation. Creating local ordinances is just one of the ways farmers and other activists are advocating for freedom from rules they say favor large farms. The cost and scale of licensing, proper facilities, and packaging make sense for large-scale farms, they argue, but not for farmers who want to sell their products to neighbors.
Maine's local food ordinances were tested in the 2014 state Supreme Court case of farmer Dan Brown, who sold raw milk at his local farmers market without having a license or inspected facility. Brown lost the case, which John Bott, communications director at the Maine Department of Agriculture, Conservation and Forestry, said upholds state food regulations over ordinances.
"The Court was very clear in stating that local ordinances are valid only when not pre-empted by state law," Bott said in an email.
But this doesn't mean ordinances should be discounted as a valid step toward food sovereignty, said Michael Fakhri, associate law professor at the University of Oregon and a faculty leader of the Food Resiliency Project there. These measures, he said, represent political pressure on government to address the needs of the people.
Regardless of the court's ruling, Retberg believes that Maine's constitution, which provides "power inherent in people," allows for ordinances to give control to small farmers. The Retbergs sell their milk via a private buying club, and her customers sign a contract agreeing they understand the risks of raw milk. Since the ordinance passed, inspector visits have been rare, the Retbergs said.
Bott argues that Maine has a friendly attitude toward small farmers, as evidenced by the rise in raw milk sellers—increasing from 11 in 2000 to 64 today. Over the past five years, the number of small farmers in Maine also has increased by several dozen.
Achieving food sovereignty while ensuring food safety is a question that regulators, farmers, and lawmakers grapple with. Safety issues around raw milk produce a steady stream of headlines. According to data collected from the Centers for Disease Control and Prevention, raw milk is roughly 150 times more likely than pasteurized to cause disease.
But small farmers say the size of their operations gives them greater control over safety. They also say they feel a financial pressure to keep their food safe: One mistake could put a small farmer out of business, while large-scale farms rebound more easily, as California-based Foster Farms did from its 2013 Salmonella outbreak that caused 634 illnesses in 29 states and Puerto Rico.
"People are smart enough to ask pertinent questions," said farmer Ken Lindner, who runs a bison farm with his wife, Kathy, in Northern California. "As soon as food becomes anonymous, you don't know who the farmers are, that's when the health department should get involved."
In some cases, regulations can be freeing for farmers and consumers because of the trust they build over safety, Fakhri points out. He said he's spoken with small farmers who say they've developed good relationships with United States Department of Agriculture inspectors and feel confident those regulations ensure food safety. The key, Fakhri adds, is giving small farmers a voice equal to that of large farmers.
"Rather than saying we don't need regulations, we can create regulations that give small farmers flexibility and give consumers confidence to buy from small farmers," he said.
But relationships with inspectors aren't always harmonious. Doniga Markegard runs a 1,000-acre farm with her family in the San Francisco Bay area. They produce milk, cheese, and yogurt for family use from two cows, and sell about 30 gallons of extra milk each week to neighbors. In 2011, the California Department of Food and Agriculture asked the Markegards and other small farms to obtain a license or stop selling raw milk.
"As a two-cow milk operation, we would have been required to meet the same regulations as a 2,000-cow milk operation," Markegard said. "There isn't a need for a half-a-million-dollar facility, as long as it meets certain cleanliness guidelines."
To combat this, small farmers met with the CDFA and eventually proposed legislation that would have allowed regulators to inspect small farms but lifted restrictions on the type of facility they must use. The bill ultimately failed, which Markegard attributes to opposition from big agricultural interest groups. However, food advocate Yannick Phillips, who helped lead efforts on the legislation, said she appreciated the responsiveness of the CDFA to the phone calls and letters from small farmers who responded after the raw milk raids. Markegard said regulators haven't called again to ask to inspect facilities.
Retberg has seen legislation to support food sovereignty rise and fall in Maine, most recently a resolution proposing a constitutional amendment on the right to food sovereignty. It failed at the end of March, but Retberg said the effort is important.
"It was really frustrating (when it failed), but encouraging because each time these bills go through the Legislature more people see that and support it," Retberg said.
When legislation fails, turning to the judicial system for solutions can sometimes work, said Peter Kennedy, an attorney with the Farm-to-Consumer Legal Defense Fund who oversees defense of litigation against small farmers. Kennedy recalls Wisconsin dairy farmer Vernon Hershberger, who was charged with a criminal misdemeanor for distributing raw milk through a private buying club. He was acquitted of three of four charges in 2013. Kennedy said the case shifted attitudes toward raw milk.
To find other solutions for achieving food sovereignty, Fakhri emphasizes the Farm Bill, legislation Fakhri tells his students is more critical than the U.S. Constitution. Currently, the Farm Bill directs the biggest farming subsidies to the biggest organizations. But that could change, Fakhri said, given that the bill is revised every five years. Small farmers could be the focus, the ones who receive tax credits and subsidies. New farmers, or ones who focus on soil health could receive incentives. It's changed before: In 2014 the bill gave small producers greater access to organic certification.
The Lindners, who said they almost lost their spot in Los Angeles-area farmers markets because they couldn't access affordable commercial freezers that met the requirements for their bison meat, suggest that farmers who sell directly to consumers be exempt from regulations. And it's not just government regulations, Ken Lindner pointed out, but packaging industries that are set up to help large farms. The Lindners found, for example, that the minimum number of boxes they could order for their meat was 25,000.
When these systems don't fit small farmers, the farmers find solutions elsewhere.
"We have this tool of democracy that we can pick up and use," Retberg said. "We don't have to ask to sit at the table. We can make our own table."
Kate Stringer wrote this article for YES! Magazine. Kate is an editorial intern at YES! Follow her on Twitter @KateStringer2.
See also: