What Was God Thinking?!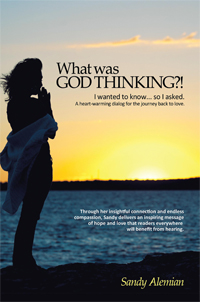 Sandy Alemian
What Was God Thinking?!
Balboa Press, Bloomington, IN • 2011
Sandy Alemian doesn't want to go it alone, and she knows she doesn't have to. After years of only talking "to" God, she quieted herself, listened, and found God speaking back to her. What was God Thinking?! chronicles Sandy's open and humorous two-year conversation with God. Am I lovable enough? Why am I eating too much? What should we do about the dog? God hears it all, and answers. Exploring her desire to reach more people through writing and speaking, Sandy allows God to guide her from a place of fear to one of love and hope. Moving from shame (I should already be there!) to fear (What if it doesn't ever happen?) to joy (My audience is waiting for me) Sandy ultimately finds peace (It's not really about me.) By courageously revealing her very personal dialogues with God, Sandy shares her gift of being a "Spokesperson for Spirit."