Wildlands House-Sitters And Homestead Helpers Needed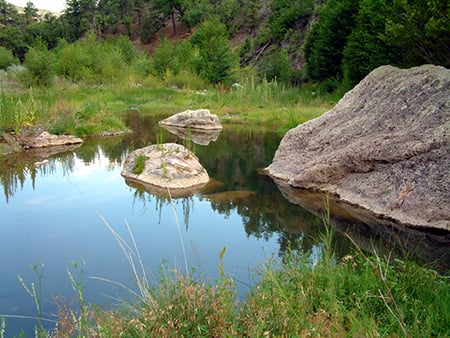 Both short-time House-Sitters and longer staying Homestead Helpers are being sought for periods of time here at Plant Healer's Anima Botanical & Wildlife Sanctuary: an incredible, isolated wilderness inholding 7 river crossings from the nearest pavement in the mountainous Gila Forest of S.W. New Mexico.
Anima is a United Plant Savers botanical refuge and U.S. Fish and Wildlife Service wildlife preserve, with a focus not on growing domestic crops but on conserving, reintroducing and propagating native medicinal plants, and on encouraging growth for wildlife habitat. The landscape is alive with ponderosa pines, piñon and oak, cottonwoods and willows, diverse flora and cactus, elk, deer, waterfowl, coatamundi, javalina, black bears, bald eagles, kingfishers and so much more. For thousands of years this exact bend in river and the volcanic cliffs above it were the select location for the sacred ceremonies and rites of the ancient Mogollon peoples, and the intense energy of this place continues to awaken and stir guests who open to it. There is no cell phone reception on the property, and only solar power for lights, making your time here an immersion into a timeless and natural world. Think of it as a retreat, in which you also contribute to the place and Plant Healer's healing mission.
House-Sitting For 1 To 3 Week Periods
It has been impossible for us to accept invitations to other states to teach, or to personally help spread the folk herbal mission, without trusting that there is somebody dependable here petting the cats, tending and enjoying our remote cabin home when we are gone.
If we are ever to experience new bioregions and help spread empowered folk herbalism in that way, we'll need someone or a couple committed to staying in a cabin here at our enchanting but isolated wildlands paradise for at least as long as we are gone.
We welcome applicants for any of several possible travel periods in the course of the next two years. The length of time needed will be from 5 days to 3 weeks, depending on how far we will be traveling and how many venues we will be teaching at. Possible upcoming house-sitting periods are in Feb, Mar, April, Aug, Sept, and Oct of 2017 and 2018. We also greatly need someone for this June 12th through 19th, while taking our young daughter Rhiannon to attend her ever first Plant Healer event!
If interested, please email us for an application, with "House-Sitting" in the subject line: PlantHealer@PlantHealer.org
Longer Stays Here As A Resident Homestead Helper
We have gotten so busy working on Plant Healer Magazine, Herbaria Monthly, annual events, and writing our own books and future courses, that we are also opening up the sanctuary to a limited number of people living here and helping for either short stretches or an extended period of time. In exchange for your glad assistance, resident helpers will be given a lovely little cabin in the pines to lodge in, as well as some instruction in the most fundamental aspects of living in an off-grid homestead.
Helpers are invited for 2 to 12 week stays, and we will offer extensions when desired and appropriate. If someone ends up feeling called to commit to this place and mission, we can consider a longterm or potentially lifetime arrangement.
We ask for 3 to 6 or hours of assistance per day, 5 to 6 days a week depending on needs. Tasks include the day to day necessities of firewood gathering and chopping, structure and rainwater system maintenance, solar system maintenance, food processing and preparation, and seasonal wild foods gathering. The rest of the time is for you to enjoy this amazing wild river canyon, swim, read, rest, or create. While we seldom need more than one helper, for the sake of social interaction we can try to schedule 2 or more helpers here at a time.
Resident caretaker James will give directions regarding maintenance and outdoor chores, and Kiva and Rhiannon will provide some instruction when asking for help with tasks, likely to include: cooking with woodstoves/campfires/hornos, creative cuisine, food preservation, ecosystem restoration, rainwater caching, firewood procurement, wildfire preparations, learning or deepening skills while experiencing what it's like to reconnect with one's self and the land in a deep and meaningful way.
Due to our many existing tasks and deadlines, we cannot promise instruction in herbalism to short term helpers, though we can provide herbal and Anima/Otherworld books and home-study course materials (laptop required) free while you are here. We are able to offer personal herbal instruction, personal mentoring or life counsel only in the case of someone committing longterm to this sanctuary and work.
If interested, please email us for an application, with "Homestead Helper" in the subject line: PlantHealer@PlantHealer.org
To learn more about Anima Sanctuary land and its history, please read the archived articles at: www.AnimaCenter.org/blog