With Abortion Rights In Balance, Health Groups In Rural States Take Stand For Access
Maine set to become third state in the country to offer telemedicine abortion, expanding access from three clinics to 19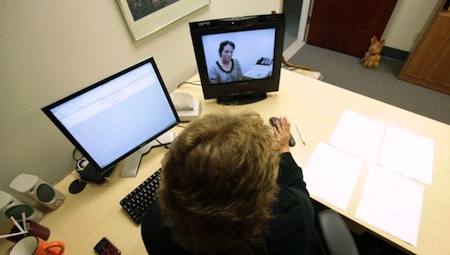 As the U.S. Supreme Court readies this week to hear its first major abortion case in almost a decade, and clinics across the country are being forced to shutter at a record pace, healthcare groups in rural states are doubling down on reproductive rights and abortion access.
Maine is set to become the third state in the country to offer abortion access through telemedicine technology, Maine Family Planning announced on Monday, joining Iowa and Minnesota as the only states where such services are available. Telemedicine enables people in early-stage pregnancy to obtain a pill-induced abortion while consulting a physician through video chat.
In Maine, that means patients who would have otherwise had to drive long distances, miss work, seek out childcare, or face other barriers to abortion access will now be able to receive those services at one of 17 Maine Family Planning centers. That expands the number of stand-alone abortion clinics in Maine from three to 19, a six-fold increase, the organization said.
Despite having the approval of the American College of Obstetricians and Gynecologists (ACOG), telemedicine abortion is effectively banned in 18 states through legislation that requires physicians to be present during the procedure, which consists of taking two pills.
Maine Family Planning communications director Jennifer Thibodeau told Common Dreams that the health group is hoping the expansion of these services will reduce stigma around telemedicine abortion. "We would love to see more organizations using this technology," she said. "The more we talk about it the more people will understand how it works."
As RH Reality Check points out, Maine "has one of the country's highest proportions of residents classified as rural, according to the state's Department of Health and Human Services (DHHS). Maine's DHHS notes that the state's rural communities tend to have higher poverty rates and lower incomes, making a strong case for remote medical services for those who may not otherwise have the means to access care."
The grassroots expansion of abortion access is particularly important as abortion providers in largely-rural states face an increasing political and legislative onslaught.
In Texas, legal restrictions have closed dozens of clinics, while the state's crackdown on funding for Planned Parenthood has led to a drop by more than 30 percent in provisions of the most effective methods of birth control, and a jump by 27 percent in Medicaid-paid births, according to a recent study. The case before the Supreme Court on Wednesday, Whole Women's Health v. Hellerstedt, challenges a bill that could close nearly all of the abortion clinics still standing in the state.
Leah Coplon, director of abortion services at Maine Family Planning, said Monday, "As the Supreme Court prepares to hear arguments on a law that shuttered most of the abortion clinics in Texas, the ability to expand access to abortion becomes even more meaningful."
In 2015, the Iowa Supreme Court ruled in favor of telemedicine abortion providers, rejecting a state rule requiring doctors to see patients in person, which the justices said created an "undue burden" on women seeking abortions from Iowa's three Planned Parenthood clinics.
With Whole Women's Health on the horizon, Thibodeau said, it is important to see a state like Iowa "upholding safe, legal methods of providing care."
"The common denominator is that advocates for reproductive rights need to continue to focus on methods that are safe and effective," she said. "This whole attempt to close down clinics in Texas really is not based in women's health and safety. What we're doing here in Maine…really is based in good medicine, best practices, and the interest in the health and safety of our patients, and that's one thing we have in common."
Nadia Prupis is a Common Dreams staff writer.
See also:
It's Her Choice
Who Owns Your Womb? Women Can Get Murder Charge for Refusing C-Sections