With FCC's Order Sent To Senate, Internet Defenders Inch Toward Vote To Restore Net Neutrality
With one more vote needed to reverse panel's unpopular vote, internet freedom groups are putting pressure on Republican senators.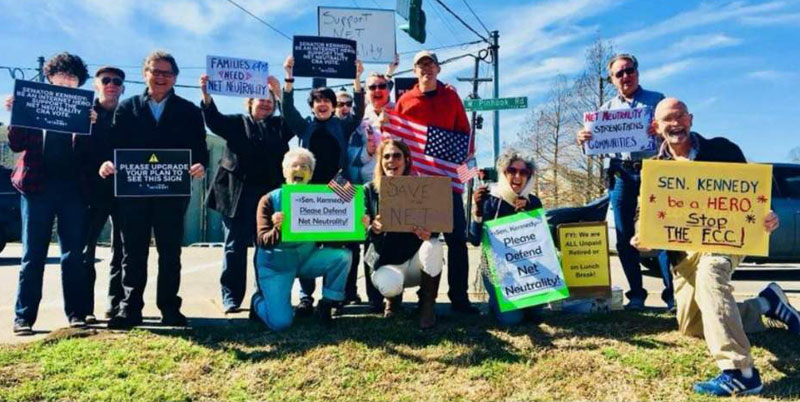 Open Internet advocates and lawmakers were urging supporters on Friday to help secure one last vote in the Senate in favor of reversing the Federal Communications Commission's (FCC) unpopular net neutrality decision.
The FCC sent its official order to roll back net neutrality protections on Friday, following its vote in December.
With the Republican-led panel's 3-2 decision along party lines, internet service providers (ISPs) like Verizon and Comcast will be free to give preferential treatment to wealthy internet companies that can afford to pay for faster service—essentially creating "fast lanes" and "slow lanes" for the internet.
Immediately after the vote—which was opposed by 83 percent of Americans, according to a University of Maryland poll—Sen. Ed Markey (D-Mass.) announced his plan to introduce a Congressional Review Act (CRA) resolution under which the Senate could vote to reverse the FCC's decision.
With the order now officially on Capitol Hill, it only needs to be sent to the House and published in the Federal Register, after which Market will have 60 days to gather enough support for a vote to nullify the decision.
The 50 senators who have said they would vote to restore net neutrality include one Republican—Sen. Susan Collins (R-Maine)—as well as all 47 Democratic senators and both Independents.
On Thursday, Louisiana constituents joined advocacy groups Fight for the Future and Free Press to deliver 6,000 petition signatures to the office of Sen. John Kennedy (R-La.), urging him to throw his support behind the CRA.
"The internet has become an invaluable tool for many people who work from home or have their own businesses," said Jas Duplessis, a Louisiana resident who protested outside Kennedy's office. "Restricting it minimizes the opportunity people have to make their own place in the world financially, destroys a large aspect of the free market and takes away from the American dream."
Julia Conley is a staff writer for Common Dreams.
This article was republished from Common Dreams.
See also:
3 Easy Steps To Support Net Neutrality
We Can Reimagine And Reinvent Our Society In 2018