ZeroLandfill Project Upcycles Free Materials For Artists And Educators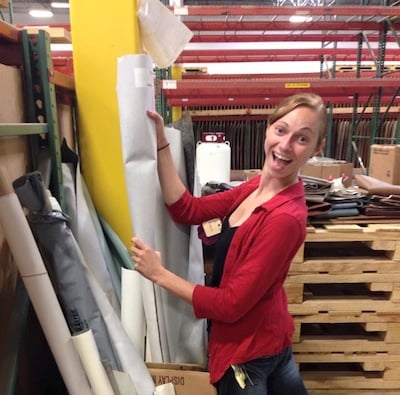 The ZeroLandfill project returned to Middle Tennessee in August for its fifth annual Harvest of free materials for teachers, nonprofits, and artists. The upcycling program works with local architects and interior designers to spare out-dated sample materials — including fabric, tile, carpet, and more — from heading to the landfill. Since 2006, ZeroLandfill projects around the country have diverted more than one million pounds of materials, with the Nashville-area Harvest upcycling more than 100,000 pounds on its own.
Wilsonart is the national sponsor for ZeroLandfill. ZeroLandfill's partners include International Interior Design Association (IIDA, TN Chapter), American Society of Interior Designers (ASID, TN Chapter), American Institute for Architects, and U.S. Green Building Council (USBGC), and Turnip Green Creative Reuse. According to Holly Baird, an IIDA member and Director at USGBC, "The event bridges a gap between projects that have over-ordered supplies that they have not used and others in need — such as other non-for-profit organizations or schools or teachers or even just general crafters — who can use the items so that they do not go into a landfill or become discarded waste."
Though attendance is not strictly counted, Baird believes more than 500 people attend the Nashville Harvest each year. "We launch a media blitz that goes out to the Metro schools, as well as media publications and social media for all of the host organizations involved," she says. "The art and educational communities have come out in growing numbers as the years have gone on, and we have several return 'customers' who look forward to the event and what things they may need or want. They know that each year we will have some of the same items, but each year it does differ on quantity and styles."
Kelly McCartney contributes to Shareable, Velvetpark, No Depression, Cuepoint, NoiseTrade, the VC Reporter, Folk Alley, Curve, and the Bluegrass Situation.
See also:
Open-Source, DIY Machine Recycles Household Plastic Into New Products
The 3 Most Environmentally Damaging Habits You Might Be Able To Change