10 Plant Forward Cookbooks That Make Greener Eating Easier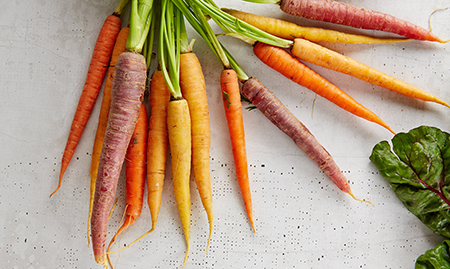 Every year on April 7, the World Health Organization (WHO) celebrates World Health Day to mark its founding and to bring attention to global health challenges. According to WHO, unhealthy diets are one of the leading global risks to health, and they can be improved by "always including vegetables in meals." Having a diet that is more plant forward may also have environmental benefits, according to recent reports by EAT, the Barilla Center for Food & Nutrition Foundation, Oxford University, and many others.
And many world-renowned chefs have taken note of the importance of plants because they add flavor and color to dinner tables. To help celebrate World Health Day, Food Tank is highlighting cookbooks that place plants into center stage.
by Alice Waters (1996)
Founded in 1971, Chez Panisse has been described as one of the restaurants that gave California Cuisine its identity. The reverence for vegetables shines through Alice Waters' part cookbook, part compendium for how to treat and select produce. Chez Panisse Vegetables focuses more on ingredients than it does on methods, allowing flavors to speak for themselves and only heightening them through simple techniques and combinations. Waters flips the tradition of preparing a shopping list on its back, insisting that first, the cook must seek the very best produce available, and go from there. The style presented in the cookbook replicates the restaurant's philosophy of fostering an appreciation for ingredients and their producers, which instills a picture-perfect and harmonious food system that has led to its many accolades.
by Tal Ronnen (2015)
The plant-based chef to the stars, Tal Ronnen earned his fame while cooking for Oprah Winfrey, Ellen DeGeneres, Arianna Huffington, and for the first ever vegan dinner at the United States Senate. Crossroads is based on recipes from his Los Angeles restaurant of the same name, which opened in 2013 to showcase high-end vegan dining with Mediterranean flavors. Readers can expect to learn recipes for world-class dishes and simple tricks to elevate their home cooking. A finalist in the 2016 International Association of Culinary Professionals Cookbook Awards, Crossroads provides straight-forward instructions that are accessible to cooks of all levels.
by Hari Pulapaka (2018)
Hari Pulapaka is the Executive Chef and Owner of the acclaimed Cress Restaurant in DeLand, Florida, and is a tenured professor at Stetson University. Pulapaka's self-described cuisine is "globally inspired" and "vegetarian focused" and is intended to showcase food that "nourishes the body and frees the soul." Dreaming in Spice combines regional American cuisines with techniques and flavors from all over the world. Pulapaka's recipes reflect the experience of a four-time James Beard Award semi-finalist and a champion in delivering ethical and sustainable food principles. The cookbook's recipes also offer a glimpse into the author's own food journey.
by Katie Koteen and Kate Kasbee (2017)
Katie Koteen and Kate Kasbee began creating vegan meal plans through their online platform, Well Vegan, in 2012 and have since worked to make their recipes as approachable and practical as possible. Frugal Vegan is a handy resource for those looking to create plant-based meals on a tight budget without spending hours in the kitchen. By steering clear of expensive, highly perishable and hard-to-find ingredients, Koteen and Kasbee provide 99 recipes for foods that stay fresh and flavorful for days. Many dishes are also freezer-friendly, allowing for long-term meal planning while cutting down on waste.
by Deborah Madison (1987)
This contemporary cookbook is the first of eleven written by vegetarian cooking legend Deborah Madison and shows that plant-based cuisine has been thriving for decades. The Greens Cookbook contains 260 plant-based recipes that are driven by local produce, seasonality, and sophistication. The book and the restaurant on which it is based have stood the test of time, being highly acclaimed for their inventiveness and accessibility, even in an era when plant-based diets were far from mainstream. An alumnus of Chez Panisse, Madison draws from experiences working with local food producers to showcase the potential of produce when handled with care and attention.
by Dana Shultz (2016)
Dana Shultz started the food blog, Minimalist Baker, in 2012 to explore plant forward cookery in the simplest manner possible. Since then, Shultz has become one of the most well-known names in vegan cooking. All recipes are either 10 or less ingredients, require only one bowl or pot, or take 30 minutes to make. With the majority of recipes being free from gluten, the Minimalist Baker provides a safe haven for those with an intolerance. The cookbook begins with a Resources section, which helps readers get acquainted with the basics of vegan cooking, and finishes with a list of nutritional information for each dish.
by Mollie Katzen (1977)
The Moosewood Cookbook's first edition was self-published in 1974 using hand-written text on a spiral-bound notebook. It has since commanded such widespread acclaim that it has earned a spot in the James Beard Foundation's Cookbook Hall of Fame. Based on the recipes used by Moosewood Restaurant in New York from the time, Katzen's bold approach to plant-based cooking has inspired many to give vegetables their due credit at the center of the table.
by Joshua McFadden with Martha Holmberg (2017)
Winner of the James Beard Award for Best Book in Vegetable-Focused cooking, Six Seasons goes in-depth with both cooking techniques and the life stages of plants. By looking into the different flavor profiles of a vegetable as it evolves many times throughout the year, the idea of variety and complexity in ingredients becomes even more endless. McFadden's expertise in plant forward cooking comes from experiences in top New York restaurants such as Momofuku, Lupa, and Blue Hill, and from managing the sustainability-focused Four Seasons Farm in Maine. This cookbook showcases McFadden's relentless chase for peak flavor through 225 recipes that pay respect to each ingredient.
by José Andrés (2019)
One of the most anticipated cookbooks of 2019, Vegetables Unleashed (to be released this May) will showcase a culinary giant's take on the limitless potential of plants. José Andrés is often referred to as the chef that brought the tapas style dining concept to America, and is renowned for founding World Central Kitchen, which provides meals to those affected by natural disasters. With the aim of changing the home cook's relationship with plants, Vegetables Unleashed will have recipes that offer a glimpse at classic, culinary tradition while bringing new techniques that test preconceptions of flavor. Andrés is the owner of thirty-one restaurants and recipient of two Michelin stars.
by Divya Alter (2017)
Divya Alter is the head chef and owner of Divya's Kitchen in New York City, which The New York Observer described "might be the healthiest restaurant in New York." Alter's deep, personal relationship with food combined with years of vegetarian cooking brings a spiritual component to each recipe. By taking ancient Ayurvedic healing principles and applying them to modern palates and lifestyles, this cookbook encourages its readers to give the body and soul exactly what it craves, and in the most delicious way.
Danielle Nierenberg is President of Food Tank and an expert on sustainable agriculture and food issues. She has written extensively on gender and population, the spread of factory farming in the developing world and innovations in sustainable agriculture.
This article was republished from Food Tank.
See also:
Mothers And Daughters And Sons And Steaks
How Plant-Based Diets Can Heal Our Bodies And The Planet