10 Tips To Green Your Halloween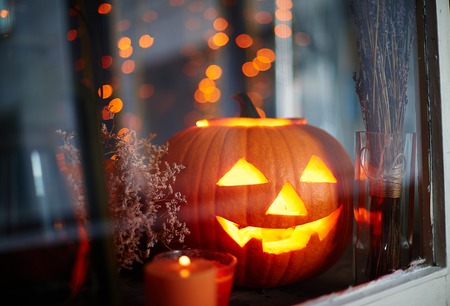 Sometimes the thought of potential Halloween trash can be more frightening than Halloween itself. Recyclebank, the incentives and behavior change platform focused on waste, has got some green Halloween tips that are sure to scare away waste without affecting your Halloween treats!
Pumpkins:
1. Make a jack-o-lantern. Can't decide whether to carve or paint your pumpkins? Carve them! Many paints contain ingredients that can't be composted, so to ensure you can still dispose of your pumpkin responsibly, skip the paint and get handy with some carving tools!
Décor:
2. Keep the décor natural. Putting your pretty carved pumpkins on display is a given, but there are also other gourds and décor (think branches, leaves) that can be brought inside to make your home feel like a haunted house while reducing your consumption of man-made materials. Since everything will be natural, just add it to the compost pile at the end of the season.
3. Opt for decorations you can repurpose. If you can't get your hands on compostable leaves or cornstalks, choose decorations that will last for years to come in some form or another! For example, you can use fake cobwebs as replacement stuffing for stuffed animals or throw pillows.
Costumes:
4. Make your own DIY costume makeup. Use natural food coloring and cornstarch to make your own vibrant face paint without any of the harmful chemicals. By using simple ingredients you probably already have in your kitchen, you can avoid the extra cost and all the packaging that comes with store bought versions!
5. Make your own DIY costume using only what you already have. From old school classics like a bed sheet ghost to new ideas like "raining cats and dogs" (where you glue a bunch of stuffed animals to a raincoat and umbrella), many costumes can be made without a trip to the store. To reduce even more waste, get creative with old clothes that were headed for the trash anyway!
6. Raid a thrift store for costume ideas. There are so many clothes in need of a second life, and many of them are at thrift stores just waiting to be pieced together into your next Halloween costume. Plus, for any DIY costumes missing key pieces — say, a fringe vest or cool tie-dye shirt to complete a hippie look — a thrift store is just the place to find what you're searching for.
7. Donate old costumes. Don't let those ghosts of Halloweens past haunt you (and take up all your storage space). Raid your current costume collection and donate any that you've grown out of or that you've gotten the most possible uses out of. For any of those costumes that have a bit too much wear and tear, you might be able to bring them to a drop-off center for textile recycling.
Treats:
8. Choose your treats wisely. Go for bulk candy options to avoid unnecessary packaging, or ditch the candy idea altogether! Small toys, fun pencils and erasers, or even loose change have been some successful lower-waste alternatives to add to those trick-or-treaters Halloween haul.
9. Skip the store-bought treat buckets. Those cliché plastic pumpkins seem to be ubiquitous, but believe it or not, there are other options. Going with a reusable bag that can be used over and over again is your best bet for reducing waste. Pillowcases fit more treats, anyway!
10. Dispose of all leftover candy (or just wrappers), sustainably. The bad news is that the candy itself isn't compostable, but the good news is that there are programs that accept candy wrappers, like Terracycle's mail-in recycling program. If you're having trouble keeping up with all the candy you've collected, you could donate wrapped candies (try something like Operation Gratitude), freeze some of it to save for later, or turn it into something new, like chocolates into candy bark or hard candies into cake and cookie toppers!
See also:
Top 10 Recycling Questions
The 3 Most Environmentally Damaging Habits You Might Be Able To Change