1939 & 1955 Peace On Earth Cartoons from MGM Studios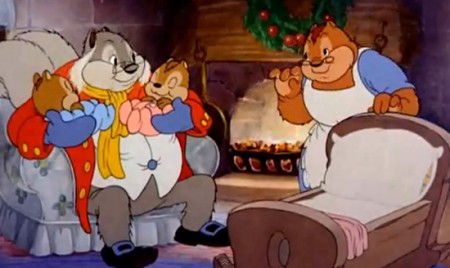 Peace on Earth is a 1939 MGM cartoon short (about 8 minutes) about a post-apocalyptic world populated only by animals. Two young squirrels ask their grandfather who the "men" are in the lyric "Peace on Earth, good will to men." The grandfather then tells them that humans killed themselves off in the their never-ending wars. Afterwards, the surviving animals discover a copy of a Bible in the ruins of a church. Inspired by the book's teachings, they decide to rebuild a society dedicated to peace and nonviolence (using the helmets of soldiers to construct houses). It was the first cartoon made by a major studio about a serious subject. In addition to being nominated in 1939 for an Oscar for Short Subjects, it was also voted #40 of the 50 greatest cartoons of all time by members of the animation field.
In 1955, Hanna-Barbera (of Flintstones and Jetsons fame) remade the film entitled Good Will to Men, featuring even more destructive warfare technology including flamethrowers, bomber planes and nuclear weapons. The version was also nominated for Best Short Subject.