46 Million Turkeys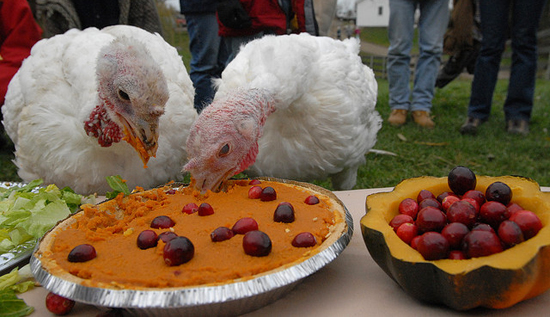 photo via Flickr
For most Americans, Thanksgiving Day is celebrated by eating a festive meal with a turkey at the center of the table. Artist Cheryl Miller is not like most Americans. Her view of turkeys and Thanksgiving changed drastically while working at a sanctuary for farmed animals. There she saw that every animal, including each turkey, had their own personality. Like dogs, cats and other companion animals, the birds at the sanctuary had the ability to experience pleasure and pain and were treated like sentient beings deserving of respect and mercy. The staff at the sanctuary celebrated Thanksgiving by creating a beautiful meal for turkeys, not of them.
For the past 15 years, Ms. Miller has marked the holiday by painting portraits of individual turkeys. This year, she has embarked on an ambitious collaborative art project. With the help of the public, the project's aim is to create mini turkey portraits in remembrance of each one of the estimated 46 million turkeys that were killed for Thanksgiving meals in 2011 to put a face on each of those animals. All two-dimensional or three-dimensional works of art submitted matching the guidelines will be incorporated into the final project on display during Thanksgiving week.
Everyone is welcomed to submit portraits, artists and non-artists alike. Participants are encouraged, but not required, to use recycled materials to create their portraits. Details on creating and submitting portraits can be found at 46millionturkeys.com.
The Harlow Gallery in Hallowell, Maine will host the 46 Million Turkeys project from November 25-30, 2013. The public is invited to meet the artist and view the portraits at a reception on Saturday, November 30th from 5-8 pm.
Laurie Johnston is a graphic designer and the co-owner of Two Trick Pony, an eco-friendly stationery company. She advocates for animals and healthy food choices and blogs for Spirit of Change Magazine.