6 Simple Tips For Healthier Skin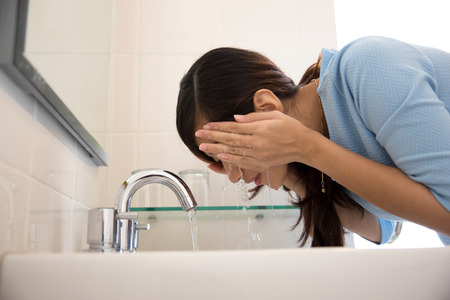 Everybody wants healthy-looking skin. From teenagers prone to acne to the manliest of men, nobody wants to walk around with pimples, blemishes, blackheads, or blotchy patches. However, many people simply don't know the best ways to take care of their skin. Try these basic steps for healthier skin.
1. Avoid Sun Damage
People all over the world love to feel the sun's rays on their face, however, you need to take appropriate steps to prevent sun damage, which can make you look dramatically older than you are. Pay attention to when your skin is telling you it's cooked — whether it's 5 minutes or 5 hours — and get indoors or into some shade.
If you must spend long periods in the sun, protect yourself with a broad-spectrum sunscreen with an SPF of at least 15, and limit your exposure between 10am-2pm when the sun's rays are the strongest. Purchasing protective clothing with SPF ratings can also help for long-term exposure.
2. Cleanse Gently
How you cleanse your skin, especially your face, is extremely important. Wash your face with a facial cleanser dedicated for your skin type. If you're not sure what your skin type is, choose something for normal skin. Pick product that's mild with natural and organic ingredients, not one that contains heavy soaps or detergents.
For normal or dry skin, wash your face before bed and after you perspire heavily. Wash once in the morning and at night if you have oily skin. Any more than that will strip the good oils your skin produces as a protective barrier. Pat your skin dry with a clean towel when you're finished washing. Don't rub. A little moisture left on your skin is a good thing.
3. Moisturize Properly
Cleansing your skin the right way is important, but without proper moisture, your skin isn't going to look or feel its best. To moisturize, simply apply a dime-size amount onto your face right after washing and patting the skin dry. You want to use moisturizer when the skin is still damp to seal in as much moisture as possible. A heavy moisturizer or night cream in addition to an all-purpose moisturizer is ideal for dry skin and during the colder months.
4. Eat Right
Finding a balance between eating right and indulging once in a while is important for maintaining healthy skin. When you load up on simple carbohydrates, sugars and fats, you increase inflammation in the body and make a breakout more likely.
If you're having skin problems, try a diet that's rich in vitamin C and low in unhealthy fats. Switch from candy and baked goods to dark chocolate, which contains many essential nutrients and healthy saturated fat.
Make sure you're drinking plenty of water too. The eight-glasses-per-day rule is considered outdated, but it's still a good basic guide for most people.
5. Quit Smoking
If you need one more reason to quit, know that cigarette smoking makes you look older and contributes to the formation of fine lines and wrinkles. In fact, the physical act of smoking can make you look older over time because simple things like pursing your lips repeatedly will create visible fine lines. Give up smoking now for your overall health and better skin.
6. Reduce Stress
Over time, stress can make you more prone to breakouts and problem areas. Reduce your stress level by cutting your to-do list where you can and finding time each day to meditate or do something enjoyable and relaxing.
Caring for your skin isn't difficult. Shop for the basics and start taking proper care of your skin. You'll look better and feel more confident, which will only add to your glow.
Molluscumclinic.com is a website that is fully dedicated to offering treatment for one of the most common viral infections found in the skin: Molluscum contagiosum.
Alexandra Ross is a freelance writer, food lover and healthy lifestyle writer.
See also:
27 Versatile Uses For Coconut Oil
Make Sure The Products You're Putting On Your Body Are Not Toxic