A Garden Grows in Brockton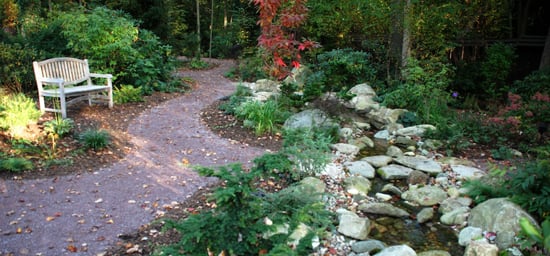 When the call came in for a proposed project in Brockton, MA, from Simon and Paula Young, I was intrigued to consider the possibilities for some renewal in an area not often associated with contemplative landscape design. I had no idea I was about to embark on a precious one-year journey of magical garden surprises.
The loose groupings of plants, undulation of the land and curvilinear pathways replicate what already exists in nature.
On my first trip to the Young's home, I found a rather elegant, rambling, contemporary house with hidden courtyards and an impressive atrium entryway. All manner of artwork adorned the walls inside. The western-facing rear of the house — roughly 150 feet covered floor to ceiling with windows and sliding glass doors — presented a view of my potential palette. Not a bad view at all. Mainly woodland, the area to be landscaped consisted of about a third of an acre of tall red maple trees with white oaks and yellow birches scattered throughout, plus some shrubby undergrowth with groupings of rhododendrons someone had planted, probably long ago.
A bronze penguin keeps a watchful eye on things, adding whimsy in the form of a smaller sculpture. Water flowing over collected native stone adds dimension to the landscape. A copper bird perches atop a curved stone sculpture.
Save for a huge, red sculpture Simon had installed, I saw nothing overtly inspiring when I looked out the windows. A walk outside revealed some woodland paths, one that led to a golf course behind the property and was ideal for walking the dog after the golf season ended. The boundaries of the backyard and woodland area were defined by an eight-foot high, solid brown wooden fence that formed three sides of a big rectangle, complete with deep, dark 90-degree corners. The land itself was rough and obviously quite wet in the spring.
I observed and listened to Simon and Paula as they spoke. What I heard was that they needed an area for entertaining, potential sites to feature sculptures and direction for "doing something nice" with the place. Over the course of my next several visits, I spent a lot of time connecting with the land, traipsing around the yard, and sometimes just sitting there looking and listening, while gathering impressions and taking notes. Early on, I envisioned creating individual areas in the landscape where Simon and Paula could walk through and enjoy spending time in unique nooks, just as they would visiting the individual rooms of their house. My goal was to enhance the view of the landscape from inside the house and to create a space outside that would welcome any visitor. For this, I would consult throughout the project with the three essential partners of design: the land, the homeowners and me.
We started with the basics, which included removing unhealthy trees and pruning others, transplanting rhododendrons, establishing drainage, as well as building a temporary roadway for machines to travel in and out. Discovering that Simon and Paula were as enamored of the sound of running water as I, our early work included the construction of a natural-shaped pond and a long, rambling stream, to which we added a variety of carefully selected stones with lichens and moss growing on their surface.
To provide a bit more undulation and even greater dimension to the overall landform, we established well-defined pathways comprised of sweeping curves that intersected with one another at various points throughout the landscape. The installation of casual, curved stone walls and level areas provided space to feature new sculptures. A bluestone patio, new walls and stairs were installed leading to the entryway area of the house, a place where virtually all foot traffic flowed in and out, and the perfect setting for people to congregate.
Below: A copper bird perches atop a curved stone sculpture.
After all the machine work, water features and stonework had been completed, more shrubbery, woodland ground covers and perennials were introduced into the landscape. A variety of plants with berries, different stem colors and unique branching were added to provide winter interest. Large, Norway spruces and other trees, both evergreen and deciduous (trees that lose their leaves), were planted to add dimension to the landscape as well as to soften the views to the fence and negate the 90-degree corners.
Contrary to the current landscape architecture mindset that requires using an office or computer software program to compose a winning landscape, a truly magical synergy of connection to the land, the people and your intuitive senses results when you consciously choose to allow the right brain and heart to have a larger influence in the design process. We accomplish some of our best work when we endeavor to replicate what already exists in nature. Patterns in nature are typically non-linear, comprised of an orderly, yet somewhat random collection of individual elements. The natural rock-strewn streambed and pond, the loose groupings of plants, undulation of the land and the overall curvilinear quality of the landscape provide a feeling of connection to Earth. If you're open to it, you can also feel a connection to the heavens above, particularly in areas of tall trees with their big, straight trunks that make you feel as though you are in a redwood forest somewhere in California.
Paying attention to establishing a careful relationship between masculine and feminine elements will enhance both the visual beauty and sense of balance in what is created. The curvilinear pathways and a variety of plantings are feminine elements that help to counterbalance the strong, confining 90-degree angles of the house and fence. This natural balance and harmony between the masculine and feminine elements can also be accomplished by creating a deliberate interplay of stone, water and plants. Plants and water represent the feminine elements, while stones, stone walls and patio surfaces are the more masculine. Curving the stone walls provides an interesting balance. As much as we loved the existing tall trees with their collective influence of stark, solid tree trunks that were quite masculine, we planted attractive vine plants, Baltic ivy, Virginia creeper and climbing hydrangea to soften the view just a bit. Finally, with a strong feminine influence in the many curves of the existing red sculpture, we added the masculine counterbalance that was needed by placing a big, beautifully shaped stone that had became unearthed during our excavations vertically near the sculpture and within the same view.
The many curves of the dominant red sculpture are the "heart of the landscape" from which all pathways flow in and out.
I'm fortunate to employ people who love and are truly passionate about what they do, as love and gratitude are essential ingredients in contemplative landscape design. We often talked about how much fun it was to work on this landscape and how we all appreciated the gift of an opportunity that we had been given to create. When you trust in yourself and go forward with love and gratitude, we can create amazing sanctuaries of nature right in our own backyards.
Owner of Schworer & Co. Landscapes, Inc., Dennis Schworer has been working on landscapes of estates and larger properties for over 35 years. Today he uses his breadth of knowledge and artistic gifts to help people reconnect with the healing energies of Earth. To discover new possibilities in your landscape, contact Dennis at plantstonesoil@yahoo.com or call 508-528-1002.