A MAP For Getting Well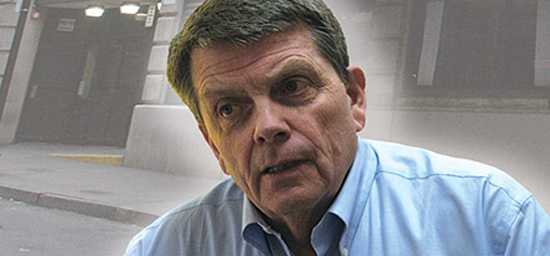 "It's a lot cheaper and safer to help people pull it together, then toss them onto the street or into prison!" – Fred Smith, MAP founder
What you're seeing is "the look," Fred Smith explains. "The people on the sidewalk outside this building have survived some of the toughest lives imaginable."
It's lunchtime at St. Francis House on Boylston Street, the epicenter of downtown Boston. A large and regular crowd gathers for the breakfast and lunch that is served to about a thousand people, 365 days a year. Something self-described "not-for-long" homeless Tom, who stands in line, calls "the best life-support in town- free and delicious."
Smith knows that most people who pass by the gathering "get the creeps" and cross the street to keep their distance from a crowd accurately defined as "the down and out." For nearly three decades, The St. Francis House has offered food, shelter and rehabilitation to anyone who needs it. "The look" is the unfocused stare associated with the chronic battle fatigue of living in society's margins, an expression well-fed, housed and employed people often misunderstand. For fifteen years, Smith, and the staff he's developed see determination, not hostility, in "the look."
It doesn't take rocket science to know that almost anyone wants to make serious improvements on being out of work, out of money, out of home, out of prison, and outcast."
The stats on the Moving Ahead Program, or simply MAP, that Smith launched in 1995 are impressive. More than one thousand people who have experienced some combination of addiction, mental illness, prison or homelessness have graduated MAP's two-and-a-half-month long, five day a week classes on, as Smith puts it, "finding an alternate strategy to a life of fight or flight."
Most of the graduates are now employed and housed. The US Department of Housing and Urban Development is using MAP as a "best practices" model that's being duplicated in ten other states. It has a perpetual waiting list of at least one hundred people. Despite the success, Fred, and a lot of people who are in this line of work, can't grasp why society hasn't figured out, "It's a lot cheaper and safer to help people pull it together, then toss them onto the street or into prison!"
Coming Back from the Edge
It's early afternoon and ten people are seated around a conference table on the 4th floor of the St. Francis House with their pencils, navigating a document that oozes the style and structure of an SAT.
Far from it," says MAP instructor Chris Bundick. "It's an assessment of which parts of your personality are internal, and which are external; not strong or weak, not good or bad."
It's obvious from the atmosphere, the MAP students are intrigued, not bored.
It's not the usual series of questions that make you feel not smart, not educated, not worth the effort…" says Katy.
Like almost every MAP student, Katy admits she signed up for the program for what she calls its "insta-perks," but MAP defines as pragmatic. Each student is given a place to live or rent for where they're living; transit travel expenses; and a small stipend for the length of the fourteen-week program. Over time, the cost has been bankrolled by HUD, the US Department of Education, the Federal Probation Department, The Massachusetts Department of Parole, and a whole lot of crucial private donations.
The total cost is eight to eleven thousand per student. The savings to the taxpayer are immediate. That's a quarter of the cost of a year in prison, or the full price of a three-day stay in the psychiatric unit of a local hospital.
It was a big motivation to get myself into a halfway house," says Katy, whose addiction interrupted her solid career in the automotive industry.
Here, they don't use the word "demolished." They say I got side-tracked. They're putting me back on the track in some ways that are a lot deeper than the work, the money, the home I blew apart as I blew apart."
Smith doesn't teach the program that just graduated its 95th class; he spends his time in pursuit of the funds to keep its ever-evolving curriculum alive. He also goes to court and prison to convince judges, prison officials and inmates there are more cost-effective and compassionate ways to come back from the edge. Common hindrances to becoming a solid citizen are the legal troubles that come from the acts of madness addiction, mental illness or being homeless bring. MAP's successful track record has made it so court will often make MAP a condition of dropping charges. Prisoners are regularly released on parole because of their MAP enrollment.
Beyond Homes and Jobs Is Wellness
As a self-described "non-Bible-thumper" Smith is surprised by his most recent epiphany. The acquisition of homes and jobs is important, but it neglects what Smith describes as "a deep lack of wellness."
Getting well requires heart and soul as much as body and mind," says Smith.
Academic think tanks and social service methods that pump out recovery techniques with complex titles such as "behavioral methodology" or "multi-phase inventory" have not shaped MAP's curriculum.
It's the people who do it, stupid!" is Smith's light-hearted comeback. As an example, he describes a woman who joined MAP as a condition of release after being incarcerated for attempted murder. "Like so many women, she had fought back after years of surviving domestic violence."
Finally freed with the condition she complete MAP, she urged Smith to make part of the program be about looking good. "What an important and simple thing for us to ignore!" Within ten days she presented him with a proposal called "Studio Shine," an idea that has become an entire room filled with clothes, make-up, and guidance on how to find the right look for the mission at hand.
It seems superficial but it's a huge breakthrough for so many people who have never been told, "Hey…you're looking good!"
The latest revelation is about the critical importance of feeling good. A strategy to free people from the stigma of what Smith describes as being "chronic social outcasts," came from a volunteer who is an avid practitioner of yoga and meditation. As a witness to the frequent staff frustration from being unable to teach MAP-ers to "think before you act," she suggested that Smith include an idea she was planning to market to corporations called Integrated Holistic Wellness.
What has emerged is called a "Wellness Wheel" curriculum. The skill and job and housing strategies already in place are now infused with yoga, meditation and the preparation of healthy food. Instructors are being trained to see themselves as coaches offering the team what Smith refers to as "tools to win the battle."
The idea that the only way to reinvent bad habits is to replace them with habits that feel good has caught the attention and support of Harvard Medical School's Division on Addictions.
For all of their high-falutin' academia," Smith says with obvious satisfaction, "they have reached the same punch line. It's not about psychiatric sessions and more drugs; it's about the peace that calm and compassion bring."
The next time you happen to walk by the St. Francis House on Boylston Street, Smith urges you to walk through the crowd that always gathers on the sidewalk. He guarantees that if you change your point of view, you'll see something very different than creepy and criminal. "Look closely at "the look' and you'll see the same determination we all have- to live a good, productive life. Pick someone in the crowd and smile at them. They will smile back with the respect that offering respect brings."
Programs That Always Welcome Volunteers and Support
Moving Ahead Program (MAP): St. Francis House, 39 Boylston Street. Boston, MA 02116. http://www.stfrancishouse.org 617-542-4211
Community Resources For Justice (CRJ): A non-profit that provides housing, work, and counseling to ex-offenders, troubled youth, and the homeless. Politically active in creating alternatives to prison. http://www.crjustice.org. 617-482-2520
Legal and Policy Resources
Criminal Justice Policy Coalition (CJPC): A non-profit collaboration of lawyers, human service providers, and ex-offenders working to sustain effective, fair, and humane criminal justice in Massachusetts. http://www.cjpc.org. 617-390-5397
CORI Reform: An effort to control the Criminal Offender Record Information system that provides employers and landlords access to any individual's legal records. http://www.n2nma.org (Neighbor to Neighbor Massachusetts). 617-227-7006.
An Act Prohibiting Discrimination in Sober Housing, Massachusetts House Bill 2206. An effort to control the "not in my backyard" attitude toward sober and halfway houses. Representative Michael Costello. http://www.mass.gov/legis. 617-722-2230.
Pippin Ross is a veteran print and broadcast reporter. Her book, Crash Course, will be released this fall.