A Riot Of Perfume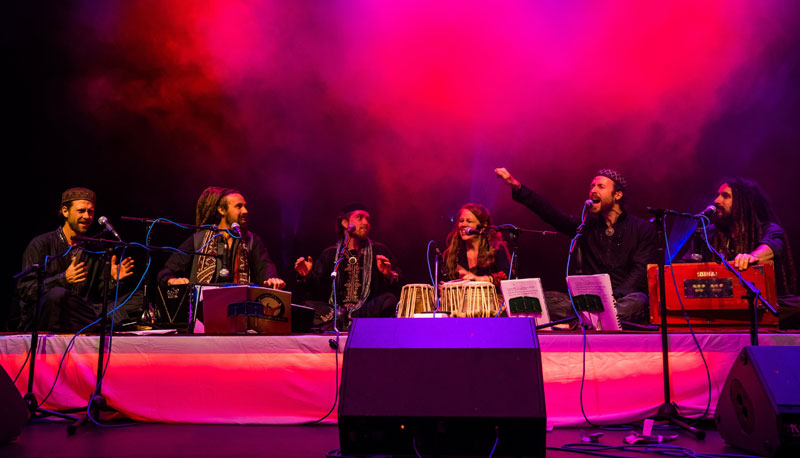 In the shrines of Sufi saints across India and Pakistan, the passion and fervor of Sufi poetry is brought to life by Qawwals — singers and musicians whose voices give body and life to a deep longing for union with the Beloved. The music they play, known as Qawwali, centers on poetry in Urdu, Punjabi, Hindi and Persian, animated by a powerful chorus of singers, who sing their longing and prayers with full force to the skies, whipped forward at increasing speed and passion by the breath of a harmonium, clapping and the intricate rhythms of the double-bowled tabla.
In Ajmer, India, Qawwali music can be heard reverberating in the shrine of Hazrat Khwaja Moinuddin Chishti, the Saint who introduced Sufism to India. Chishti told his disciples "to develop river-like generosity, sun-like affection and earth-like hospitality"1 and that charity was the highest form of devotion. The Chishti order is also known for its appreciation of sama — a means of meditating on God through listening and movement, inducing a trance-like state said to reveal what is in one's heart.2 Amongst the musicians in the shrine sits Tahir Qawwal, a Westerner committed to bringing the Sufi message of peace to new audiences all over the world.
"During my teens I was enthusiastically drawn towards traditional forms of mysticism, especially Vedanta," shares Tahir. "Through these explorations I began visiting a Naqsh- bandi Sufi community, many of whom were originally from Africa and South Asia. I was deeply moved by their communal, spiritual and religious lifestyle, especially the devotional atmosphere that was evoked from singing zikr together. That's where I took initiation from my murshid [Master], Sheikh Leben Yusuf."
Since his initiation in Canada, Tahir Qawwal has spent much time in Ajmer and at shrines throughout the Indian subcontinent, immersed in Qawwali music, but his first encounter with it was at his local library in Nova Scotia. "In my late teens, I picked up a copy of Nusrat Fateh Ali Khan's Real World album The Last Prophet at my local library," he recounts. "It was the most beautiful synergy of classical, ecstatic and devotional music I'd ever heard. After studying Indian classical music and Sufi mysticism for many years, Qawwali seemed like the perfect direction to develop spiritually and musically… to me, Qawwali is a divine tool and through the universal language of music I'm able to really feel and share the great insights of Sufism. I enter into a realm of expression that's very primal and sincere, something that words can't reach. The arrangement of the music is also such a creative medium of expression."
After falling in love with its power and passion, he has spent many years transliterating Qawwali verses and learning from some of the greatest masters in the tradition. "The poetry of Qawwali is potent," says Tahir, sharing a favorite poem, "Alif Allah" by Hazrat Sultan Bahu: "It moves me because it innocently conveys, yet doesn't demand, the natural process of the student-disciple relationship… It means a lot to me to maintain this powerful [Qawwali] tradition — and to see the way it uplifts and connects people in the world."
Tahir is now helping to spread this experience of Qawwali and the beauty of sama in traditional and non-traditional settings. Sixteen years ago, he founded Fanna-Fi-Allah with tabla player and student of Sufism, Aminah Chishti from Oregon, USA. Together, they are unique in being the only non-Eastern group to be representing the old tradition of Qawwali internationally, with the blessing of their teachers in Pakistan.
"The practice of Sufism is very much connected to the music," explains Aminah. "This is why we chose Fanna-Fi-Allah — 'annihilation into the Infinite' — as the name for the group, to emphasize the use of this music as a spiritual practice. We reach for that state of 'fanna' — annihilation of the ego, the pain, the joy, where everything exists inter-related as one consciousness, one mind and one heart."
It's not just their Western heritage that marks Fanna-Fi-Allah out from their Eastern contemporaries; Aminah is the first woman to break with tradition and join a one-thousand- year lineage of Qawwali musicians. "I started studying classical Indian music in Benares, India in 2002," she begins. "As a foreigner it was accessible to pay for hourly lessons of any and all art forms. I began tabla and raga. A deep relationship developed with myself to maintain a strict schedule of routine practice; the atmosphere of devotion created a marriage of sorts — a lifetime of experience to be had in this path of tabla and raga theory. Tahir and I decided then to go to the Sufi shrine of Khwaja Moinuddin Chishti in Ajmer, Rajasthan [and] we were overwhelmed with hospitality and support to play Qawwali. This was when I decided to pursue this path seriously enough to travel further."
"To now be sitting (playing tabla) as the first woman in this one-thousand-year-old lineage feels humbling yet empowering. Supported by the ones who were before me, invited by the Sufis themselves, this is the message of the time: equality. I've felt encouraged as an artist and respected as a woman. After 16 years of returning to Pakistan, the community recognizes me as their sister, ambassador, and tabla student of Ustad Dildar Hussain."
Aminah has been somewhat of a trailblazer in becoming the first woman to be given permission to play tabla at some Sufi shrines in India and Pakistan, where more conservative values have been guiding rituals for a long time. Her teacher, Ustad Dildar Hussain, who played with the legendary singer Ustad Nusrat Fateh Ali Khan for eighteen years, was critical in preparing her for this timely privilege. "One time on live TV, my teacher was asked 'why are you teaching this woman Qawwali music,' he replied with a smile… 'I had asked why she wanted to learn such a difficult instrument and she replied that her heart told her to. Now tell me, how can you break someone's heart?'"
Building on sixteen years of successful international touring, Tahir and Aminah are now working on the first ever full-length feature documentary about Qawwali music. The story of Qawwali will be revealed in interviews with the masters of the tradition, collected by Fanna-Fi-Allah on their journeys to India and Pakistan, performing two Peace tours.
"My group and I were so in awe of the great masters we met in dargahs (spiritual shrines) that we felt inspired to somehow share this hidden world with the West," explains Tahir. "Over so many years of touring and studying in India and Pakistan, we developed such beautiful and intimate relationships with most of the Qawwali masters, and felt it would be valuable for people to hear them tell the story of the tradition as well as see them sing in a traditional atmosphere (instead of a concert setting)."
"The great Sufi teacher Al-Ghazali says 'what is most essential to Sufism cannot be learned, but can only be reached by immediate experience and ecstasy and inward transformation,'" quotes Tahir. "We hope that by experiencing first-hand the power of Qawwali, people can start to understand the idea of mystical love."
See Fanna-Fi-Allah in Connecticut and Massachusetts Aug 26-31. Click here for details.
August 26th at Noon in Ellington, CT at Arbor Park
August 26th at 6:30pm in New Haven, CT at mActivity
August 30th in Boston/Burlington at 7:30pm at Academy of Creative Arts
August 31st Great Barrington at 8pm at Saint James Place
More information about Fanna-Fi-Allah and their upcoming film can be found at: www.fanna-fi-allah.com
Notes
1. Dr Z.H.S Gudri Shah Baba IV, e Mystical Philosophy of Khwaja Moinuddin Hasan Chishti. (Asma Publications, 3rd edition 2008).
2. R.B Qureshi, Su Music of India and Pakistan: Sound, context and meaning in qawwali. (University of Chicago Press, 1995).