A Trip to the Taiga, Life with Mongolia's Dukha Reindeer Herders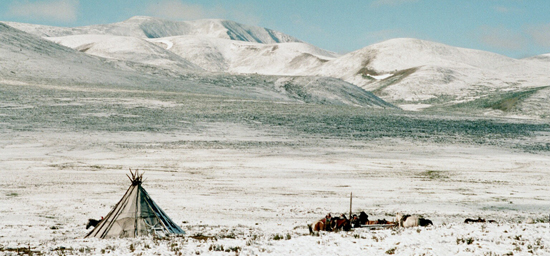 My eyes aren't open and already I can hear the creak of the tin stove as it warms the tipi up with the morning fire. Otgonbayar has returned from milking her reindeer and is quietly moving about the tipi. She dips water from a metal jug behind her and with a splash, pours it into the dishpan-sized pot that fits into her stove.
She crosses to the back of the tipi over her sleeping daughters and, lifting a curtain, removes a jar of reindeer milk. She pours it into the dipper and mixes it with the heating water. I hear a steady thud, a pounding, as she crushes the tealeaves and stems in her wooden mortar and pestle. By the time my eyes are open to the blurry interior of the tipi, my hostess is handing me a bowl of hot reindeer milk tea. Her baby cries and she sits beside the stove to nurse him.
I see movement under bedding and Otgonbayar's oldest daughter, 15, makes a trip out; the stick on the canvas flap rustles and claps shut. Back inside, she touches her two sisters, 10 and 11, and tells them to get up. She folds the bedding and pads used for sleeping on the ground. Then puts these into piles around the inside base of the tipi, which are then out of the way and also form insulation.
Otgonbayar scoops flour into a bowl for making sour dough bread. After kneading the bread and letting it rise, she places the dough in a pan and cooks it on top of the wood stove. Everyone is up now and she is making cheese from reindeer milk. This is our breakfast – milk tea, bread and cheese – all are delicious. I walk to the river and break the skin of ice off the water to wash my face.
How did I get to be washing my face in ice water in August? How did I happen to be sharing a life that has been lived this way for an estimated three thousand years? And what made me travel three days by bad roads and eight hours by horse to get here?
Ever since my first trip to Mongolia in 1994, when I learned there were reindeer herders living with shamans in tipis in the north, near Tuva, near Russian Siberia, I wanted to visit them. But I vowed not to go as a tourist, knowing that extra visitors to indigenous people often increase their problems of survival.
Dan Plumley who lives in the Adirondacks and works with the Totem Project of Cultural Survival in Cambridge, Massachusetts, has been helping the group for six years, finding out what the herders need for their survival. I met Dan a few years ago when we were each presenting our Mongolian Research at the Smithsonian Institute in Washington, DC. One of the herders' requests was better health. In 2003, Dan invited me to travel with him and assess the health care needs and practices of the Dukha reindeer herders through the eyes of a Western-trained, registered nurse, a spiritual healer, psychic and a student of traditional Mongolian Medicine.
Meeting Shamans
Unlike in the US where shamans are exotic, among the Dukhas who are a Tuvan ethnic group, shamans there are just regular people, a part of the community. Shamanism is the national religion of Tuva. There, shamans are not considered any more special than someone who is a good carver of antlers. In fact, there is some disagreement among the Dukhas about just who is a shaman. Is this one just getting out her drum so tourists will give her money? Is that one playing the mouth harp so that spirits will come or to demonstrate her music? Of the six shamans I interviewed on film, my favorite was Sanjaa. He was about my age – in his 50s – and was the nephew of Soyan, the 100-year-old shaman. Sanjaa told about footprints carrying vibrations to the gods and rocks, being the connection with the underworld.
Then he asked me some questions: Do you have your god in your home? Dukha shamans have ongots – small spirits that look like dolls that represent gods – which protect the shaman. They keep them in their altars under silk cloth and behind bright colored ribbons. Another question: Who is stronger – Jesus or Buddha?
One Dukha man I interviewed said maybe Sanjaa had some powers. He had seen him heal some people. Yet, Sanjaa himself says that he has had the training from his aunt but will not start practicing until she is no longer able to practice. There is always the question about why someone would tell a foreigner his or her shaman story anyway. Whose business is it? Because I gave healings to all of the adults in the settlement including the shamans, they were generous with me. While I was fortunate to see one costume and drum, and others told me their stories, I did not see anyone go into a trance. Trances are only held on the 3rd, 7th, and 15th day after the new moon. I was there during the waning moon. I later experienced a Mongolian shaman's trance but not during my time with the Dukha reindeer herders' shamans.
When I returned to the Dukhas last summer, I had edited a 7-minute video of my interviews. I showed this to the herders and they smiled and said, yes, I need to interview the rest of them. As I return in the future, I believe that the shamans will be more and more available to share with me.
Mongolian Medicine Vitamin Project
The Mongolian Medicine Project is committed to integrating health care so that the best health is available for everyone. This can include taking whatever is needed to Mongolians as well as bringing the holistic concept of balance to the US. My first chilly trip to the taiga (alpine forest) in October 2003 as part of Dan Plumley's Totem Project allowed me to interview men and women separately, documenting their health problems and concerns. I shared the information with various non-governmental organizations in Mongolia and with others including local Middlebury, Vermont pediatrician Jack Mayer, MD. Dr. Mayer suggested that one manageable problem was bleeding gums from scurvy, due to Vitamin C deficiency. Another problem was blindness due to Vitamin A deficiency. With the help of another local organization, Ecologia's Virtual Foundation, we presented the need to donors. The Mongolian American Cultural Association in New Jersey and others donated funds so that we could take one-year's supply of multivitamins to Dukha kids and one-year's supply of Vitamin C crystals to adults. There are 207 nomadic Dukha reindeer herders in Mongolia.
Last summer, Dan and I carried the 100 pounds of vitamins in our luggage to the capital city of Ulaanbaatar. Then we had to get them to the taiga. This required three days of jogging, swaying, bumping in a Russian Forgon van to the closest county seat, Tsaagan Nuur. Next we had to ride horses eight hours to an encampment in the West Taiga. Horses are the only way to get there.
With the vitamins on packhorses, we rode over two mountains, through hail, over fast-moving rivers, through marshes where the horses were in mud up to their hocks, up streambeds and over boulders. Even trees presented an opportunity for knee smashing. For me, this level of adventure was once-in-a-lifetime experience. I may go again but next time it will be by helicopter or some easier method.
However, we, along with the vitamins, arrived safely at the encampment. Tucked into the ridge of a mountain, there were hundreds of quiet and gentle reindeer beside 15 tipis. As we dismounted from the horses, we were led into a tipi and offered reindeer milk tea. Then for a week, we slept in tipis with the wind roaring like a train, rode horses to visit a shaman, woke up to a 4-inch snowfall (August 8th), conducted interviews about this ancient way of life, gave energy healing to a 100-year old shaman and others, and distributed the vitamins to each family.
Mongolia, in Central Asia, sits strategically between Russia and China. It occupies an area similar to the expanse from the US east coast to Colorado and is considered the largest pristine wilderness in the world. The country exports copper, gold, and cashmere. With a population of only 2.5 million people, the land is very sparsely populated, but the urban capital Ulaanbaatar has a population of 750,000. Politically, Mongolia was under the Soviet system from 1920-1990. At the end of that time, the country experienced a peaceful transition to democracy. Every four years elections are held. The government is led by a president and run by a Parliament. Like other former Soviet countries, Mongolia struggles with poverty as it changes to a market economy. This makes it is a place where a small amount of American money and time can go a long way toward helping. Dukha reindeer herders are one of Mongolia's smallest ethnic groups. Their relatives live in the small country of Tuva, across a closed border.
Back in the taiga, the herders and I sit on the ground. Otgonbayar reads a vitamin instruction sheet I wrote and had translated into Mongolian. One family at a time comes to get their vitamins packed in recycled water bottles. When accepting the vitamins, one Dukha mother speaks for all: "Thank you for listening to us last year when we told you our health problems. We realize how hard the travel was to bring us the vitamins and we really appreciate an older person from another country caring enough to help us."
Sas Carey, RN, M.Ed. is the director of Life Energy Healing School in Middlebury, VT, which uses the model of Mongolian Medicine to teach holistic care. For 24 years, Sas has been channeling energy for healing and helping others with soul progression in her private practice. She can be reached at 802-388-1301 or sas@lifenergyheal.com. Check http://www.lifenergyheal.com for a slideshow of last summer's journey.
The Mongolian Medicine Project has taken laboratories to five rural hospitals and provided a scholarship for a Soviet-trained doctor to study Traditional Mongolian Medicine. These projects are possible because of the generous donations of people who want to help. Call Sas Carey for more information at the number above..