ACAM Midwife Center Update in Guatemala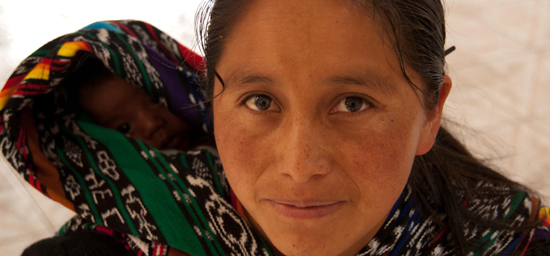 Since 2000, Spirit of Change holistic magazine has supported the envisioning, fundraising, building and eventual operation of the ACAM maternity center in Concepcion, Chiquirichapa in the western highlands of Guatemala. This project grew out of a meeting between midwives in the US pairing with midwives in Guatemala who had organized into a legal Association of Midwives of the Mam Area and dreamed of a center where they could provide maternity and other medical services to their people following their indigenous traditions and preserving their Mam language.
In 2004, this center, owned and operated by the ACAM midwives, opened. It is unique in all of Guatemala because it did not originate with an agenda set by others, but rather by the midwives themselves. Unlike many international projects that are based on charity, exploitation or evangelism and sometimes are not in keeping with the actual situation or needs of the community, the ACAM project has raised the status of midwives in the eyes of the medical community, helped them preserve their language and culture and is an invaluable resource for the goal of preparing and improving the next generation of midwives in Guatemala.
A recent $5,000 grant from the Virginia Gildersleeve International Fund provided funding to obtain birth and OB/GYN models, which are particularly useful in allowing older midwives — often characterized in demeaning and dismissive ways — to demonstrate their skills and knowledge non-verbally (Mam is not a written language), and increase their self-confidence. The models also provide an invaluable avenue for evaluating midwife apprentice progress. In addition, the grant provided for a complete basic computer course. While the preservation of Mam language is a major goal of the midwives, they understand that Spanish is necessary for communication in the greater society of Guatemala and the world. One participant summarized the importance of the computer training: "With the internet and email I have eyes on the world. I am not alone."
While we have already come this far in opening and supporting this center, more needs to be done. Only a fraction of operating costs for running the center comes from fees paid by families who come for consultation. One midwife writes, "We ask you not to leave us alone in our fight against maternal and infant mortality, to improve the health of our people, and to relieve the trauma from war our country endured." These are the same highlands that suffered unspeakable injustices during the genocide of the early 80's by the Guatemalan Army and secret police. Over 250,000 Mayans were either killed or "disappeared." Currently, Guatemalans survive amidst staggering murder rates for women, random violence and terrifying death squads that roam the country, and deep corruption within the government. Our mission is to help these incredible people preserve their culture in any way we can.