Acupuncturists Without Borders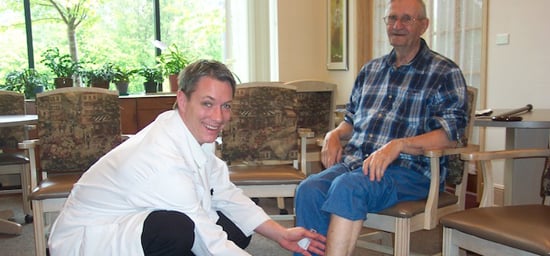 Emotional trauma is very common among soldiers and medical staff returning from war and can be just as painful as physical trauma. Many veterans from past wars still experience flashbacks, nightmares, anxiety and depression even decades after their war is over.
To help these service men and women, Acupuncturists Without Borders (AWB) started the Military Stress Recovery Project (MSRP) in Albuquerque, New Mexico in 2006. Since then more than 25 MSRP clinics have popped up all over the country including several in the Boston, Metrowest and Worcester areas. Military people who have attended these clinics report experiencing better sleep with fewer nightmares, improved mental clarity, better hearing, less pain, less stress and anxiety, and even less bruxism (teeth grinding). Acupuncture is currently being studied by the Walter Reed Medical Center in Washington D.C. as a viable treatment for Post Traumatic Stress Disorder (PTSD) for returning veterans1.
As a founding member and volunteer acupuncturist at Veterans Acupuncture Care (VAC) Metrowest, a free MSRP clinic in Framingham that serves military from all branches as well as their family members, licensed acupuncturist Janine Agoglia sees veterans from as far back as World War II still suffering silently from their internal wounds.
"It is amazing to watch men and women sitting in a circle on couches and comfortable chairs, all experiencing 45 minutes of peace and calm," says Janine. "Once the five acupuncture needles go into each of their ears, you can see the pain, stress and anxiety drain out of them as they go into their acupuncture bliss. Their eyebrows spread apart, gentle snores can be heard from around the room, soft smiles appear, shoulders relax."
This form of ear acupuncture, called the NADA Protocol (after the National Acupuncture Detoxification Association), was first used in 1985 at Lincoln Hospital in the Bronx to help patients undergoing withdrawal cravings. The treatment acts as a "reset button" for the nervous system, helping traumatized people come out of their fight or flight emotional paralysis, easing them back into feeling calm and in control.
In addition to the physical benefits of the acupuncture treatment, the element of community spirit adds another level of support to the treatment's success. Agoglia notes, "There is something powerful about a group of people who have gone through something as unspeakable as war, coming together to experience group healing. For the recipients, there is the added benefit of not having to talk about their problems; they experience symptom relief without recounting their traumas."
Since the clinic opened its doors in May 2008, Agoglia and other volunteer acupuncturists have done over 750 treatments for veterans and their family members, many of who return week after week.
"VA hospitals are inundated with veterans seeking help," Agoglia says, "but there are probably many more veterans who are unaware as to why they feel so bad – and certainly more than the VA can handle. Nightmares, headaches, insomnia, anxiety and depression are also very common among returning soldiers, even decades after the battles have ended. Some soldiers may choose to go back for another tour of duty or self medicate with drugs or alcohol. They may find themselves getting into trouble with the law or getting excessive speeding tickets. These can all be symptoms of PTSD."
Agoglia, who has been in private practice since 2003 as an acupuncturist and yoga instructor at Integrative Therapeutics in Natick, MA, says she feels "honored to be able to give back to the men and women who have given so much to this country some sense of control in their lives, aiding in their ability to better cope with their daily lives. They thank me as they leave the clinic, but really it is me who is thanking them."
For information on VAC Metrowest visit http://vac.anotherexample.com, call 508-626-0896 or email Janine at jagoglia@integrativetherapeutics.com. To find an MSRP clinic in your area visit http://www.AcuWithoutBorders.org.
1. Walter Reed Army Medical Center, "Program to focus on effects of combat stress on families, others." 10/23/09. Click Here
Thinking of sending a letter or news item? Do it today! Email to carol@spiritofchange.org or fax to 508-278-9641 or mail to Spirit of Change, PO Box 405, Uxbridge, MA 01569.