Alternative Power For A Cleaner World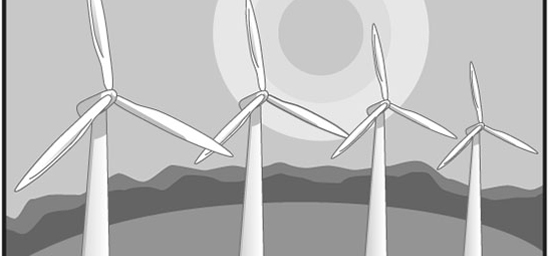 Dear Carol,
This is in response to your fall '08 editorial entitled "Musings." You've expressed a bright vision of our world, which builds on our society's experiences of just a few generations ago. I'm a student at Cape Cod Community College enrolled in the Environmental Technology program where I study alternative energy and building energy efficiency. My humble purpose is to chip in whatever practical knowledge I can to help realize your vision and to share some exciting developments along the way which are in the "spirit of change."
This all has a spiritual foundation bestowed on us by our native cultures, namely stewardship with Mother Earth. Our goal is to achieve global stewardship in partnership with nature, amidst a complex global and technological society. Our native ancestors achieved stewardship with Earth based on a much smaller and far less interconnected scale, being "low tech" populations.
Yes we can and ought to act as individuals to conserve energy and walk our talk as advocates of global stewardship. In order to effect a mass movement in this quest, government cooperation is vital. I find it somewhat enigmatic that the knowledge I'm sharing here is not plastered over the major television and radio waves on a regular basis, so it needs to be disseminated through alternative sources.
On a state level I've learned our government is stepping up to the plate with substantial tax rebates and financial incentives for improving building energy efficiency for homes and business. "Well I'm not reading Spirit of Change Magazine to learn about tax rebates and financial incentives…", you might say. Bear with me please. If we are to realize a vision of planetary stewardship in a modern free market, technological society, this means availing the average Joe and Josephine, who are barely scraping by, some immediate financial incentives to go along. Many people are just trying to put food on the table. The thought of having blown-in cellulose insulation in their home is regrettably one step removed from their consciousness, even though this would save them thousands of dollars of heating and cooling costs in the long run. If they only knew about the financial incentives available from our state government, it might not seem so far away.
Here are two web sights which offer many details: www.masssave.com and www.dsireusa.org. [DSIRE is a comprehensive source of information on state, local, utility, and federal incentives that promote renewable energy and energy efficiency.] Now here is the kicker.
To be eligible for these incentives one needs to have a home energy audit. If that sounds rather mundane, even a bit scary like an IRS audit, consider the Zen master who finds spiritual nourishment in the mundane everyday activities like sweeping the floor. Relax! A home energy audit is simply a procedure to determine how efficient your home is at using its electrical, heating and cooling energy for their intended purposes. And if you think having a new home precludes the need for an energy audit, think again!
Expert technicians arrive at your home with extensive knowledge of building infrastructure like furnaces and ductwork, electrical appliances, construction methods, insulation and the like. With various diagnostic tools they can detect invisible air leaks in your home and monitor the efficiency of your major appliances along with other more subtle considerations.
In fact, it is a most wonderful experience to witness a home energy audit. Perhaps you're the intellectual or artistic type or an overworked homemaker, and furnaces, ductwork and insulation are like oil to your water and don't mix. Relax. Having a close connection with your home and how it works is a rewarding and a very fulfilling experience. Ask questions to the auditor and get into it. Be present. This will be an enormously valuable education.
At the end of this process the auditor offers recommendations. It keeps getting better, too. Upon leaving, many of the energy auditing companies will leave you with several compact fluorescent light bulbs just for having the audit. If you follow any of their recommendations, such as insulation or trading in old appliances for Energy Star appliances, there are major incentives and rebates for this. Remember the web sites!
So a major portion of your insulation costs and appliance replacement costs are covered, and your energy costs, along with your carbon footprint, are reduced significantly. This alone will save you thousands of dollars in energy-related costs and help to mitigate climate change. Many people and families are quite content with this, and that's great. You've made a big step towards global stewardship. But wait, there's more…
Now that your home is energy efficient, it is ready for alternative energy systems such as photo voltaic and solar thermal or wind turbines. Those of you who are better off financially may not need any further convincing about solar and wind energy for your home. For those who wonder how they will ever be able to afford this, take a look at the web sites. And if you're worried about the paperwork to fill out for the financial incentives and rebates, most of the installation contractors help you through the process every step of the way. Recent legislation connected with the financial bailout package has further enhanced the incentives, to boot.
With all the financial incentives, many people can have solar-based systems for between $5,000 and $10,000 out-of-pocket expenses. And the system will pay for itself in a matter of a few years, partially depending on fluctuations in conventional energy costs. With oil and gas, your payments last indefinitely.
Along with further reducing your carbon footprint, installing the likes of solar thermal water heaters or radiant floor heating systems or photo voltaic panels for electricity, offers a measure of independence from fossil fuels and supports the local economy, creating local jobs for installers and an increasing number of local manufacturers such as Evergreen Solar in Marlborough, MA, which manufacture photovoltaic panels. You are literally helping employ your fellow New Englanders while helping yourself and the global environment. This is a win, win, win situation!
As part of my course work, I've visited numerous solar and windmill installations, and without formal statistics, it is clear there is a very high satisfaction rate among alternative energy users, both domestically and commercially. On the Cape, which has among the highest utility rates in the state, the energy efficiency and alternative energy movements are expanding rapidly. The excitement and enthusiasm in my classes is palpable and the prospect of finding a fulfilling career in this field restores my optimism to new heights.
I asked a couple of fellow students from Boston why they commute to Cape Cod Community College to take these energy-related courses. They said there are no colleges around Boston that offer these exact courses, and only U-Mass Dartmouth offers similar courses regionally. Not unlike a few generations ago, there is a great need for the government to support education and build programs to make these types of applied energy efficiency and alternative energy courses available, especially with many states in deficit facing drastic budget cuts along with high unemployment rates.
A bright vision of our future can be realized. This requires us acting in the spirit of cooperation between average citizens, businesses, government and cultures working towards a common cause of global stewardship of Mother Earth. I hope our native cultures here in the US and abroad receive the recognition they deserve for their profound contributions to our knowledge of stewardship with nature, and that we can learn from their cultures and help each other. I'm sure there are many native communities that would benefit greatly from solar and wind technology to help raise their standard of living as well.
Russell Kramer
Redfox2520@comcast.net