An Oasis Of Peace Amidst The Turmoil in Israel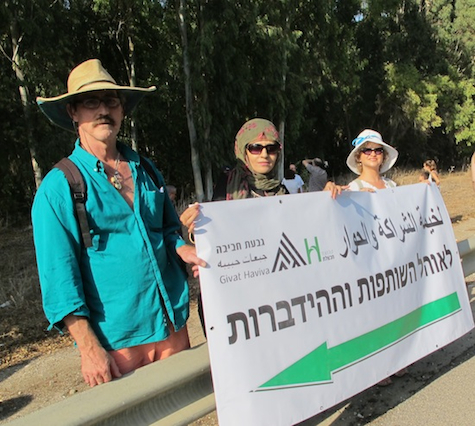 Unless you're living in a news black hole, you well know about the current wave of violence and strife occurring in Israel and Palestine. Many call it the Third Intifada and/or the Facebook Intifada, as it seems to be individuals, rather than organized groups, striking out with knives and ramming cars into people. The results have been tragic, with a number of deaths.
I don't know if it is reported in the mainstream press – I rather doubt it – but this past week in many places around Israel, groups of Jewish and Arab Israelis have joined together to say We Refuse to Live Separate and Afraid of Each Other. During the week there was a "Tent of Peace" near one of the major intersections near my kibbutz in Wadi Ara, an area with numerous Arabs and Jews living in close proximity. All week individuals and families came to meet, discuss, laugh, eat, share their fears and their hopes for a better future. In general the two communities live rather segregated lives with little contact. It was difficult to hear the hardships, resentments, fears and anger of both sides. But people were not there to necessarily agree, but to agree to be together in a peaceful way and not to be afraid.
On Friday, October 16, the day after a reprehensible murder – an African asylum seeker, Haftom Zarfum, was mistaken for a terrorist and shot by a security guard, then stomped to death by a Jewish lynch mob at the Beersheva bus station – about 150 people arrived, about 2/3 Jewish Israelis and 1/3 Palestinian Israelis, and we stood along the highway with signs saying that we choose to live together in peace, with the goal that there should be equality, cooperation, understanding and that the Israeli government and Palestinian authorities must come to some kind of accord. Otherwise these periodic surges of violence will continue to erupt. In the scope of the larger picture, The Tent of Peace seems small rather insignificant, but these gestures of peace between individuals add up to something meaningful, even if it is impossible to measure.
For me it was an important few days, and one of the reasons I wanted to come to Israel; to contribute in my small way to rapport between Israelis and Palestinians, and to dream of the day that this conflict will end; there are so, so many people on both sides that want to just live their lives. Think of Ireland or South Africa: 20-30 years ago it seemed impossible that the fighting in those countries could ever end. But it did, and what is the point of living without retaining a modicum of optimism.
Peace, Shalom, Salaam
Bill
Contact Bill at bsbillbs@yahoo.com.