Ancient Grains and Verdant Sprouts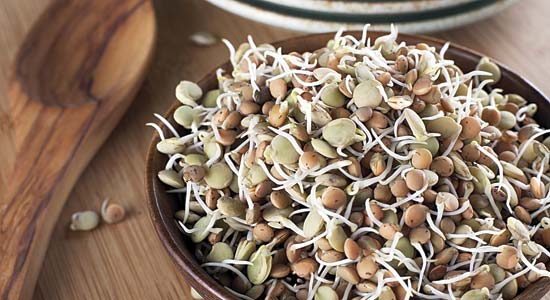 Aaaahhh, spring! That time of year when the local root vegetables are long gone and we are likely through the carefully canned jars from last year's harvest. The reality is, especially in the early spring, we are hankering for new growth but it will be awhile before it appears in our gardens or at a local farmers market. The solution to this lack of local food might be easier and closer than you think. It's the perfect time of year to begin sprouting!
With the resurgence of interest in eating well, sprouts are making a comeback. Asian cooking often incorporates mung or soy bean sprouts and the alfalfa sprout was ubiquitous in the 70's when I was growing up as an addition to salads or sandwiches. Almost any edible bean, seed, grain or nut can be sprouted, so the variety is endless.
Although alfalfa sprouts are the one most people are familiar with, they also have the highest amount of the amino acid canavanine, which some research indicates can worsen existing inflammatory conditions. There are so many seeds and beans to choose from that alfalfa doesn't need to be a large part of your sprouting regime. The two most compelling issues around sprouting are the why and the how. Learning about the nutritional benefits of sprouting and how incredibly simple it is, it's easy to see why it is becoming so popular.
Sprouts pack a lot of nutrition into their diminutive size, often significantly outperforming their unsprouted counterparts. They are excellent sources of vitamin C, and the enzymes that are created in the sprouting process aid in digestion and are often lacking in a typical Western diet.
My favorite salad sprout mix contains red clover (powerful anti-cancer properties), alfalfa (prevention of menopausal symptoms, osteoporosis, cancer and heart disease), kale (vitamins A, B, C E and K, calcium, iron, magnesium, chlorophyll and amino acids) and radish (vitamins A, C and calcium). Sprouted lentils are high in vitamins A, B, C and E as well as calcium, iron, niacin, phosphorus, amino acids, with 25% protein. If the huge nutritional benefit isn't enough to convince you to start sprouting, consider that they are almost ridiculously easy to "grow."
With sprouting, you don't need a big garden or even a pot on a deck to grow fresh, nutrient dense food and you don't need to worry about the weather or critters getting to your harvest before you do! Although there are lots of sprouting kits that you can purchase ranging from $10 to $100, you probably have supplies in your kitchen that will work just fine. Besides it's always nice to test out doing something new before investing in the equipment. You can use a colander, strainer or quart glass jar with some cheesecloth on the top.
The basic premise is the same for all seeds and beans. Here's what I did to prepare for this column. I already had a salad sprout mixture germinating in a commercially purchased tray, but I wanted to make some lentil sprouts as well. So I found a bowl that my strainer would fit inside of and I soaked a half-cup of lentils in the bowl overnight with about an inch of water covering them. In the morning I put them in a strainer and rinsed them, placing the strainer in the bowl to catch any remaining water coming off them. I rinsed them a couple of times a day with the sprayer nozzle from my sink, taking the strainer with the lentils out of the bowl, rinsing them, and putting them back into the bowl.
Within a couple of days little tails begin to show and once those tails are the same length as the lentil they are ready and can be eaten both raw and cooked. Before storing, make sure your sprouts are completely dry; ideally wait 8-12 hours after the last rinse. Store in a covered container in the fridge and they will keep for up to 2 weeks. If you need to store them and they are still damp, allow some air in the container so they can release the moisture as damp sprouts will not store as well as dry ones.
Sprouts are not only nutritious but also incredibly versatile and can be incorporated into your meals in so many ways. Add them to hot or cold sandwiches, incorporate them into salads, stir fries, soups, or as a great raw, crunchy snack anytime. Here is a simple sprouted lentil salad to get you started.
Sprouted Lentil Salad with Creamy Curry or Lemon Parsley Dressing
Salad
1/2 cup sprouted lentils
1/4 cup grated celery root or diced celery
1/4 cup grated carrot
1/4 cup grated apple
2 tbsp raisins or dried cranberries
1 tbsp sunflower seeds
Creamy Curry Dressing
1/4 cup mayonnaise
2 tbsp plain yogurt
1/2-1 tsp minced garlic
1 tsp curry powder
1/4-1/2 tsp salt
2 tsp fresh lemon juice
Creamy Lemon Parsley Dressing
1/4 cup mayonnaise
2 tbsp plain yogurt
1 tsp finely grated lemon rind
2 tsp fresh lemon juice
2 tbsp chopped parsley (1 tbsp for dressing/1 tbsp to toss with salad)
1/4-1/2 tsp salt
1/4 tsp pepper
Mix all salad ingredients together in a medium sized bowl. Mix either of the dressing ingredients together in separate bowl. I used 4 teaspoons of dressing for the quantity of salad in the recipe but you may want slightly more or less depending upon your taste preference. You can also make these dressings vegan by choosing vegan mayonnaise and yogurt. Play around with them; add a pinch of cayenne to the curry dressing if you like things spicier and add some garlic to the lemon parsley dressing if you want to give it a little kick. As with any recipe adjust measurements to suit your taste. This is a great side dish or can be a light lunch served on a bed of chopped lettuce with slightly more dressing.
The Quinoa Complex
Another nutrient powerhouse that has become very popular is quinoa, a food staple that has been grown in the Andes for thousands of years. Not technically a grain, it is actually a chenopod, related to beets, spinach and Swiss chard. With 15% protein, an excellent balance of amino acids and significant levels of compounds with nutraceutical benefits, it is understandable that quinoa has received such high praise and is now sought after around the globe. But as with any success there is an up side and a down side to this increased popularity for this peasant food of the Andes.
Clearly the upside is having this nutrient blockbuster available to more people. The incredible irony here is that its popularity has caused a worldwide quinoa price increase, putting it out of reach for some of the very people who have relied on it for thousands of years. In addition, many of the farmers who have been growing and consuming quinoa for decades are now making more money — which in many cases is a good thing — but they may now also be seeking to westernize their diet with less nutritious foods like pastas and rice that until now have been unattainable. For more in-depth information on the rise to prominence of quinoa, read Tom Philpott's "Quinoa: Good, Evil or Just Really Complicated" in Mother Jones.
I rarely use a specific recipe with quinoa but treat it like a grain as a side dish, use as the basis of a stir-fry or top it with a ratatouille or stew type dish. Here is an example of a stir fry that can be made really quickly when you are pressed for time with hungry mouths to feed, even if it's just your own! Look for locally grown, asparagus in late spring at markets and farm stands in your area.
Asparagus Quinoa Stir-Fry
1/4 cup olive oil/butter or combination
1 cup chopped onion
1 cup chopped mushrooms (I used shitake and trumpet)
4 cups asparagus cut into 2" lengths
2 tbsp chopped garlic
2 tbsp olive oil
1 tbsp dried oregano (or 1/4 cup chopped fresh)
2 tbsp chopped parsley
1 tsp salt
1/2 tsp pepper
3 cups cooked quinoa*
shaved hard cheese (optional, I used Manchego)
Heat olive oil/butter in large cast iron fry pan or other appropriate saute pan over medium heat. Add chopped onion and cook until softened, add mushrooms and cook for 2-3 minutes, then add asparagus, garlic, additional olive oil and oregano. Cover with lid and cook for 3-5 minutes, stirring occasionally to make sure the mixture is cooking nicely without sticking to the bottom of the pan. If necessary turn heat down or add a bit more oil. When done, the asparagus will be firm but pleasant to eat, not too hard and not mushy. Take off the lid and add in the parsley, salt and pepper and stir to blend. Add in 3 cups of quinoa and stir until uniformly mixed. Portion into serving dishes and top with grated cheese.
*To cook quinoa, I use 3 cups of water to 2 cups of quinoa plus a dash of salt and teaspoon of butter or olive oil. Rinse quinoa to remove any of the naturally occurring saponins that can create a bitter taste. Bring water to boil, add in rinsed quinoa, salt and oil if using. Replace lid return to boil and then reduce heat to low, checking occasionally. Generally takes about 15 minutes. Most recipes call for more water but I find this ratio works well and give a nice firm result that holds up well in a variety of dishes.
I always cook more of any grain than I know I will need for any given meal or recipe so that I have leftovers in the fridge for other "fast" food. One of my favorite things to do with leftover quinoa is to use it in a frittata for a tasty, substantial gluten-free breakfast, especially if I'm heading into a busy day and may be challenged to fit in a good lunch.
Quinoa Frittata
The easiest thing would be to have a small amount of the stir-fry recipe above leftover, approximately 1/2 cup per 1 egg, in terms of portioning. I have a small Lodge cast iron fry pan that is about 5 inches across the bottom and is perfect for a single frittata. The next size up is great if you're serving two people. I simply add some olive oil or butter to the pan and put it on medium heat until warm, then add in the half cup of leftover stir fry and cook until warmed through, scramble an egg and add it to the pan and stir until it all starts to hold together. Spread the mixture around the pan with a spatula so the top is relatively smooth, like you're making a crustless quiche, cover with a lid and lower the heat to very low while it finishes cooking.
If you only have the leftover quinoa you can do the same kind of thing reducing the quinoa to 1/4 cup per 1 scrambled egg and add in 1/4 cup of any leftover veggies or chop up some onions, mushrooms and peppers — whatever is in your fridge that you'd like to try! Have some fun making individual quinoa frittatas; kids tend to like doing this because they can personalize them and anything they do themselves tends to go over much better, especially when trying new foods!
Karen Masterson, along with husband Kevin, are the owners of nourish restaurant, located at 1727 Massachusetts Avenue in Lexington, MA. Keeping their prices reasonable so that customers can enjoy frequent visits, nourish is working to build a community around local food, music and art, featuring live music Saturday nights and ongoing juried art shows. Visit www.nourishlexington.com or call (781) 674-2400.