Another Reason To Go To The Beach This Summer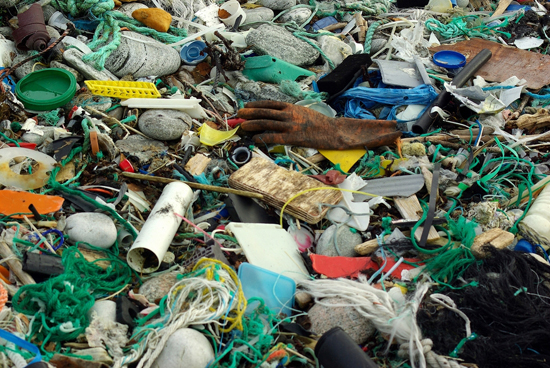 Contrary to popular myth that most ocean pollution is oil spilled from ships, most of it is land-based litter.
Pictured: Plastic litter on a beach, before clean-up. Photo: Bo Eide, courtesy Flickr

Did you know that about a million seabirds, turtles, whales and dolphins die each year from eating ocean plastic? When I first read in 1986 about these millions of sea creatures, I started picking up trash whenever I went to the beach. With the encouragement of Shannon Waters of the California Coastal Commission, I founded All One Ocean in 2010 with the goal to establish Beach Clean Up Stations (B'CUS) on beaches around the world to provide a simple way for you and any beachgoer to help collect trash while enjoying the beach. The stations provide re-purposed collection trash bags for beachgoers, as well as educational materials.
According to the Monterey Bay Aquarium, many people think that the biggest source of pollution in the ocean is oil spilled from ships – but most marine pollution is litter that starts out on land. The most dangerous litter is our throw-away plastic because of its longevity and capacity to increase in toxicity, eventually returning to the human food chain in a more lethal form.
Much of our plastic ends up in the ocean in giant collections of trash called gyres, created by circular ocean currents. They trap debris for decades where it continues to break into ever smaller, more toxic pieces, never fully biodegrading.
Too much of it winds up in the bellies of marine life. Like seabirds whose primary diet can be pieces of plastic and styrofoam.
Creatures in the sea have existed for millions of years. They have not adapted to our ocean debris. When swallowed it contaminates the natural food chain – adding toxicity to our own systems when we eat ocean life.
Beach Clean Up Stations provide a simple, doable way for people to have fun cleaning up trash as they enjoy their beach activities.
All One Ocean's Beach Clean Up Stations are permanent, community generated and managed clean up stations. For a long time, non-profits have organized periodic beach clean ups as a way to involve the public in helping the ocean. The Beach Clean Up Station is a practical way to insure that clean up is happening everyday on all our beaches. Like 'adopt a highway' campaigns, Beach Clean

Albatross chick, Midway Atoll, by Chris Jordan Up Stations create community around care for and education about these clean up hubs. Eventually, people will come to the beach and automatically think about cleaning up some trash as they enjoy their beach activities. We work to make sure they come to understand that removing ocean trash directly protects them along with the fish, turtles, whales, dolphins and sea birds that are sustained by All One Ocean. By encouraging people to reconsider their consumption of single use plastics, we also address the effects of climate change. Manufacturing and transporting such products as plastic water bottles, bags and food containers contributes to global warming, which is damaging our coral reefs and our collective Ocean's entire ecosystem.
It is all one ocean and you can help! Every tiny piece of human trash picked up is one less toxin in someone's stomach. We hope you will join us! If you want a B'CUS on your favorite beach, contact us and we will help. The dolphins, whales, seals, turtles, fish and seabirds thank you!
Editor's Note: Spirit of Change readers, report your beach trash collecting activities to Carol@spiritofchange.org. Thank you!
Thanks to Doug Moss at EarthTalk for bringing this information to our attention.