Arkansas Oil Spill Heralds Keystone Pipeline's Future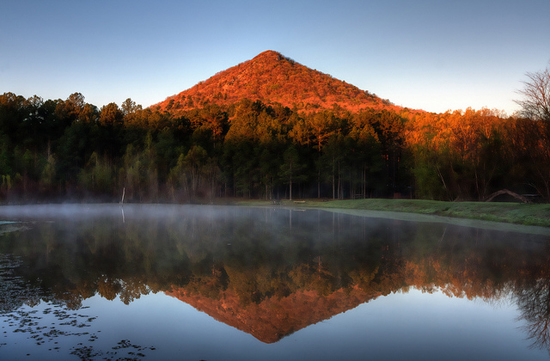 Pinnacle Mountain, Arkansas ©Flickr user jball359
The tar sands oil pipeline spill in Arkansas this week is a harbinger of future homeland disasters if the Canadian Keystone pipeline is allowed to cut through the heartland of the United States. 84,000 gallons of crude swamped an Arkansas subdivision, causing the evacuation of 22 homes in addition to the environmental damage and health hazards inflicted for years to come.
"TransCanada's first Keystone pipeline leaked 12 times in its first 12 months," wrote Sierra Club's Michael Brune. "Because tar sands must be pumped at higher pressures and temperatures than conventional oil, it corrodes pipes faster."
Read Tara Lohan's "Six Things You Need to Know About the Arkansas Oil Spill" for in-depth coverage.
President Obama promised Americans a new energy policy that would take us into the future with clean energy research and infrastructure. Further investment of our prosperity and precious environment in a dubious fossil fuel project like the Keystone Pipeline is a wholesale betrayal of America's future, resting entirely at the feet of President Obama. Let's hope our president finds the conviction and support to oppose the Keystone Pipeline for good.
Carol Bedrosian is publisher of Spirit of Change, New England's largest free holistic health magazine. Visit www.spiritofchange.org.