Astrological Forecast For Spring/Summer 2018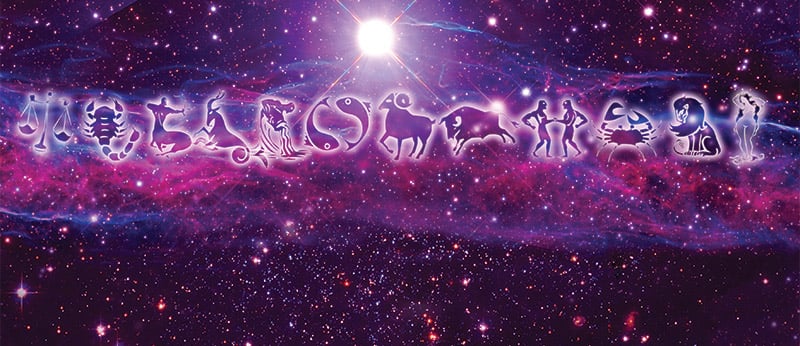 "Spring: It is a natural resurrection, an experience of immortality." — Henry David Thoreau
In the natural world, rebirth and realignment are under way. Important shifts in planetary emphasis continue as we head into spring. In recent months key planets have moved from conceptual air and fire signs into more grounding water and earth signs. First was Jupiter, arriving in Scorpio last October. Then it was Saturn's turn, with a late December entry into Capricorn. Next up is Uranus, moving into Taurus during May. The new concentration in earth and water elements directs attention towards physical needs, environmental concerns and financial realities.
Expect public scrutiny to focus more sharply on safety issues, the need for well maintained roads, bridges, rail lines and schools, as well as more effective gun control. Clean air and adequate water supplies are on the minds of millions of drought-stricken and fire-ravaged inhabitants worldwide. Affordable health care is another concern. Talk will not be enough. Solutions will be demanded.
When eccentric Uranus enters Taurus on May 15th, it will be the first such visit since the Great Depression and World War II era. Economic inequality stands to be a hot button issue, and bull markets may quickly turn bear. Financial security can prove elusive to increasing numbers of people. Don't be surprised when talk of "taxation without representation" crops up around April's tax day. Deep soul searching makes many folks aware that there are things money cannot buy. Happiness is but one example.
At a time when government fails to represent the will of the majority, the stage is set for a more motivated and outspoken electorate. This can only be a good thing, if we are to move into the future as a working democracy.
March
True to form, March comes in like a lion, roaring to life with the full "Worm" Moon in Virgo on Thursday the 1st. Hopes are infinitely high on this optimistic day. Dreams continue to be powerful motivators through the weekend of the 3rd and 4th. The Pisces Sun is closely aligned with idealistic Neptune while Mercury and Venus foster much kindness and goodwill by virtue of trines with Jupiter.
Hints of springtime and imminent beginnings are felt on Tuesday the 6th. That's when, first Mercury, and then Venus, enter the zodiac's first sign, Aries. On Thursday the 8th, the start of Jupiter's four-month long retrograde could occasion a rethinking of an alliance or a sudden need for additional financing. Money matters preoccupy many folks through mid-month, as Mercury and Venus test Saturn. Be prepared to make do with less. Some commitments could also come to disappointing ends or remain unfulfilled.
Mars joins Saturn and Pluto in Capricorn on the Pisces new Moon day of Saturday the 17th. As you set intentions and take on new challenges, be aware that a large amount of practical knowhow and technical expertise is available.
The Sun enters Aries around midday on Tuesday the 20th. Spring has arrived! The vernal equinox represents that brief point of balance between the forces of darkness and light. Mercury is conjunct Venus and will soon turn retrograde on Thursday the 22nd. Take time to let loved ones know you appreciate them. Actions speak louder than words.
Saturday the 24th is a day of numerous challenges. The late morning first quarter Moon could mandate a change in strategy. Solar tests to Mars and Saturn bring delays and obstacles through month's end. Despite ensuing challenges, Wednesday the 28th may see slumbering hearts reawakened, tuned to the chords of love. Goals are likely to shift. The full "Blue" Moon on the 31st sheds light on a fast-changing landscape. Be ready to rethink, retool and respond to emerging needs.
April
In the wake of yesterday's full Moon the Sun overtakes retrograde Mercury the afternoon of the 1st. Minds are more pliable than usual. Second opinions can be helpful, second thoughts instructive. Pragmatism is a force to be reckoned with on Monday the 2nd. Mars and Saturn are conjunct. Do what has to be done. Retrograde Mercury soon tests the no-nonsense duo. Conform with pressing needs, rules and regulations, for there will be a price to pay if you veer off purpose.
Long time love is acknowledged on Saturday the 7th. This is a good date night, although insomniacs must contend with the restless last quarter Moon energies during the wee hours of Sunday morning. Mixed trends bring battles, rewards, surprises and victories during the mid-month period. It's a series of busy, up and down days. The Sun's square to Pluto on Tuesday the 10th can set off fireworks. Power struggles become more intense. Venus calms roiled waters on the 12th.
On Saturday the 14th, stately Jupiter's sextile with Pluto facilitates healing and peace making. Commonsense rules are more easily followed. The same day Mars and Neptune join forces to encourage creativity as well as self-sacrifice. Evening plans tend to fall flat.
The Aries new Moon on Sunday evening the 15th follows Mercury's early morning return to forward motion. The Moon's phase signals the start of a new activity cycle but Mercury is in square to Saturn. The ringed planet hovers, preparing for its own retrograde, which begins on Tuesday the 17th. Confer with friends and business partners. Don't make unrealistic promises you can't keep. Wednesday the 18th can bring amazing ideas and breathtaking advances. The following day the Sun arrives in fertile Taurus. Spring fever is irrepressible. Let your senses luxuriate in the sights, smells and sounds of the season.
Pluto shifts to retrograde motion on Sunday morning the 22nd. The reversal, followed by the waxing first quarter Moon in Leo that afternoon, increases the odds of a change in goals or intentions. Be thoughtful and thorough this week. Don't hurry. Use resources wisely. The full Moon in Scorpio on Sunday the 29th will either reaffirm one's plans or point the way to a better, more efficient strategy.
May
The merry month begins under a quiet void-of-course Scorpio Moon. By midday of the 1st, the Moon is in Sagittarius, quickening minds as well as the flow of information and travel. The first few days of May are mellow. More energizing trends only gradually take hold as mid-month approaches. On Tuesday the 8th, the Taurus Sun's opposition to Jupiter arouses curiosity and raises expectations. Some hopes are probably ungrounded. However, when the Sun trines Pluto on Friday the 11th, prayers are answered. Partners come to the rescue. Things soon change again.
The weekend of the 12th and 13th has its challenging moments. Mercury is conjunct Uranus and both planets test Mars, a potentially dangerous configuration. Err on the side of caution. Drive carefully and use appropriate tone and language when speaking. Watch your temper and guard against impatience.
The Taurus new Moon the morning of Tuesday the 15th starts us on new adventures. Just before noon eccentric Uranus reaches Taurus for the first time in eighty-four years. Financial and social instability can be noted worldwide, particularly with fiery Mars forming a square to Uranus on the following day. The heavens grow calmer on Thursday the 18th. Take advantage of excellent social possibilities through Saturday afternoon.
The Sun enters Gemini the night of Sunday the 20th. Dreams and longings are intense when, during the early morning hours of Friday the 25th, retrograding Jupiter aligns with Neptune. Travelers want to be on the move this week. Political debates are lively. A consensus is reached Friday morning but there may be a few notable holdouts. Tricky trends warrant extra care on the highways this holiday weekend. Saturday is challenging. Check out engine warning lights and other mechanical issues. The waxing Moon fosters much happiness on Sunday. Mother Nature welcomes and renews sensitive spirits.
The Sagittarius Moon is exactly full at 10:19AM EDT on Tuesday the 29th. Speak plainly, without being overly self-righteous. Putting others on the defensive only hinders communications. Be a good listener, despite raised excitement levels and eagerness to get on with and overcome new challenges.
June
From the start, June feels busy. Moods are extra cheerful on Friday morning the 1st. Optimism attracts opportunities. The hours are productive. Warm feelings spill over into Saturday the 2nd. Love is splendid. Out of the blue, Saturday night brings unexpected challenges and stresses. Follow the Golden Rule and everyone will remain friends.
Emotional and mental intelligence are heightened on Tuesday the 5th. Hearts and minds can function as one. Relationships benefit from casual small talk as well as more probing discussions. If pressed, stand your ground Tuesday night. Fantasies multiply on the 6th. Don't put yourself at risk by trusting indiscriminately.
A realignment of the cosmic chessboard comes as mid-month approaches. Mercury enters protective Cancer the afternoon of Tuesday the 12th. The Gemini new Moon launches a fresh activity cycle on the 13th. Venus enters regal Leo the same day. The new party atmosphere has its trials. Venus is square Uranus on Thursday the 14th and Mercury is at odds with Saturn on Friday. Love and life don't always follow a smooth course. Make sure your door and heart remain open.
Harmony between the Sun and Leo Moon help make Father's Day enjoyable. Neptune turns retrograde Monday evening the 18th. This could be the week to clear up a misunderstanding.
Summer begins just after sunrise on Thursday, June 21st. The solstice Sun enters Cancer and is in an opposition with Saturn. Other planetary aspects energize relationships but also test key ties. A festive mood graces Saturday night social events but quieter, more introspective feelings dominate Sunday the 24th.
The Moon is waxing full and the last week of the month is busy. Curb extravagant tendencies on Monday the 25th. Mars turns retrograde in Aquarius late Tuesday afternoon. The event could trigger numerous groups of people to take a more active stand promoting causes and rights. On Wednesday the Sun opposes Saturn, a once-a-year reality check encouraging us to give pause and ask tough questions. Who and what are essential? How is time best spent? Minutes after midnight on Thursday the 28th the full Moon in Capricorn sails high overhead. A lunar conjunction with Saturn indicates serious decisions are being made. But matters may still change.
On Saturday the 30th, a month-ending square between Mercury, newly arrived in Leo, and Uranus in Taurus leaves plenty of room for second-guessing. Intuition may falter. New information can come to light. Nerves are on edge. Breathe. Relax and adapt to changing circumstances.
July
A mellow period opens the month. Holiday travel is facilitated by a lunar trine to Jupiter the afternoon of Tuesday the 3rd, but watch your speed, as the Moon is also close by Neptune. Rain, fog and wind may delay nighttime motorists. Wednesday the 4th is exceptionally quiet. A void-of-course Pisces Moon fosters laid back, even lazy moods. A pending trine between the Sun and Jupiter instills a desire to enjoy the festivities, whatever the place and circumstances.
Be careful if you're on the road or using machinery Thursday morning. The afternoon is far more promising, both for travel and communicating. Mechanics and engineers also find their work goes more smoothly. Security issues loom large the weekend of the 7th and 8th. Protect your assets. Optimism increases on Sunday but guard against unrealistic expectations.
Jupiter resumes forward motion on Tuesday the 10th. The directional shift could occasion welcome financial news for some folks. Venus' Wednesday night trine to Uranus is another good omen for money matters, as well as friendship and romance. However, this is eclipse season. Not everything goes as planned or promised the week before an eclipse. The Cancer new Moon the night of Thursday the 12th eclipses the Sun. Both stars oppose Pluto. Expect intrigues and abuses of power to be spotlighted. Look inward for revelatory personal insights.
The middle of July is relatively quiet. The Sun enters Leo on upbeat Sunday the 22nd. Unstable conditions make a big impact, as the Moon waxes full. Trust issues strain some alliances on Tuesday the 24th. The next day a solar square to Uranus could trigger a new round of economic uncertainties. Mercury in late Leo turns retrograde on Thursday the 26th, complicating negotiations and bedeviling planners with indecision. Delay commitments if at all possible.
The powerful full Moon/lunar eclipse in Aquarius is exact Friday afternoon. The eclipse could yield a new round of penetrating insights. Personal ambitions may be temporarily frustrated by apathy or a lack of support from peers. Whatever differences surface, keep striving to communicate. Two heads or two hearts are better than one as Venus trines Pluto late in the day. Protect your privacy as the month ends.
August
A jarring square from Mars to Uranus cautions against acting without forethought. The risk of accidental injury is elevated, so proceed with care. A waning Moon reaches the last quarter phase during the afternoon of Sunday the 4th. Handle chores and responsibilities early, and then plan to enjoy summer fun during the second half of the day.
Pleasing others can seem like a relatively simple thing to do on Monday the 6th. That evening Venus arrives in socially minded Libra just as the Sun tests Jupiter. Some folks will find that despite their best efforts, there's no way to satisfy everyone. A change in strategy may be helpful, as Uranus turns retrograde on Tuesday the 7th. Focus on successful friendships and other partnerships as Venus moves into a trine with Mars that night. Later in the week Venus is at odds with Saturn, increasing financial concerns and straining some partnerships to the breaking point. Resist issuing ultimatums.
The Leo new Moon of Saturday the 11th eclipses the Sun. Many people are likely to backtrack on previous claims and stories. Still retrograde, mental Mercury squares Jupiter on the 11th. If something doesn't make sense, reject it. Look for additional facts and newly released information before making up your mind.
Sunday the 12th brings a personal favorite, the Perseids meteor showers. The same day marks Mars' entry into Capricorn. If the weather cooperates, viewing of both meteors and the red planet should be excellent. Following yesterday's new Moon there is little moonlight to obscure the celestial action. Mars in Capricorn is a plus for timing, pacing and taking care of business.
Mercury's retrograde ends just after midnight on Sunday the 19th. A way forward soon becomes clearer. Jupiter makes a glorious trine to Neptune hours after the winged messenger changes direction. Magic is afoot. Dreams are vivid and Sunday's waking hours prove wonderful for socializing and fun.
The upcoming change of seasons is heralded by the Sun's arrival in Virgo on the 23rd. There are plenty of late summer pleasures to savor as the Moon waxes. Saturday the 25th finds the Virgo Sun in a grand trine with Saturn and Uranus. Apply knowledge and experience, vision and cutting edge technology to advance towards goals. Network with friends of all ages. Conceptualize, plan. However, with the Moon void-of-course, it may be wise to wait until another day to begin building actual foundations.
After brightening the Saturday night heavens enough to keep some folks awake, the full Moon in Pisces is exact Sunday morning. Moods can fluctuate so much that partners become frustrated. Be considerate. Respect the emotional space and privacy needs of loved ones.
Mars returns to forward motion on Monday the 27th. Now in the late degrees of Capricorn, the fiery planet continues to be at odds with Uranus. Tread softly. Don't overreact. Use words to bridge divides and promote understanding. Summer playtime is rapidly dwindling. The Labor Day weekend comes early this year. Minds are firmly set on enjoying the pleasures of the harvest and outdoor fun as sunny August ends.
Eric Linter offers a complete range of astrological services including readings, classes and his "On Top of the Stars Monthly Guide" for making inspired career and personal decisions. Contact Eric at ericlinter.com and read his daily forecast on the Spirit of Change homepage at spiritofchange.org.