Astrology Forecast for Spring 2015
"The only way to make sense out of change is to plunge into it, move with it, and join the dance." — Alan Watts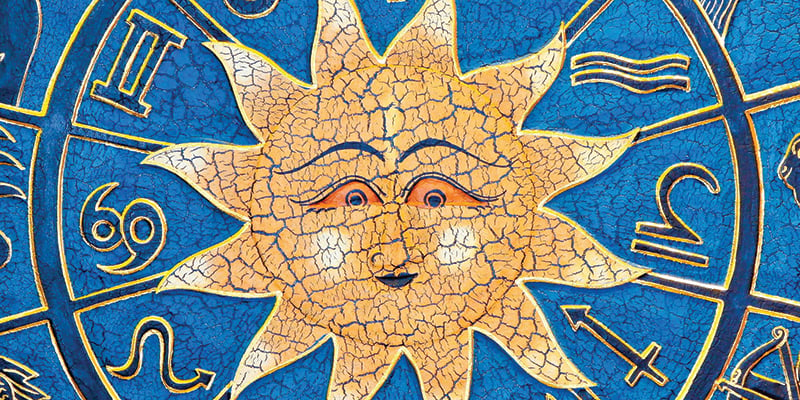 Events of recent years have repeatedly shown that reality can be easily contrived, is often not what it appears, and is likely to change in a flash. In this illusory age of video games and digitally manipulated photographs and films, it is increasingly hard to know who to believe and what is real. At the same time, modern technology has also made it possible to see things never before viewed by the human eye. A star being born in deep space, minute anatomical details seen at a hospital radiology department, or rare creatures living in the deepest oceans come to mind. We may question reality for many good reasons but our awareness of the world around us is expanding!
Astrologers attribute the root cause of this decade's technological advances, as well as its volatility, to a persistently stressful, high energy square between Uranus and Pluto, respectively the planets of evolution and transformation. Although their series of seven exact squares concludes this spring, there will be aftershocks throughout the year and far beyond, into the foreseeable future.
March
The unruly winds of late winter and early spring blow away cabin fever and this year March arrives with a mighty cyclone of cleansing celestial energy. It's out with the old and onward we go! The first days of the month include a waxing Moon and an extraordinary conjunction of Mars, Venus and Uranus grouped around the lunar South Node in Aries. All are a part of a brilliant grand trine to Jupiter in Leo and Saturn in Sagittarius. Life will be anything but dull. The auspices for socializing, making karmic reconnections, meeting new friends, learning and traveling are excellent, although Jupiter's opposition with mental Mercury cautions against extravagance, boasting or speaking in absolutes. The full Worm Moon in Virgo is exact at 1:05pm on Thursday the 5th. The stars task us with living according to our highest expectations and translating our ideals into action. Several quiet days follow. We switch back to Daylight Savings Time at 2:00am on Sunday, March 8th.
By Tuesday the 10th, activity levels again pick up. Lively debates may give way to heated confrontations at mid-week. On Wednesday the 11th, fiery Mars is conjunct impulsive Uranus and square to Pluto. The world can seem to be a powder keg. The seventh and final in the series of destabilizing Uranus/Pluto squares is exact on Monday the 16th. Practice the art of peacemaking. Start within, meditate, breathe, and stay relaxed. At all times make an effort to be constructive, ready to adapt to changing needs and circumstances.
We're not out of the woods. A solar eclipse accompanies the late Pisces new Moon the morning of Friday the 20th. Secrets may be revealed around this date. A palpable sense of being complete with a situation, lesson or relationship is quite possible. As with every new Moon it is time to set intentions and launch projects, but remain open to adjusting plans as new information becomes available. That same evening the Sun enters Aries, heralding Spring's arrival.
The remainder of the month is comparatively tame and accompanied by welcome energy. The Sun in Aries rejuvenates the fire sign grand trine, which in turn invigorates life forces. Spring returns with gusto! The 25th is an especially good day to make long term commitments.
April
A lunar trine to Pluto assures that some April Fool's jokes will be, as we say in New England, "wicked funny." The waxing Moon fuels high spirits and laughter. Auspicious trends give way to trying times as the full Pink Moon in Libra, exact Saturday the 4th at 8:05AM, re-ignites the Uranus/Pluto square. Partners can be quite challenging over the weekend. Cooperation and intelligent planning are keys to translating the powerful energies available into positive actions. Monday the 6th can see giant strides made as the Sun overtakes Uranus. Be daring and innovative. Try out new things.
Continue to scrupulously focus on positives during the mid-week period. Jupiter shifts direction this week, too. On Wednesday the 8th the giant planet of optimism and faith resumes forward motion. This is good news for imaginative dreamers, inveterate travelers, teachers, authors and publicists.
Senses are hyperactive as Mercury flies past Uranus a minute after midnight on the 10th. Think carefully before you speak. Financial pressures may challenge partnerships as tax day approaches. Venus is at odds with the Moon and Saturn on the 15th. Mixed trends simultaneously give rise to new worries and offer hope through the 18th, while Saturday's new Moon in Aries quietly boost spirits.
With little fanfare the Sun moves on into fertile Taurus the morning of Monday the 20th. The season's sensual side, with its caressing breezes and fragrant scents, cheerful sounds and vibrant colors is accentuated by a string of planetary alignments. The 23rd, 24th, 28th and 29th are good days for planting early crops. Plan to socialize on Sunday the 26th.
May
The full Flower Moon in Scorpio is exact at 11:42pm on Sunday the 3rd. The Sun is in Taurus. Both stars are testing Jupiter, making these first few days of May lively and at times exuberant. Think big. Make ambitious plans. A solar trine to Pluto on the 6th opens avenues that lead to success. Put your many talents and resources to good use.
A Mother's Day gathering may spontaneously grow into an extended family affair. Then, on Monday the 11th, Mars enters Gemini where he encounters resistance from Saturn. Slow down this week. Friday's exact opposition between the red planet and stubborn Saturn could warrant a pause in activity, a chance to regroup and come up with a new game plan.
Monday the 18th brings conflicting signals from on high. The Taurus new Moon is just after midnight. Ordinarily this is a "go" signal, time to begin anew. However, after the Sun has set, mental Mercury goes retrograde, leading many minds to reflect on the past. The Sun is also moving into an opposition with Saturn so it's best to move ahead with caution and deliberation.
Gemini welcomes the Sun on Thursday the 21st. Fated encounters can be expected and could have a profound impact. Tune in to weather reports and drive safely over the holiday weekend. The same holds true for the last week of May. Stay safe and enjoy the season!
Eric Linter offers a complete range of astrological services including readings, classes and his "On Top of the Stars Monthly Guide" for making inspired career and personal decisions. Contact Eric at www.ericlinter.com. Read Eric's daily forecast on the Spirit of Change homepage at www.spiritofchange.org.