Astrology Forecast for Winter 2011-12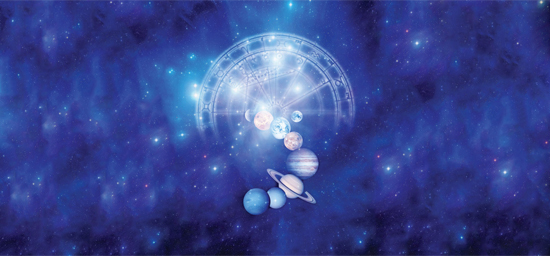 "Life is what we make it, always has been, always will be." —Grandma Moses
As winter's cold settles across New England, overhead the stars portend change. The precarious state of many governments, institutions, corporations and households confirms life is indeed a delicate proposition. While chaos may be knocking at the door, uncertainty also affords the freedom to make extraordinary choices. Let's look at the promise of these months.
The ongoing square between Uranus and Pluto is at its widest separation in more than a year. Even weakened, this aspect is currently astrology's big player, by design meant to upset the apple cart. Uranus has retrograded back to the first degree of Aries, the position it held during the catastrophic Japanese earthquake, tsunami and nuclear meltdown of last March. Threat levels are again elevated during December, but the stars are not as ominous as they were last spring. Still, it is wise to take precautions. What to do? Be prepared. Have stockpiles of water, food, flashlights, batteries, etc., ready in case a major storm or other emergency causes problems in your neighborhood.
Most fortunately, Jupiter's early December position, in trine to Venus, Pluto and Mars, suggests challenges can be faced and mastered. At times during these months it will feel as if there is a rush to get things done.
Resolute Saturn is also in a fine trine to idealistic Neptune. Here's an invitation to turn your dreams and ideals into something real and meaningful. Networking with those people who share in a common cause is empowering and satisfying. Thanks to today's technology it appears as though populist movements, Occupy Wall Street and the like, will continue to gain followers and momentum.
December 2011 Capricorn Dec 22-Jan 19
On the morning of the 1st, loving Venus is conjunct Pluto. At the same time the Aquarius Moon, following a predawn conjunction with Neptune, travels void-of-course. The pairings of the two feminine planets with far away "transpersonal" planets stir vivid feelings and memories. Bouts of remorse and pining for more from life and love can be expected. Moods are brighter during the second half of Thursday. The night is fabulous fun but Friday the 2nd sees more nettlesome alignments in the heavens.
The first quarter Moon in Capricorn sets Friday off on shaky ground. Emotions remain volatile. The Sun's square to Mars necessitates care and patience during the morning commute. A lengthy void-of-course Pisces Moon period begins shortly after lunch and lasts well into the weekend. Try to take care of important business matters Friday morning and then relax for a couple of days.
A sea change occurs Saturday night. The Moon arrives in Aries where high-strung Uranus awaits. The adventurous pairing encourages spontaneous excursions. A friend's house, nightclub, political or other gathering could be on the agenda. The Sun and Mercury then form a conjunction early Sunday morning while both are in square to Mars. Nerves remain jittery throughout this period. Watch your temper. More harmonious energies arrive Sunday night and remain in place through Wednesday the 7th.
By midweek the Moon is waxing, and nearly full. Activity levels peak as the weekend approaches. Uranus resumes forward motion just after midnight on Saturday. Later that morning, at 9:36AM EST, the full "Cold" Moon flies high in the sky. This is a lunar eclipse, the earth blocking the light of the Sun from the Moon's face. The Moon stands close by her own south node, a theoretical point in space symbolizing karma and the past. If ever there was a sign from above to let go of worn out attitudes and thinking, this is it.
Looking ahead to the future is easier after mental Mercury resumes forward motion on Tuesday the 13th. Following some confusion and lethargy earlier in the day, minds are reprogrammed and running clean and fast Tuesday night. Intuitive faculties are also sharp.
Give your body and perhaps a significant someone a healthy amount of TLC over the weekend of the 17th and 18th. Partnerships require periodic maintenance. With proper care and responsiveness, romance blossoms Saturday night, even as Venus tests Saturn the next day. By Sunday morning a financial concern can weigh heavily.
Prospects seem much improved on Monday. Professional and personal interests benefit from a solid Sun/Saturn angle. As the week unfolds, seasonal socializing is in full swing. Tuesday the 20th is especially busy and pleasant. Be receptive to invitations and welcoming towards newly arrived faces. One word of caution; keep tabs on your spending, as Venus' square to Jupiter has been known to bust many a budget.
The excellent vibes hold strong and true right into winter solstice, Thursday the 22nd. A splendid trine from the Sun, freshly arrived in Capricorn, to Jupiter in Taurus represents a celebration of earthy delights. The happy mood dissipates later in the day when the Sun reaches a square aspect with unpredictable Uranus.
The risk of an earthquake, political upheaval or manmade disaster is high. Be extra careful if you are driving. As fate would have it we are near the end of the lunar cycle, so tensions are somewhat ameliorated. We have turned a corner and the hours of daylight now get longer.
The new moon in Capricorn is exact at 1:06 PM EST, on Saturday the 24th. The Moon, Sun and Pluto are together in the sign of the goat. The trio is at odds with Uranus and in a gracious trine with fertile Jupiter. If faced with uncertainty, finding something to be grateful for is always a gift. Inspiring words may also comfort and calm jittery nerves. Plan now for the coming fortnight and the New Year. It's time to plant seeds.
A cosmic Christmas gift is presented at dusk on Sunday the 25th. Jupiter comes out of retrograde and resumes forward motion. Plans and projects on hold since late summer get a boost. The last week of 2011 has no retrograde planets. It's all systems go!
The final notable aspect of the year occurs during the early morning hours of Thursday the 29th. The Capricorn Sun is conjunct Pluto. During an otherwise mellow week, the alliance calls for an inquiry into abuses of power and mismanaged resources. Expect more purging and revelations in the near future.
For those souls intent on welcoming in the New Year in either elegant or raucous fashion, the stars comply but also urge restraint. New Year's Eve partygoers revel under a couple of taut alignments. Mercury is square Mars and the Moon is square the Sun. If not handled maturely, the motivating but stressful energies carry a warning. Celebratory moods can abruptly turn hostile. Celebrate in the spirit of fun.
January 2012 Aquarius Jan 20-Feb 18
Happy New Year! We're off to a rockin' start with the previously mentioned squares spicing up the first few hours of New Year's Day. The late morning is far more relaxed as the Aries Moon aligns with loving Venus.
The waxing Moon lights the way through the first week of the year. The days pass by, smooth and productive. Minds become hyper-alert as the weekend of the 7th and 8th sees excitement build. Sunday plans may be subject to last minute changes. Leaps of consciousness and large amounts of optimism make this an enjoyable period.
The full "Wolf" Moon in Cancer is exact at 2:30AM EST on Monday January 9th. Striking a balance between family obligations and professional demands is a traditional theme of this full Moon. However, this time around the fortuitous placement of Mars, in hard-working Virgo, suggests that humility and attention to detail can enable a person to manage both areas of life and thrive. Loving, angelic forces are also very much in evidence in the full Moon horoscope.
Monday night, fatigue can be formidable. Slow down. A couple of quiet days are followed by a spate of celestial activity later in the week. On Thursday the 12th a Sun /Mars trine forms as the Virgo Moon makes a series of engaging aspects. This is a busy, high-energy day, excellent for holding strategy sessions. The action continues to be brisk on Friday. Early in the day Mercury is conjunct Pluto while Venus joins Neptune in Aquarius. The Moon harmonizes with the Sun. Thoughts are deep. Love is sublime. Creative possibilities are captivating. A weekend getaway may be hard to resist.
On Saturday Venus enters tender Pisces where she is in sextile to Jupiter the same evening. The afternoon and dinnertime mood is excellent. Hearts are happy and heads are entertained by lively conversation. Gadding about, shopping and travel are great fun. Sunday brings a less demanding schedule. Be tactful late that night. The slowdown phase lingers into the coming week. The Sun's approaching square with Saturn magnifies worries but may also intensify commitments. The square is exact on Thursday the 19th, a day of big decisions, some necessitated by dwindling resources and/or the need to get back on track. The next day marks the Sun's arrival into Aquarius. The future beckons.
The newly minted Aquarius Sun is a busy bee, squaring Jupiter and Saturn and in sextile to Uranus. Choose ease. Avoid getting boxed into a corner, caught up in stubborn thinking or extremist positions. Few options may seem palatable but a friend's suggestion, out of the blue coincidence or psychic impression can lead to a whole new way of looking at challenges.
Saturday night, the 21st, is excellent for joining with friends, political allies and fellow spiritual seekers. Energy levels may sag on Sunday as the lunar cycle runs its course. The Aquarius new Moon is exact at 2:39AM EST on Monday the 23rd. Mercury's trine to Mars says all systems are go, but there is a catch. The red planet turns retrograde Monday night. Plans may take longer than expected to pan out. Nevertheless, we are in a building cycle and the time has come to move forward.
Stay open-minded. Mercury's square to Saturn on Friday the 27th could require a compromise be made around that date. The waxing Moon reaches the tense first quarter phase late Monday night, the 30th. Walk softly if you wish to avoid a confrontation. Social and financial matters are much more agreeable Tuesday evening.
February 2012 Pisces Feb 19-Mar 20
Venus stands opposite Mars as the new month begins. As with every opposition, the range of possible effects is enormous. Couples may share a famously amorous day, or decide to separate. Regardless, passions are high. A nice angle between the Moon and Uranus points to most folks keeping their relationships on friendly terms. The good feelings spill over into Tuesday the 2nd, Groundhog Day. This is this single day of the year that honors an animal. Our fellow creatures on this earth are surely worthy of the day's splendid starry alignments.
Neptune re-enters Pisces on Friday the 3rd. The mysterious planet will remain in the sign of the fishes until 2026. During these years we can expect advances in healing and medicine, expanded social consciousness and greater spiritual awareness.
Home is a good place to be over the weekend of the 4th and 5th. Increasing in size daily, moonlight floods the night sky. The full "Snow" Moon is exact at 4:54 PM EST on Tuesday the 7th. The full Moon horoscope suggests that significant changes, affecting a range of friendships and partnerships, are under way. With Mercury too close to the Sun for clear-headed thinking, I would advise against impulsive decisions and purchases. Wait a couple of days for things to calm down.
New options soon present themselves. A Wednesday evening lunar aspect to Jupiter opens some doors and the next day, Venus overtakes Uranus. Somewhere around the world, a lottery winner is celebrating, a couple is falling deliriously in love and a marvelous new friendship is beginning. Count your lucky stars Thursday night.
Friday the 10th sees disruptive energies. Evening plans may crumble. The weekend is quieter, a good period for giving serious thought to ambitions. Hearts flutter as Valentine's Day nears but expectations exceed realizations. Tuesday the 14th sees a string of testing aspects, including the noon hour's stressful last quarter Moon. It makes more astrological sense to celebrate love the night before.
Partnerships bear up under great pressures on the 15th. Venus is at odds with Pluto. Power, money and control issues are likely to surface at this time. The 16th through the 19th see repeated chances to mend fences and restore trust. Healing and uplifting influences dominate these days. On Sunday the 19th the Sun enters Pisces and conjuncts Neptune. Mystical and artistic interests blossom. This is a good day for joining like-minded friends. Seasonal rains, snowfalls and floods may make news.
The Pisces new moon occurs on Tuesday the 21st. The Sun, Moon and Neptune are harmoniously aligned with Jupiter and Saturn. This is a fortunate omen for businesses as well as Mardi Gras celebrants. Around this time surprisingly imaginative solutions will resolve many problems.
On Thursday the 23rd Mercury's opposition to Mars is a reminder to think carefully before speaking or taking action. Drive safely during the morning commute. A change of scenery can be enticing on the 24th. Travel indicators are good over the weekend. Solid career gains are made on Monday the 27th. The Sun is nearing a sextile with Pluto. Decisions and insights are sound. Trust your instincts.
The waxing Gemini Moon reaches the first quarter stage just hours before February ends. Indecision can be nerve-wracking. Cut yourself and partners some slack. Change is the only constant. In a few days time, decision-making will be easier, and with hints of spring beginning to appear, hope springs eternal. Keep looking up!
Eric Linter offers a complete range of astrological services including readings, classes and his "On Top of the Stars Monthly Guide" for making inspired career and personal decisions. Consultations are available in person, by phone and on CD. Contact Eric at stars@ericlinter.com or (508) 541-4115. Visit www.spiritofchange.org and read Eric's daily forecast on New England's premier holistic magazine website. Keep looking up!
Find local Astrology resources here