Astrology Forecast for Winter 2014-15
"To live is so startling, it leaves little time for anything else." — Emily Dickinson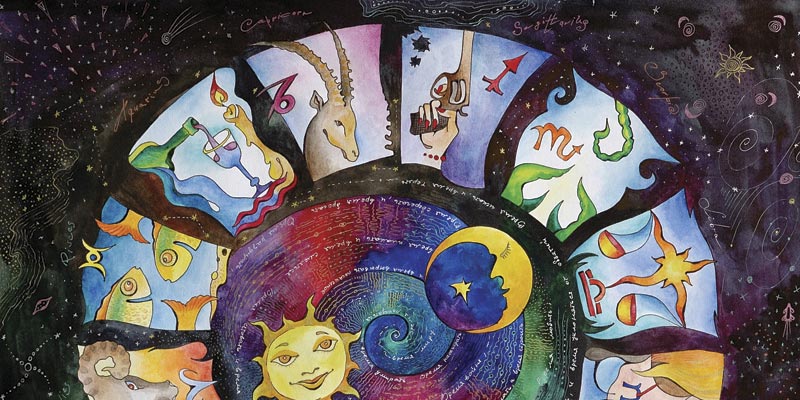 In an average lifetime there are just a handful of truly unique astrological events. One such omen appeared during the 1960s when, for several critical years, the slow moving stars Uranus and Pluto joined forces in Virgo, spawning countless social and political movements. The planets of revolution and transformation sent untold millions of souls on quests for liberation and enlightenment. Once again these two celestial powerhouses have been spurring changes.
A series of Uranus/Pluto squares has dominated the skies the past few years. Approaching winter brings with it the final two of seven such exact ninety-degree aspects. These are highly stressful. Much global instability is attributable to this alignment. Somewhat ironically, the squares also engender profound awareness of both the fragility as well as the sheer elegance of life.
Uranus is inherently inventive, progressive and egalitarian. The greater good of society is to be served. Pluto always poses tests regarding the use and abuse of resources and power. So it is we see case after case of political malfeasance, police brutality and economic exploitation. Political, religious and financial institutions must adapt to emerging realities and evolve to survive. Unlike the 60s the news is now tightly controlled, serving corporate rather than human or environmental interests. Politicians slavishly enact laws protecting their corporate sponsors and curtailing freedoms and democratic processes. If that doesn't work, police and military forces are deployed in the name of preserving order.
More positively this winter, a hopeful trine from Uranus to Jupiter suggests that constructive changes are also under way. Jupiter represents wisdom and universally accepted moral principles. Technology is governed by Uranus, and via its social networking plays an essential role in getting the truth out. Those "peace and love" hippies were right about some things. Even as we witness sometimes violent struggles worldwide, I believe a peaceful, sustainable and more just economy can and will be realized, hopefully in your and my lifetime.
December
As our forecast period begins, the Sagittarius Sun, Uranus and Jupiter are forming a "good news is on the way" grand trine in fire signs. Network with far away friends and find out what's going on outside your social sphere. This is a fabulous month to expand your knowledge and vision. The full "Cold" Moon in Gemini, exact Saturday morning of the 6th, makes the case for education in resounding fashion. Tirelessly seek and verify facts this month. Travel and spiritual experiences are enhanced, even after giant Jupiter begins a lengthy retrograde on December 8th.
Just after midnight, on Monday the 15th, the Uranus/Pluto square is exact. Earth changes can be expected. Large scale economic and governmental failures are likely to snowball. In contrast to any worrisome news, seasonal parties sparkle on Saturday the 20th. Sunday the 21st is the busy winter solstice. Uranus retrogrades in Aries, the Sun slips into Capricorn and that same evening the Moon is new in Capricorn. It's time to reinvent life and set intentions.
Saturn enters Sagittarius the morning of the 23rd. The sign change prompts serious political, spiritual and religious debate. For many, a test of faith may be in the offing. If holiday travel is on your agenda, try to make your journey before the 24th. Winged Mercury tangles with Uranus on that Wednesday and air travel in particular is likely to be problematic. Christmas morning sees brighter trends. Nods to mystery, kindness and compassion are occasioned by Friday's celestial influences. Expectations are inflated as this incredible year ends and 2015 approaches.
January
Happy New Year! The first major aspect of 2015 is a dramatic opposition between Mars and Jupiter. Political and religious debates are fevered. It will take poise and wisdom to look beyond differences, to see and respect universally shared truths.
The stresses of the first days of the year are further intensified by the Moon's waxing phase and on Saturday the 3rd, the Capricorn Sun's square to Uranus and conjunction with Pluto. The Cancer "Wolf" Moon is exactly full Sunday the 4th, just minutes before midnight. What a wild weekend! Disturbances may arise at any moment, but seen another way, this highly energized atmosphere provides a fantastic opportunity to flex physical, spiritual, emotional and intellectual muscles. The degree of difficulty is great but it's how we respond to and use the vast energies that matters.
By Monday the 5th calming trends take hold. Although Mars, newly arrived in Pisces, squares Saturn the week of the 12th, any tests are best dealt with through patience, open-mindedness and masterful timing. Health and food quality scares, as well as inclement weather are all likely as Mars overtakes Neptune on the 19th. Please pay attention while driving.
The Sun reaches Aquarius on Tuesday the 20th. An initiatory new Moon in Aquarius is exact the same morning. Clarity can be missing, as mental Mercury turns retrograde during the morning of the 21st. This particular retrograde finds Mercury in harmony with intuitive Uranus and the lunar South Node. Many surprising changes of heart and mind can be expected during the next few weeks. Illogical moves may turn out splendidly. Listen to your inner voice often during the stillness of this deepest part of winter. Astrologically astute observers will notice full Moon fever is on the rise late in the month.
February
A waxing Moon splashes the earth with silvery cool light as the new month dawns. A Venus/Neptune conjunction on the 1st serves as a tender reminder of all who are, or have been, close to our hearts. The Aquarius Sun is also in an enlightening sextile to progressive Uranus. Spiritual connections can be quite palpable under these influences. Humanitarian urges and kindness are also strengthened.
On Wednesday the 3rd, the full "Snow" Moon in Leo makes its dramatic appearance, peeking over eastern horizon treetops and buildings as the Sun sets. This full Moon is a potent, heart-quickening source of courage, creative inspiration, sociability and affection. The transformative powers of love, joy and laughter are huge.
Take advantage of excellent social indicators during the weekend of the 7th and 8th. Mercury returns to forward motion at mid-morning of Wednesday the 11th. Things may appear to take a turn for the better but that night's last quarter Moon in Scorpio could hinder progress. Don't get ahead of yourself. Deal with details and costs intelligently. Old-fashioned Valentines, red roses and candies, as well as candlelit dinners are in vogue on the 14th.
The Sun enters Pisces the evening of the 16th and immediately is at one with the Moon. This new Moon is a harbinger of many changes. Mars shoots into Aries the next evening, and then on Friday it's Venus' turn as the Goddess of Love also enters Aries. By Friday evening the Moon, Venus and Mars are joined in a bold stellium. The trio is in fine aspect with Saturn. Passions are raised and promise to endure. This is a fabulous omen for courtship and marriage, as well as fun times.
Review priorities as the working week begins. The Sun is at odds with Saturn, so it's a good idea to have well thought out plans clearly in mind. Mercury has yet to return to the degree at which it began its retrograde in January. A complicated T-square configuration, exact on Wednesday the 25th, could warrant a humbling change in attitude. Ferret out facts. Newly available information makes it easier to change course.
Home and hearth are appealing draws during the final two days of February. Lengthening hours of daylight and seasonal winds hold hints of coming spring. Keep looking up!
Eric Linter offers a complete range of astrological services including readings, classes and his "On Top of the Stars Monthly Guide" for making inspired career and personal decisions. Contact Eric at www.ericlinter.com. Read Eric's daily forecast on the Spirit of Change homepage at www.spiritofchange.org.