Becoming a Massage Therapist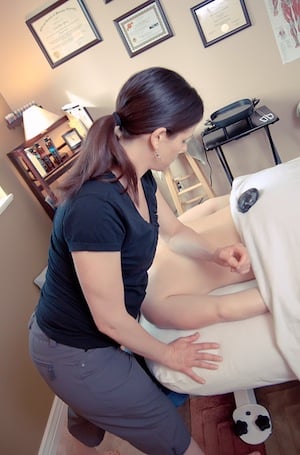 Massage therapy is more than just a spa treatment; it has many health benefits. According to the National Center for Complementary and Alternative Medicine (NCCAM), massage therapy is used in the treatment of chronic pain, including fibromyalgia, low back pain, and neck pain, and sleep disorders. There has also been promising research into the effects of Swedish massage therapy on hormones and immune function. If you are interested in expanding from practicing natural health techniques on your own into helping others, becoming a massage therapist could be the answer, and here's how you would get there.
Step 1. Find out the regulations for your state (or the state in which you intend to live).
A majority of states have some kind of licensing or certification requirements for someone to legally practice massage in a medical capacity. Some of these states might also have specific regulations regarding which schools you need to attend, and how many hours you need to complete. You want to get this information first, because it could influence which school you attend.
Also, if you plan to move to another state, you need to look at the requirements for the state you will be moving to, because the requirements could be different.
For example: The State Medical Board of Ohio requires a license to practice massage and students must complete 750 hours of instruction in a 12-month program. It also has a list of approved schools and students that attend schools not on the list will not be able to take the exam or receive a license. Conversely, California only has voluntary certification, and has no requirements for schools or hours of training. If you are planning to move from California to Ohio, you will need to meet Ohio's requirements to practice massage therapy.
Step 2. Review the schools in your area (or in the area in which you intend to live).
Not all massage schools are created equal. In states that require licensing or mandatory certification, some schools have better pass rates for the exams than others. A school with a low pass rate could be a waste of money if you can't work after you have completed your degree. In states that don't require licensing or certification, some schools might offer techniques that you aren't interested in learning, while ignoring the techniques you want to learn.
For example, a school might offer cranial sacral therapy and Swedish massage, but not sports massage or trigger point therapy.
The school's admission office should be able to give you information on the exam pass rates as well as the types of programs they offer, the length of the program, the requirements for admission, and financial aid options.
Step 3. Practice.
Once you have enrolled in a program, you'll start learning techniques almost immediately. Many massage schools provide tables and supplies – specifically oils and sheets — for demonstrations and for students to practice during classroom hours, but you will be responsible for getting your own table and supplies to practice outside of class.
Outside practice is important because it reinforces what you have learned in the classroom, and gives you hands-on experience. The sooner you have your table and supplies the sooner you can start practicing and reinforcing what you have learned in class.
You'll want to use a portable table so that you can transport it to people's homes, and store it out of the way when it's not in use. You can find supplies and tables online that have special packages and deals for students.
You can offer massages to friends and family, volunteer at nursing homes or for organizations that provide services to the sick and elderly, or offer massages at sporting events, like marathons. Depending on your state's regulations, you might not be able to charge a fee, but you will gain a lot of experience and even potential clients.
Step 4. Study.
Massage therapy isn't just about the hands-on part; you also have to learn anatomy, technique, and lots of information about the physiological effects of the techniques you learn. You will also learn when you should not give a massage, or use certain techniques, so it's important to pay attention in class and study your materials.
In states where you need a license or certification, knowing the "book" side of things can make the difference between becoming a practicing massage therapist, and not. In addition there are other details to consider, such as music selection for massage therapists, which can make a huge difference in creating the perfect ambiance to allow your clients to relax.
Step 5. Follow your state's instructions for testing and examinations.
Some states require graduates to go through an application process before taking the exam. This process could include a criminal background check, and even psychological screening. Many states also require applicants to pay an application fee. If the application is not filled out correctly, or if the fee is not submitted with the application, the state could discard the application and slow down the process of you getting your certification or license.
Step 6. Pass the exam!
Ashley Andrews is a San Diego based freelance writer who blogs on a wide range of green living, business, and technology topics.