Being Warm, Staying Well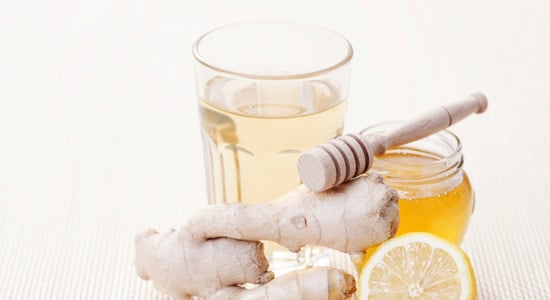 I was raised in Edmonton, Alberta, Canada, so am no stranger to winter with its short, dark days, the layers of clothes and the inconvenience of ice and snow. Despite the challenges, I love the reprieve that is winter — a time to be indoors, to work on some knitting projects and tackle that ever present stack of books beside my bed!
The challenge, of course, is to stay warm and stay well. Layers are essential, preferably ones that can withstand rain, slush, snow and wind; oh New England you are never dull! Equally important are the beverages and foods that sustain us during the winter months. We seek hot drinks, soups and warm meals and often dream of a crackling fire to enjoy them by.
Staying warm is one thing; staying well can be a bigger challenge as we spend more time indoors and may have a harder time fighting off the colds and viruses that seem to find a more welcome place during the winter months. Eating well is always a good idea and is even more important in the winter when we don't have the summer sun to provide natural vitamin D and may also be surrounded by others sneezing and coughing their way through this season.
I like to start the day with a mug of hot water, lemon, ginger, honey and turmeric. Simply boil a kettle like you would for tea and pour a mug of hot water. Into it squeeze a quarter of a small lemon, a half-inch of ginger peeled and sliced, 1-2 teaspoons of honey and 1/2 teaspoon of turmeric, depending upon personal preference. Lemon juice is great at combating infections and flushing out toxins, honey has antioxidant and antibacterial properties, ginger is rich in phytonurtrients called gingerols, which are antioxidant, anti-inflammatory, antibacterial, antiviral and anti-disease. The compound curcumin in turmeric is a powerful antioxidant and anti-inflammatory. It's a great tasting immune support and a lovely way to start any morning, particularly a cold winter one.
Examining your caffeine intake is important, as everyone responds to caffeine differently, and you may not be aware of any of its negative effects unless you give yourself a chance to have some time uncaffeinated. Winter is a great time to try some other warm beverages and see if caffeine is working for you or against you.
I was never a coffee drinker but enjoyed both green and black teas. To my dismay, as I got older my sensitivity to caffeine seemed to increase and both my energy level and blood sugar levels are much more even without my afternoon cup of caffeinated tea. Fortunately there are lots of options; check out some of the local tea shops where you can buy an amazing array of loose teas.
Nothing warms a cold winter day like soup. One of my favorites includes nutritional powerhouses of garlic, onions, kale, beans and both white and sweet potatoes. Soups are a great way to add under-utilized vegetables like parsnips, sweet potatoes and a number of greens. Parsips, in particular, have a very specific flavor so a little goes a long way, as too much can overpower other flavors in any recipe. Interestingly, parsnips have been around since ancient times and were a staple crop for many cultures. They improve with taste after exposure to frost, so are easy to find in the winter either at a farmer's market or in your local produce section. They actually top their cousin, the carrot, in vitamin C value and are high in minerals.
Hearty Potato, Garlic & Bean Soup
1/4 cup olive oil or butter, or a mix of both 1 cup finely chopped onions
1/4 cup finely chopped garlic
4 cups peeled and diced potato, 1/2 inch pieces
2 cups peeled and diced sweet potato, 1/2 inch pieces
8 cups water or stock
1/4 cup finely chopped or grated parsnip (scrub, usually no need to peel)
4 cups finely chopped packed kale
1 can 15 oz cannellini beans, rinsed
2 1/2 tsp salt
1/4 tsp pepper
1/4 cup chopped parsley
2 tbsp chopped fresh sage or 2 tsp dry
Saute the onions in a large heavy bottomed saucepan until soft and translucent. Add the garlic, potato and sweet potato. Stir to coat with oil/butter. Add enough water or stock to cover vegetables by an inch or two. Bring to a boil and then turn off the heat while you prepare the parsnip and kale. Add parsnip and kale to the soup pot along with all remaining ingredients and return to a boil. Place a lid on pot and turn the heat off again. The vegetables will continue to cook for several more minutes in the heat of the pot so let it sit undisturbed. After 20 minutes check that the vegetables are cooked through and adjust seasoning to suit your palate. Some people might want a bit more salt or pepper. This is a mild, comforting soup that will satisfy a variety of diners but lends itself to lots of additions: fish sauce, tamari, hot sauce, leftover cut up chicken or fish. Have some fun with it!
Although we do tend to want warm foods during our coldest months it's still a good idea to incorporate something raw with your meals throughout the year. As with most things there are benefits and trade-offs to both raw and cooked vegetables and creating a balance is a good course of action for most people. Some vegetables release more nutrients when cooked, particularly when using methods like steaming or retaining the cooking water for a soup. Raw fruits and vegetables retain more of their vitamin C content, which is lost when heated, and provide a good source of fiber aiding digestion. Because we tend to eat more cooked food in the winter I love adding a side dish like coleslaw to many meals to provide a burst of fresh taste and crunchy texture. What could be better on a dark overcast winter day than a burst of flavor from freshly grated vegetables and chopped fresh herbs, alongside that bowl of warm, comforting soup?
These basic root slaw recipes can be adjusted in all sorts of ways with additions to suit your personal taste. As an example you could finely cut up an apple (leave skin on) and mix in to Slaw Base I just before serving. The Slaw Base II would be great with gently steamed green beans or some snow peas. Have fun and make your own adjustments to satisfy yourself and those you might be cooking for.
Slaw Base I
4 cups finely shredded cabbage, green, red or a combination 2 cups shredded carrots
1 cup shredded beet, golden or red
1/4 cup shredded radish
1/4 cup shredded parsnip or celery root or chopped celery
1/2 cup chopped parsley
1/4 cup chopped chives or green onion
Mustard Vinaigrette
1/4 cup maple vinegar (Boyajian brand or white wine vinegar with 1 tsp of maple syrup)
1 tsp of chopped garlic
1-2 tsp Dijon mustard
1 tsp salt
1/4 tsp pepper
1/2 cup olive oil
A hand shredder works fine for shredding these fairly small amounts of different vegetables. Shred and mix in a large bowl. Pour the vinegar into a medium sized bowl that you can whisk in. Add the garlic, mustard, salt and pepper and whisk together. Continue to whisk and slowly pour in the olive oil, tasting periodically; stop adding the oil when the vinegar to oil ratio tastes right to you. Mix a few spoonfuls of the dressing into the slaw and check the flavor, adding to your taste. I usually toss in a few sunflower seeds and hemp hearts just before serving.
Slaw Base II
6 cups finely chopped kale, lightly steamed
2 cups shredded or finely sliced carrots
1 cup shredded beet, golden or red
1/4 cup shredded radish
1 cup finely chopped cauliflower
1/2 cup chopped parsley
1/4 cup chopped chives, green or red onion
2-4 tbsp chopped roasted cashews
2-4 tbsp raisins or cranberries
1-2 tbsp toasted sesame seeds
Dressing
1/4 cup sesame oil
2 tbsp tamari or soy sauce
3 tbsp freshly squeezed lemon juice
1/2 tsp salt
1/8-1/4 tsp pepper
Place the kale in a double boiler or in a heavy bottomed pot with about an inch of water. Put on high heat with a lid on the pot and boil for about 1 minute. Remove from the heat and let sit for another minute. The kale will turn a bright green when properly cooked, which gives a lovely color to this salad and also retains a nice texture. Rinse in cold water to stop the cooking process and set aside. Put all the remaining vegetables in a medium sized bowl, leaving the cashews, cranberries and sesame to garnish the top once the dressing is on. To toast the sesame seeds simply put the sesame seeds in a small frying pan and place over medium heat for several minutes until they turn a light brown. Let cool. Add kale to the bowl with the remaining vegetables and herbs and toss well. Add dressing a spoonful at a time, as you don't need a lot to give you a flavorful dish. Then top with nuts, raisins or cranberries and sesame seeds.
Ironically I was testing these recipes for the cold dark winter months literally in the dark when we lost power from Hurricane Sandy. We not only ate by candlelight but much of the dinner was prepared with candles all over the counter tops and with me wearing a headlamp! It was a great reminder that simple, comforting foods, made with good quality ingredients can help create a memorable evening.
Winter can be a wonderful season to get together with family and friends so don't get stuck thinking you've got to spend a lot of time or money to entertain. One-pot soups or stews with a salad, selection of cheeses or dips and some bread and crackers can be a lovely meal and often helps people relax knowing that the night is about getting together, not a gourmet extravaganza.
Best wishes for a healthy, happy, tasty winter season!
Karen Masterson, along with husband Kevin, are the owners of Johnny's Luncheonette in Newton, MA.