Bid To Build A Culture Of Health And Peace In Guatemala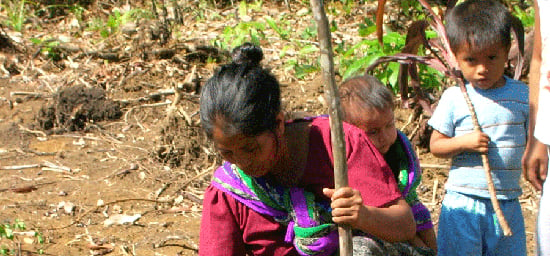 Sick and dehydrated I prayed to a God I had not talked to in over forty years. I was in the village of Concepcion Chiquirichapa located four hours from Guatemala City in the western highlands of Guatemala.
Too weak from food poisoning to stand, I crawled to the door overlooking the street and watched a Mayan boy no older than eight balancing an eighty pound bag of fertilizer on his back. He was heading to the fields. It was 4:00 AM. Unlike grain, bags of fertilizer have a distinctive skull and crossbones stamped on the sack. The implications are obvious.
Guatemala is a country of contradictions. From a small plane flying through the mountains it looks like Ireland with its patchwork of cornfields, potatoes and beans. But on the ground you choke from the black plumes of diesel fuel and watch children play in streams flowing with raw sewage. The average age for a male in Guatemala is a mere forty-three.
A Peace Accord was signed in 1996 ending thirty-six years of genocide perpetrated by a succession of military governments including the present one. The theft of the country's resources and corruption is so insidious that the European community has all but abandoned the aid it promised Guatemala after the Accord was signed. The indigenous Mayans, who number in the millions, continue to suffer from the 1954 CIA-backed overthrow of a democratically elected president. Between 1979 and 1986 over 200,000 Mayans were killed by government soldiers. Many in Concepción remember the atrocities as if they happened yesterday.
Spirit of Change Magazine first printed a story on the plight of the Mayans three years ago. Many that have attended the last three Harvest Gatherings have had an opportunity to hear firsthand from two survivors of the death squads of Guatemala, Felipe and Elena Ixcot. They brought me to their village this past summer along with some wonderful other people to experience their culture and tell their story. I spent a week in their country and my life was changed forever.
I am now involved with a project that could change the lives of thousands of Mayans scattered in villages throughout the mountains. Raising funds for The Guatemalan Midwifery Project – a proposed permanent health center owned and run by the midwives of the town and unique in all of Guatemala – has become the focus of my spare time. In Guatemala, the midwife has a central role in society that extends beyond monitoring the health of women during pregnancy, assisting at birth and caring for mothers and infants. The midwife is an educator, promoting health and healthy relations in families, and she is a bearer of the values and traditions of the culture. They also pass on ancient healing practices in their training of young midwives and knowledge of herbal medicines.
When completed, the center will give these dedicated women a place to educate and empower others to organize and fight for an end to the pollution and poisoning of their land. It will also serve as a meeting place for the community to gather. The midwives I met cried with joy that Americans and others throughout the world cared about their plight. We have so much to learn from the Mayans and these hard working and spiritual people need our help. The familial bonds I witnessed among these wonderful people was an experience I will never forget. I plan to make a second trip to Concepción in April, 2002.
The Midwifery Project, through the dedicated efforts of Tom and Judy Luce of Guatemala Watch of Vermont and The International Mayan League /USA have raised $26,000 for the purchase of land. Now, our efforts are directed at raising the $40,000+ necessary to build the center. We are also looking for an engineer and architect to design the center to meet earthquake standards and to include some way to treat sewage, perhaps through use of a septic tank, leech fields, or a well-designed composting toilet.
Auction on March 22
The Wellness Corporation is sponsoring an auction at The Cyprian Keyes Golf Club in West Boylston, MA on March 22nd at 6:00 PM to further close this gap. Dress is casual. Some of the items to be auctioned are:
One week stay in a five bedroom home on Cape Cod
A weekend in a three bedroom home in Ogunquit, Maine
Autographed shirt from the cast of "ER"
Eight front row seats to the Boston Celtics
Over fifty hand woven Guatemalan items
If you would like to attend the dinner and auction, contribute to the auction or simply send a donation* please contact James Carbone at The Wellness Corporation, 512 West Main St., Shrewsbury, MA 01545. Telephone: 508-842-2780. Email: jcarbone@wellnesscorp.com
*Tax-deductible contributions can be made out to The International Mayan League.
Sincerely,
James Carbone, President
The Wellness Corporation
If you would like to attend the dinner and auction, Click Here for form.