Birds: A Spiritual Field Guide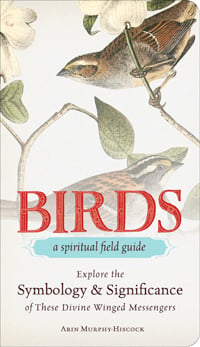 Arin Murphy-Hiscock
Birds: A Spiritual Field Guide
Adams Media, Avon, MA. 2012
A friend was greeted by a cardinal each morning for weeks after her mother passed away. She felt comforted knowing the red bird outside her bedroom window was a message from her mother. Traveling between heaven and earth, birds link the gods and humankind. Birds: A Spiritual Field Guide explores potent spiritual communication from our feathered friends.
Through essential descriptions, folklore and divination, seventy-five of the most popular North American wild birds are revealed in their mystical natures. The woodpecker is saying you have the key to something, the little nuthatch encourages taking a new point of view.
Part of the magical beauty of bird divination is its fluidity as a system, bringing different meaning to people depending on circumstances and culture. My friend knew the cardinal's message because it was uniquely hers. Developing personal insight into bird energy is a powerful enriching practice, and Birds is a wonderful resource for the journey.