Black Teen Suicide Rate Has Doubled. Here Are 5 Ways To Help
"It's so important for people of color to educate themselves on the prevalence of mental illness. We are not exempt. We are human."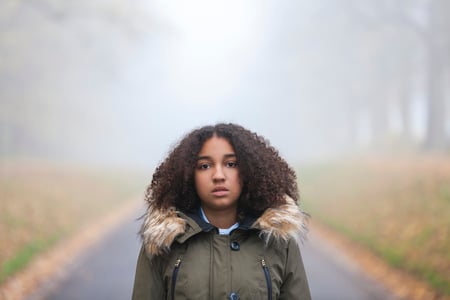 On April 20, teen Mercedes Shaday Smith committed suicide following a long battle with depression. Two days later, after posting a video on Facebook expressing his torment over her death, Smith's boyfriend, Markeice Brown, too, took his life.
Both Ohio teens were students at Lindsey Wilson College in Columbia, Kentucky, where Smith was found dead in her dorm room. Brown was blamed for his girlfriend's death and became the target of cyberbullying. Smith's family also held him responsible and were not going to allow him to attend her funeral, according to Brown. Brown in turn took to social media, where he posted a heartbreaking suicide note on Facebook Live, saying he "can't take it," and that the blame and Smith's death were too painful to bear.
Smith and Brown's deaths have brought to light a long-held belief in Black communities—suicide is not something we do, especially our young people. But the numbers say otherwise. The rate of suicide among Black youth has doubled in the last 20 years, according to the Journal of the American Medical Association. In fact, it is the third leading cause of death for Black Americans ages 15 to 24.
Though mental illness is not a new problem in the Black community, it has gone gravely overlooked. Historically, people of color in the United States, specifically Black Americans, have not had the freedom to express their mental-health concerns. The subject has been taboo within Black families for generations. But lately, many who battle mental illnesses, like Brown, have used social media platforms to tell their stories, good or bad.
And mental health care professionals are responding likewise. As a result, millions are becoming aware of the problem, as well as ways to help those who suffer from it.
Licensed Professional Counselor Monique Mort wants those who are battling mental illness, or whose youth may be battling it, to know that it's OK to seek help. "It's not a sign of weakness. It's actually a show of strength," says Mort, who works with youth in her private practice. "It's so important for people of color to educate themselves on the prevalence of mental illness. We are not exempt. We are human."
Mort and Jennifer Roland, PhD, a social worker/program developer who works with teenage girls and young mothers of color who have faced trauma, discuss with YES! coping mechanisms and cultural barriers. They give five ways to embrace and help Black youth who battle mental illnesses.
1. Keep communication open
According to Roland and Mort, the importance of communication cannot be overstated. Listening in a way that encourages deep conversations and emotional validation is critical. "It's important to have dialogue with your child regarding feelings—labeling [those feelings], normalizing them, and validating them," Mort says. When your children come to you to convey feelings of distress, take the time to listen fully. Do not minimize the intensity of what they say. Downplaying the emotions your children feel can lead to frustration and self-harm. Youth need validation from their inner circle. Intense feelings can lead to intense self-harm.
2. Encourage less time on social media/prosocial activities
Social media relationships are fine in moderation, but they shouldn't replace interaction in real life. "I feel we invest too much in the social media world and we need to take a step back from that. We need to go back to intimate friendships," Roland says. We often try so hard to project a particular image on social media, that we don't make time to interact with those who truly care for us. This is problematic because social media is not a reflection of real life. Images, posts, and interactions are all tailored for the attention of the audience. While this is an issue that reaches across age groups, it is particularly common in youth. Truthfully, most of us have given too much of our time to people we only see in the interwebs. If social media is consuming too much time, take a step back.
3. Be supportive
Be sure when you talk to your children that you are open to what you may hear. As parents, we often tell our children, "'You can talk to me about anything.' However, is that really true? We want our kids to be open but there is always that hesitancy," Mort explains. Assure your children that they have your full support. Being prepared to hear heavy information is hard but worth it. Our children and loved ones need to know they can count on us.
"This goes hand in hand with having open communication."
4. Take their feelings seriously
Having someone reach out and express emotional hurdles to you is very significant. You never know when you could be someone's last attempt for help. For that reason, taking it seriously when someone expresses their hurt or pain to you is incredibly important. "Don't dismiss their pain. And if you're not able to help them, find someone who can," Roland says. If you are not in a position to give them the level of assistance they need, help them find someone who can. Connect them to a parent, a peer, or even a suicide hotline. Help them get help.
5. Erase the stigma!
The stigma surrounding mental illness is probably the main barrier to Black Americans seeking treatment. Many members of the Black community have been taught to see mental health issues as a sign of weakness. Stereotypes like "the Strong Black woman" and "Black men don't express emotion" have limited our abilities to be vulnerable. "Chipping away the stigma has to be one of the main ways [to promote Black mental health]. As long as it's stigmatized, it will remain in the shadows," Roland says.
Incorporating these tips won't change everything at once, but it is a step in the right direction. As a community, we must work to inform youth, specifically youth of color, that seeking help is not a weakness. Our children's lives depend on it.
Ambreia Meadows-Fernandez wrote this article for YES! Magazine. Ambreia is a Wyoming-based writer. She is passionate about breastfeeding, social justice, and her family. To read more from Ambreia, see her writer's page on Facebook, and check out her website.
This article was republished from YES! Magazine.
See also:
How College Students Are Resisting The Mental-Illness Stigma
Why Bullying Needs More Efforts To Stop It