Book Review | The Heal Your Gut Cookbook: Nutrient-Dense Recipes for Intestinal Health Using the GAPS Diet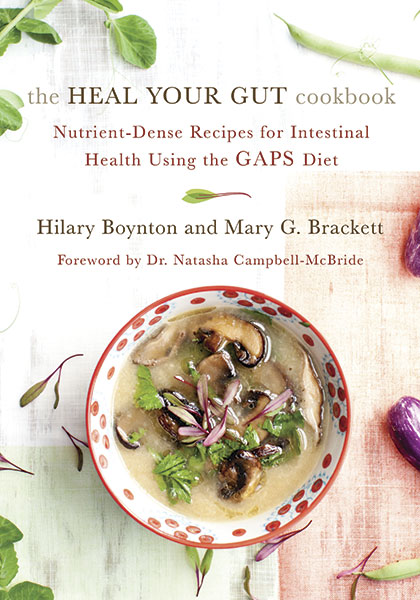 Hillary Boynton and Mary G. Brackett
The Heal Your Gut Cookbook: Nutrient-Dense Recipes for Intestinal Health Using the GAPS Diet
Chelsea Green Publishing, White River Junction, VT 2014
The Heal Your Gut Cookbook is a delicious empowering way to restore or improve your health using the GAPS nutritional diet. The concept behind the GAPS (Gut and Psychology Syndrome — GAPS) protocol is to eat healthy to be healthy. A whole alphabet of diseases — addictions, ADD/ADHD, arthritis, asthma (and that's just the letter A!) — begin in the digestive system. Food in the GAPS diet helps balance the bacteria in the gut to heal it, then seals the gut to keep toxins from moving out of the intestinal tract and into the body. A healthy gut allows good nutrition to be absorbed by the body while protecting it from the bad stuff that starts disease. (To get the full story on GAPS, read Dr. Natasha Campbell-McBride, inventor of the protocol.)
Initially the GAPS diet is rigorous, and it can appear overwhelming with stages and restrictions. The Heal Your Gut Cookbook shows you the way. With over two hundred family-friendly, simple recipes, it's filled with encouragement and useful tips from the authors who used the diet to heal themselves and their families. As with any new system, preparedness creates ease. Lists for stocking the pantry and larder with items such as densely nutritious, homemade bone broth, cider vinegar, and raw honey, means you'll be working with the backbone of the GAPS diet. 


Roasted Anything is a basic GAPS formula for roasting vegetable: a couple pounds of veggies, a few tablespoons of fat, salt, pepper, and some spices if you choose, then into a 375 degree oven. Instead of roasting in olive oil, a delicate oil that burns at a fairly low temperature and creates free radicals when heated above its smoke point, try roasting with healthier fats such as unrefined coconut oil, butter, duck fat or even good old-fashioned lard. Your own creativity will supply you with a bounty of Roasted Anything experiments, or begin with one of the more than a dozen suggested ways of combining veggies with healthy fat to prepare easy and delicious side dishes or even main meals. Some recipes, such as Roasted Pork Sausage with Red Onion and Butternut Squash, come together very quickly; toss those three ingredients with some melted coconut oil and oven roast till the squash is soft. Done! The fermented recipes take longer to get to the table. Yet even though Ginger Carrots take 2 to 4 weeks till ready to eat, actual prep time for the dish takes just minutes, uses only four ingredients, and it's packed with restorative gut goodness. Preparing and serving food for your own healing restores not only gut health, but also recovers the core-level knowing that in so many ways we have the power to take care of our own health. Make your gut healthy, and trust it.
Gail Lord is a freelance writer living in Massachusetts. Please send book review copies to 51 North Street, Grafton, MA 01519 or email socbookreviewer@gmail.com.
Read more book reviews from the Winter 2014 issue:
Herbs for Stress and Anxiety: How to Make Herbal Remedies to Strengthen the Nervous System
Tuning the Human Biofield: Healing with Vibrational Sound Therapy
How Do You Pray? Inspiring Responses from Religious Leaders, Spiritual Guides, Healers, Activists and Other Leaders of Humanity