Breast Cancer Patients Find A Healing Garden in Harvard, MA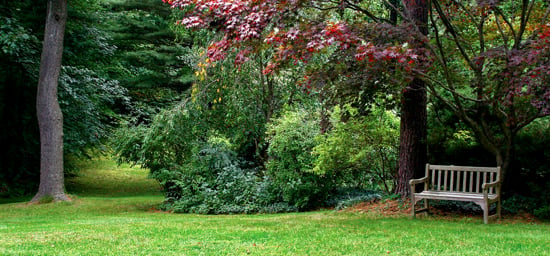 A diagnosis of breast cancer brings with it many fears, concerns and adjustments that will affect a woman and her family for years to come. At a time when a woman most needs a healing touch, a listening ear and help in sorting through much unfamiliar yet vital health information, the impersonal sterility of the western medical and insurance industry may offer little solace.
The Virginia Thurston Healing Garden in Harvard, MA, was launched in 2000 through land with a small cottage on it donated by Bill Thurston in memory of his beloved wife Ginny. Diagnosed in 1993 with breast cancer, Ginny explored many complementary therapies to aid in her healing, and found deep pleasure in spending even more time in the lovely gardens of her home.
When Ginny died in 1999, Bill wanted to help others with breast cancer share in the same healing environment his wife had enjoyed. To this end, he partnered with Betsy Tyson-Smith, a psychotherapist and breast cancer survivor who had facilitated the breast cancer support group Ginny had attended, and together they founded the Virginia Thurston Healing Garden.
The center's motto states: "You are a person, not a disease and you can live well with breast cancer and beyond. We are here to help you." As a non-profit organization with a sliding scale fee structure, their mission is to provide integrative therapeutic services, educational programs and a healing environment to people affected by breast cancer. Recognizing that everyone has different needs and will approach the center at various points along their cancer journey, the healing team works closely with each individual client to develop a personalized care plan whether you are just starting out with diagnosis, are pre-treatment or post-treatment.
The innate ability of people to heal, regardless of disease stage, is central to the approach at the Healing Garden. Their goal is to educate, empower and give patients the tools they need to take charge of their lives including help preparing for surgery (if necessary), support during all treatment protocols and post treatment support for as long as it's needed for you and your family, and help balancing the many metastatic challenges cancer patients experience.
Treatment modalities offered include acupuncture, Core Movement Integration®, Reiki, reflexology, shiatsu, Therapeutic Touch®, massage, qigong, counseling, exercise/movement programs, expressive arts, nutrition counseling, horticultural therapy and a variety of support groups and workshops also open to the general public. While many major hospitals now offer a range of complementary therapies, the eight acres of lovingly maintained gardens on a wooded hillside in Harvard, MA, allow cancer patients to travel along their healing journey without constant reminders of the disease and medical interventions.
The Healing Garden client base has grown by 35% in the past two years. In order to continue serving those affected by breast cancer with the excellence, compassion and generosity for which The Healing Garden has become known, an entire community of supporters, sponsors and volunteers hosts various fundraising activities throughout the year.
If you or someone you know has some time and would like to help The Healing Garden, please consider becoming a volunteer for gardening or to help in the office or at special events. Financial donations are also appreciated. Contact Janet Gansen at janet@healinggarden.net.
The Healing Garden, 145 Bolton Road, Harvard, MA 01451. www.healinggarden.net
See also:
Breast Cancer Prevention Tips
Facts and Persisting Concerns About Mammograms