Celebrating Salads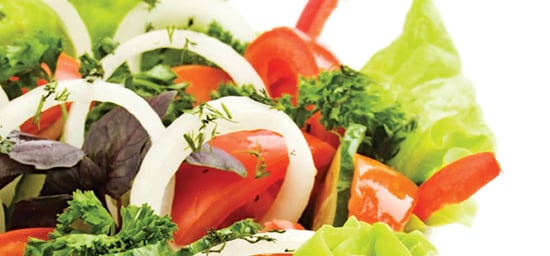 Last week was crazy busy in our household and I was trying to come up with healthy meals that could accommodate our needs. The meals had to be exciting, delicious, easy to prepare and portable. Dozens of options started to come to mind and my focus kept turning to salads. After all, what could be more versatile than a salad? So, we enjoyed what seemed like an endless variety of salads, my prep time was near zero and we felt healthy and satisfied.
Salads can range from super simple "toss and go" light meal creations to more elaborate, substantial meals. They can be light and refreshing as well as hearty and very filling. One of the biggest advantages they offer (besides being a healthy choice) is that they're easy to adapt to individual tastes and dietary preferences. And, they have killer eye appeal. Even a kitchen novice can turn out spectacular meals with a few simple ingredients and some basic tools.
To make salad preparation fast and easy only a few basic tools are required. A vegetable scrubber, cutting board, sharp knife and salad spinner make it fast and some good containers for toting salads to work make it easy to eat healthy on the go.
Your preferences will guide your choice of ingredients. The most important element of a great salad is freshness. Select ingredients that are super fresh and you'll always get great results. There are basically four parts to a salad: the base, the body, the garnishes and the dressing.
The Base
Usually, the base of a salad is built on lettuces. There are four basic varieties of lettuce: head, leaf, romaine and stem. Stick to one or mix them up. But, don't restrict yourself to lettuce as a base to your salad. Toss in some greens. A popular mixture is one referred to as mesclun. It's a mixture of flavors ranging from mild to bitter and piquant to spicy. Common components include leaf lettuce (mild), mustard greens (piquant), radicchio, escarole and/or mizuna (bitter) and arugula and watercress (spicy). If you like variety, this one has it all and it's all done for you. If you've never tried mache or lamb's lettuce, get some! Its velvety texture and mild, sweet and nutty taste is delicious and it goes well with all the other lettuces. Soil tends to cling to the roots holding the small dark green leaves together, but it's worth the extra rinse under water.
PREP STEPS
1. Wash all produce. Place your base ingredients in the basket of your salad spinner and rinse under running water. Spin to remove the water. Scrub all hard skinned produce under running water – no peeling! This saves time and nutrients.
2. Thoroughly dry all ingredients in your spinner or with paper towels.
3. If using canned beans, empty beans into a strainer (use your spinner's basket and avoid having to wash another item) and rinse under running water; let drain.
4. Cut or tear your ingredients into bite sized pieces (whichever is most appropriate to the item); it's easier to eat smaller pieces.
5. Add all your ingredients to the salad bowl (except for more delicate items like cut tomatoes and avocado – add those right before serving) and toss.
6. Add your garnishes.
7. Dress salad in the bowl right before serving or have everyone dress their own to suit their taste.
While making a salad for dinner, I pack a large container to take to work the next day. In the morning, I can grab it and go. I usually prep three day's worth of ingredients at a time; while everything is out it takes practically no extra time. I store everything in individual containers and it's fast to assemble different salad combinations. Plus, there's always great snack choices to eat "as is" or to dip into hummus.
Here are some ideas to build a salad creation that's uniquely yours and packed with nutrition and flavor. Mix and match your favorites.
Base: Lettuce, mesclun, kale, baby spinach, fresh basil, watercress
Body: Snap peas, corn, peas, beans, cucumbers, asparagus, tomatoes, cold, diced potatoes, bell peppers, avocado, carrots, beets, leftover roasted vegetables, jicama, tofu cubes, edamame, noodles/pasta/grains
Garnish: Dried cranberries or blueberries, ground flaxseed, sunflower seeds, thinly sliced apple, orange segments, banana peppers, nuts, pomegranate seeds, herbs, paprika, freshly ground pepper, olives, polenta croutons, onions, mushrooms, radishes, celery
Dressing: Balsamic vinegar, vinaigrette, fresh lemon wedges, apple cider vinegar, olive oil, walnut oil, avocado oil
Chopped Salad
One of my favorite ways to make a salad is to chop everything into small pieces. Not only is it easier (and neater) to eat, the flavors and textures blend wonderfully with every bite. If you've never made a chopped salad, try it. The few extra seconds it takes to chop your ingredients is a small investment for the flavor rewards your get. Vary the ingredients according to your preferences. With chopped salads, the key to success is keeping the ingredients dry. Chopping ingredients creates extra moisture, so starting with dry ingredients is essential to preventing the salad from turning mushy. Wash and dry thoroughly before starting. If using cucumbers or tomatoes, remove the seeds before chopping.
1 head romaine lettuce, chopped
1 bunch Lacinato kale (often called dinosaur kale), chopped
1 cup jicama (a crispy, sweet edible root), chopped
1 cup red bell peppers, chopped
1 large cold baked potato, chopped
2 cups carrots, chopped
1 cup leftover roasted Brussels sprouts, chopped
1 cup corn kernels (frozen, thawed is fine)
2 cups garbanzo beans, rinsed and drained if using canned
Toss all the ingredients into a serving bowl. Add your favorite dressing or have everyone add their own just in case there are leftovers.
Rainbow Salad
For a healthy nutritional boost, including a huge dose of phytonutrients, antioxidants and fiber, get as many colors, textures and flavors as possible into your bowl. This one has a few unexpected ingredients that really wake up taste buds.
1 cup mache lettuce
1 cup mesclun
1/2 cup green beans, steamed and cut into 1″ pieces
1 carrot, sliced
1/2 of a yellow bell pepper, cut into 1″ pieces
1/2 of an apple, cored and sliced thin
1/2 cup snap peas, steamed and cut in half
1/2 cup pinto beans, rinsed and drained
1/4 cup dried blueberries
1 tomato, seeded and chopped
2 tablespoons banana peppers
2 tablespoons walnuts, chopped (toasted adds extra flavor)
Layer each ingredient in the bowl in the order listed. Top with your favorite dressing.
Tropical Salad
A great, light and refreshing meal or starter that's fast and easy to prepare.
1 cup baby spinach
1 cup Bibb lettuce, torn into bite sized pieces
1/2 cup Clementine orange segments
1 banana sliced into 1/4 inch slices
2 tablespoons sliced almonds
1 tablespoon scallion, thinly sliced
Arrange the spinach and lettuce on a plate. Arrange orange segments and banana slices on top. Sprinkle with almonds and scallions. Top with your favorite creamy dressing.
Hearty Salad
When a more substantial meal is needed, we always go back to a version of this recipe. The combination of cool lettuces and warm greens and veggies satisfies even on cold winter days.
2 cups romaine lettuce, torn into bite sized pieces
2 cups baby spinach
2 stalks of broccoli (stem and florets), cut into bite sized pieces and steamed
1 bunch kale, cut into bite sized pieces and steamed
2 carrots, cut into bite sized pieces and steamed
1 cup cooked grains or pasta
1/2 cup mushrooms, sliced
1/2 cup polenta croutons
2 tablespoons nuts or seeds
Place the lettuce and spinach at the bottom of the bowl. Add the hot, steamed broccoli on top. Next, add the carrots and grain or pasta. Top with the mushrooms and croutons and nuts/seeds. Dress the salad with your favorite creamy salad dressing. Note: to make polenta (boiled cornmeal) croutons, use prepared polenta or make your own and let set. Slice polenta into cubes. Lightly spray a baking sheet with cooking spray, add polenta cubes in a single layer and lightly spray. Bake at 350 degrees about 15 minutes or until lightly toasted. Store any leftovers in an airtight container.
Dressings
For us, dressing can make or break the salad. One thing to remember is that flavors need time to blend. Ideally, you want to let the vinegar absorb the flavors of your seasonings for a few minutes before adding the oil. Adjust seasonings by tasting with a lettuce leaf dipped in the dressing. You'll get a better idea of how it will taste on your salad.
Creamy Tangy Dressing
I've been using unsweetened, plain yogurt as a base for our creamy dressings. It adds great flavor and nutrition and it's convenient. You may substitute silken tofu for the yogurt. I used to make my own soy yogurt until I tried the Wildwood plain, unsweetened soy yogurt. It's fabulous.
1/2 cup plain, unsweetened soy yogurt
1/2 cup plain, unsweetened almond milk
1 and 1/2 tablespoons freshly grated ginger
2 teaspoons sweet white miso
2 teaspoons Dijon mustard
1 tablespoon sesame seeds
1 teaspoon agave (or your preferred sweetener; sometimes I use a date)
Blend all ingredients well. Dressing will keep in refrigerator for several days.
Vinaigrette
A basic dressing with many uses. Vary the flavor by substituting different vinegars or oils. We'll use champagne, apple cider, balsamic, white wine, etc., according to our preference that day. Try avocado oil for a buttery flavor or walnut oil for a rich, nutty taste. The general rule of thumb for these dressings is a 3 to 1 ratio of oil to vinegar. We like our dressing a little more tart, so we use more vinegar than the norm. Use the amount that tastes best to you.
1/4 cup champagne vinegar
2 teaspoons Dijon mustard
1/8 cup freshly squeezed orange or lemon juice
Pinch of sea salt
Freshly ground pepper to taste
1/4 cup extra virgin olive oil (great mixed half and half with walnut oil)
Whisk the first five ingredients together. Let it rest for 10 minutes if you have the time and then whisk in the oil. If possible, let the completed dressing sit for an hour and whisk again before serving.
Michelle Hirsch lives in southern NH and teaches whole foods cooking throughout New England. She is a graduate of the world-renowned Kushi Institute where she also worked developing curriculum. Michelle is the author of Venturesome Vegetarian and can be contacted at mphirsch@yahoo.com.