Chefs Serve Hospital Food That's Better For Patients, Employees—And The Planet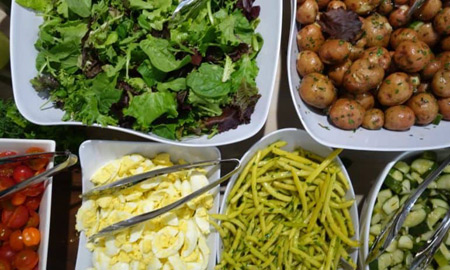 At the New York University Langone Medical Center in Manhattan, one can order miso-glazed organic tofu on a bed of baby spinach with roasted artichokes for lunch.
"This used to all be burgers and fries," Jeffrey Held said as he pointed to other menu options, like a Tuscan kale Caesar salad and snack-ready crudités with almond butter. (Note: Jeffrey Held is the author's brother)
Held works in Food and Nutrition Services at NYU Langone, where he's been working on making patient, employee, and visitor food healthier and more sustainable over the past three and half years.
But Held is not a healthcare executive—he's a professional chef. In fact, he worked for Danny Meyer's Union Square Hospitality Group for about a decade and is a graduate of the Culinary Institute of America (CIA).
And he's not alone. While chefs have been a driving force behind the movement to improve school food for a long time, now they're also stepping in to transform hospital kitchens, bringing with them expertise in menu planning, fresh food sourcing, and making healthy food delicious.
Seattle Children's Hospital hired a chef who formerly worked for famed restaurateur Wolfgang Puck. The chef at UNC Rex Healthcare in North Carolina is also a CIA grad who previously cooked at the Four Seasons in New York. And at the end of 2017, Northwell Health, a network of 23 hospitals in New York State, brought on Bruno Tison, who most recently ran the Michelin-rated restaurant at Fairmont Sonoma Mission Inn and Spa in California.
"I think the reason is that we've gotten to a tipping point," said Stacia Clinton, the director of Health Care Without Harm's (HCWH) "Healthy Food in Healthcare" initiative. Clinton said that the more than 1,300 hospitals the organization works with across the country have been making considerable progress in meeting benchmarks for transitioning to healthier, more sustainable food, like sourcing more local produce and reducing the amount of red meat served. Professional chefs have become a part of the equation more recently, she said, and HCWH hosted its first Healthcare Culinary Contest in 2017, in partnership with the CIA. "We now need to ensure that people are eating the food."
Scratch Cooking And Menu Planning
Ditching deep fryers was step one at NYU Langone. Held has also significantly reduced the amount of soda available and added alternatives like sparkling water and coconut water for patients. The cafeteria and patient menus primarily consist of plants, fish, and chicken, with very little red meat; there are vegetarian options for patients at every station in the retail cafes. In the pantries, nutrient-dense ingredients like nuts, seeds, farro, and quinoa abound. Every patient meal comes with nutrition facts as an educational tool; new moms are treated to nutritious bone broth via a partnership with Brodo.
Perhaps the most significant change is that almost everything—like salad dressings and desserts—is made from scratch, and cooks are now working with fresh vegetables instead of frozen or canned, which can make things difficult.
"It requires virtually no skill or thought to take a handful of ground meat and slap it on a grill, and guess what? It'll taste delicious. The amount of skilled labor, training, technique, and finesse it takes to take vegetables to mass market in a way that people find them to be delicious is far more challenging," Held observes. Training the internal staff and hiring more skilled workers was a huge challenge, he said, but he now has a team of chefs that have embraced the new principles and create menus independently.
Upon arriving at Northwell Health, Bruno Tison said very his first priority was to recruit more chefs from his past life to work at the hospitals in the network, and to visit each facility to train existing staff.
Kitchen talent, he said, was necessary before changing the food itself, and he's now been working on implementing many similar changes at Northwell, like eliminating fryers and sugary beverages, for example, and switching to scratch cooking.
"For example, they were buying pre-cooked, frozen burgers," he says. "I gave my chefs to the end of the year: I don't want to serve a single frozen item."
Purchasing Power
At NYU Langone, The Market Table is set up in a hallway outside the main cafeteria to sell seasonal lunch dishes and fresh produce every Friday. During my visit, about 30 people waited patiently in a slow-moving line for the farm-fresh vegetables, all of which come from Taproot Farm—an organic family farm about 125 miles away in Pennsylvania—via a partnership with Local Roots NYC.
Local Roots is a company that connects small, local farmers with eaters in New York City in various ways, and about two years ago, it set up CSA (Community Supported Agriculture) pick-ups at the hospital. After sign-ups were not as strong as they had expected, founder Wen-Jay Ying was faced with a dilemma. Taproot Farm had planned on the promised volume, and now she didn't have a buyer for the produce.
Another contact at NYU put her in touch with Held, and they quickly set up a system in which a weekly produce delivery would be used for the Market Table, with any extra vegetables being incorporated into the cafeteria menus. While relationships like this are rare in healthcare, for a New York City chef, they're much more familiar.
"We also brought the staff at NYU to the farm. They saw the farm, they trusted it," Ying says. "I think that's what this whole relationship is based on. And for the farm, it's a huge support."
For an institution like NYU, it's a tiny budget line item, but for Local Roots, it equates to selling 50 individual vegetable shares a week (with less labor involved) and sending USD$35,000 back to a small, family farm in one year.
In fact, the outsized power of institutions in shaping local food systems is well documented. "It's not just about getting tastier patient food, which is an important piece, but it's the systemic impact that hospitals can have on food systems," says HCWH's Clinton.
A 2017 report on HCWH's Healthy Food in Health Care initiatives found that of the 325 hospitals that responded, 82 percent were purchasing some local foods, on average representing about 15 percent of their food budgets (in 2016). Another way hospitals were impacting food systems: 66 percent reported purchasing meats raised without routine antibiotics, which has been a priority goal for the organization as a step towards restructuring industrial animal agriculture.
Held, for example, was able to switch NYU Langone over to antibiotic-free chicken sourced from within 250 miles, but the process was tough when it came to managing costs. That's true, of course, for every sourcing change: hospitals have to be willing to take on the extra cost of improving food. Chefs, who are used to slim restaurant margins, are also good at getting creative, though.
At Northwell, for example, Tison switched to buying whole chickens, which are much cheaper per pound than buying processed parts and packaged broth. He now has the kitchens making fresh chicken stock. (Again, a change that saves money but requires skilled labor.)
"Whenever someone talks about the cost as the biggest barrier, the primary barrier above that is the value culture," Clinton says. "We have a system that was based on putting money towards treating illness."
In other words, hospitals have to buy into the idea that paying more for healthy, sustainable food is a better investment in the long-term than treating patients who are sick thanks to a lifetime of eating poorly (but that doesn't often translate to day-to-day line items on a cook's budget).
It's a fact that Robert Graham, MD, has been shouting from the rooftop (garden) for a while now. As a physician at Lenox Hill Hospital (which is part of Northwell Health's network), Dr. Graham became an outspoken advocate of emphasizing disease prevention over treatment via food and lifestyle interventions.
As part of that mission, he worked on making changes to the hospital culture, like creating a rooftop garden called Victory Greens. Through the garden project, he said, he wanted "to prove symbolically that we can grow our own food in a hospital and serve it to our staff and patients," while also providing a relaxing, green space for burnt-out physicians and nurses and creating a sense of community.
Dr. Graham also hosted healthy cooking classes for physicians, based on research that shows doctors who engage in healthy behaviors on their own are more likely to advise their patients on those behaviors. "If I teach doctors about healthy eating and cooking, they can have that conversation with patients before they dole out that pill," he says.
Dr. Graham has since left Lenox Hill to start a private integrative medicine practice, but he's now pursuing a new path: He's attending culinary school at the Natural Gourmet Institute. As a trained professional chef, where will his future lead? He sees himself returning to hospitals to help institutions transform their menus.
Lisa Elaine Held is a freelance journalist based in New York City who covers the food system. She focuses on stories that show how what and how people eat intersects with environmental issues, health, culture, and social justice. Her work has been published in various magazines and on many websites, including Civil Eats, Eater, Tasting Table, Cosmopolitan, and Conde Nast Traveller. She has a master's degree from Columbia University's Graduate School of Journalism and was formerly an editor at Well+Good.
This article was republished from Food Tank.
See also:
In One Of The Nation's Unhealthiest Places, This Hospital Prescribes Fresh Food From Its Own Farm
Meet The Chef Teaching Kids How To Cook Healthy Meals On A Budget