Common Security Clubs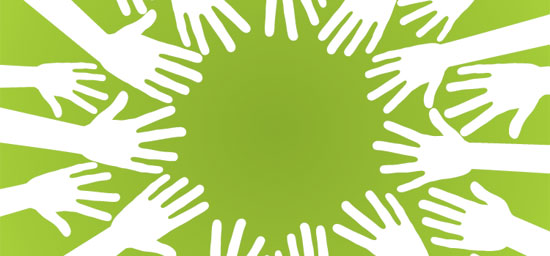 Gather with people in your city or town to help each other navigate tough economic times and build community resilience.
More Americans are bowling today than ever before, says Harvard University professor Robert D. Putnam. If that factoid brings to mind images of league competition and laughing groups in ugly shoes, think again. Many of these people are actually bowling alone.
The phenomenon is a symptom of the increased isolation in American society, writes Putnam on his Web site and in the book where he first explored this idea, Bowling Alone: The Collapse and Revival of American Community (Simon & Schuster, 2001). We're inviting people into our homes less. We're joining fewer clubs. We often don't know our neighbors. We even see family members less often.
"With the advent of TV and the deterioration of local clubs and churches, a lot of people don't have anyone to confide in," says Andrée Zaleska, co-director of the Institute for Policy Studies' Common Security Club Network. "One in four say they don't have anyone to talk to about their deepest problems, according to a Duke University study."
This erosion of social capital has hit a crisis point during what many experts see as the worst economic downturn since the Great Depression.
"People are dealing with the crisis as if it's their own fault," says Zaleska. "That's a message we really get from capitalism — you're on your own, and if you don't make it financially, it's your fault."
That mindset is causing people across the country to sever what community ties they have and become more isolated. After all, losing a job or a home can make people avoid friends and family out of a sense of humiliation. And the need to tighten one's financial belt after watching retirement savings go down the drain can result in a tightening of the social calendar, too, since stricter budgets may not allow for restaurant meals or costly outings with friends.
The catch-22 is that stronger community connections can help pave the way out of an economic crisis. Closely connected neighbors, coworkers, and friends can pool resources, share solutions, and offer emotional support in troubled times. And once we get used to working in community, it also becomes possible to create positive change that ripples across the local and national economy.
So how do you build community at a time when people are most likely to be pulling down their shades and hunkering down inside their homes? More than 100 groups of people across the US advise starting a Common Security Club.
Gathering to Build Community
Chuck Collins, a senior scholar at the Institute of Policy Studies (IPS), defines the clubs as "a mini-movement of people coming together in religious congregations, community centers, and union halls to help each other understand and cope with the collapsing economy."
IPS developed Common Security Clubs to accomplish three purposes:
To help people learn together about what caused the crisis. Once people understand the roots of what took their jobs, homes, and retirement savings, they can begin to discuss solutions that can prevent an economic crisis from happening again.
To discover how people can help one another build community resilience.
To encourage groups to take community and national action to address the roots of the economic crisis.
Catherine Baker, a poet who writes as Catherine Sasanov, says that although she was initially skeptical about joining any groups out of the need to guard her writing time, she was pleasantly surprised by how much she gained from her Common Security Club (CSC).
"Learning about the economic crisis — and how, for so many of us, we hadn't done anything wrong but that didn't save us — was a powerful message," says Baker. "Another thing that hooked me was the idea that there could be a different kind of currency instead of just money: how we could share ideas or things or skills with each other to make these economic times more bearable."
Many Helping Hands
People are feeling the pain of increased isolation, and they want to reach out and help each other through the economic crisis. No one wants to bowl alone. But making deep connections with strangers can seem difficult for some.
"CSCs are just a trick to get people together talking about their needs and problems in this economy," says Zaleska. "Once people are in a group, feeling safe, they know what to do. Community building is a natural human function. Our curriculum is just a helpful starting point."
Part of that curriculum encourages "mutual aid" activities, like launching recipe swaps, bartering networks, repair cooperatives, and more — things that Zaleska notes, "tend to build community very quickly."
For example, Baker, a member of Zaleska's own CSC in Jamaica Plain, MA, first came to a club meeting with her boyfriend. She'd done administrative work to support her poetry writing, but then was struck by a repetitive stress injury and couldn't work while she was healing. She'd gone through her savings and was struggling to make ends meet.
"Before I joined the CSC, I think I felt ashamed to talk about these things," says Baker. "But it wasn't scary in our group, because we built community first. We always have a potluck 30 minutes before the group starts, where we can chat and get to know each other. Plus, we've made it really clear that what we talk about in the group stays in the group."
When she decided to launch a business as a personal organizer, she felt comfortable enough to turn to her Common Security Club to help make the venture a success.
She offered her services free to club members, honing her skills by organizing their homes or offices for them. In return, she asked her new friends to give her testimonials and photos to post on her business Web site if they were happy with her work. They also provided referrals and hung flyers. Today, A Room of One's Own Organizing is thriving, and Catherine now earns a comfortable living. Best of all, she has enough energy left over to keep on writing poetry, and a greatly expanded support network when things get challenging.
Putting Your Budget on the Line
In the spirit of fostering mutual aid, IPS makes a point of encouraging Common Security Club members to take turns laying out their personal budgets for other people to peruse. Although it takes some courage, brave people can get invaluable advice and suggestions for ways to stretch a paycheck.
Zaleska recalls a woman named Lana from her own CSC who subjected herself to a group "budget makeover." The group encouraged her to give up her car and join a local ZipCar car-sharing program.
"It was hard to convince her, at first," says Zaleska. "She's 73 years old and her first response was, 'I'm independent, and I've been driving all my life.'"
Lana relented once the group convinced her that ZipCar was a solid, reliable program, and that she'd save around $500 a month.
"That kind of encouragement shows the power of a group," says Zaleska. "The mentality is not, 'Oh my gosh, you're a financial disaster.' But 'I can help you, so you can solve this problem you're having.'"
Today, Lana is not only a vocal ZipCar advocate, but she bought herself a three-wheeled bicycle with a large cargo basket so she could run errands by bike, saving even more money.
How to Start a Club
If you'd like to start a CSC, you'll first need to attract a group of people. A house of worship can be the ideal place to start, since there's already a built-in community to tap into. Also try local libraries, coffee shops, and bookstores, which can provide both the meeting venue and publicity to attract club members. Zaleska recommends keeping your group to a size of 10–25.
IPS offers a free facilitator's guide that provides detailed plans for running the first five sessions. Sessions one and two examine the roots of the economic crisis, and why clubs can help members weather hard times. Session three has members discussing "What is real security?" and brainstorming on what members can do to help themselves and their community be more secure. Session four explores ways to provide mutual aid to club members and others in the community, and touches on the need for larger-scale efforts. And the final session encourages members to take meaningful action on the city, state, or national level to help create a fair, green economy that truly works for all.
The club can, of course, go beyond five sessions. Zaleska says many clubs find it easy to come up with meeting topics on their own. For those who'd like help, IPS offers several resources on its Web site http://www.commonsecurity.org, and Zaleska encourages facilitators to call on her anytime for advice. IPS also sends out a monthly e-newsletter with tips and resources, as well as news and ideas from other clubs.
Toward National Action
Once a club gets on its feet, IPS encourages taking bigger actions together to help solve the economic crisis at its source. Some groups are joining the effort to move their accounts and credit cards out of national banking chains and into community investing banks. Others are working with existing nonprofits in their community to fight foreclosures. And others are protesting the recent Supreme Court decision giving corporations the same political campaign financing rights as people.
"The action element is evolving," says Zaleska. "But one thing I try to emphasize is that providing mutual aid and strengthening community is action."
After all, we're not going to solve national and global problems by bowling alone. The solutions will come out of all of us working together, and gathering your community close is one of the best places to start.
Tracy Fernandez Rysavy is the publications editor for Green America, a national membership organization focused on growing the green economy. Visit http://www.greenamericatoday.org.
The "From Greed to Green" issue of Green American magazine was tailor-made for discussion and group action. In it, experts like David Korten, Neva Goodwin, Bernard Lietaer and Alisa Gravitz analyze the roots of the economic crisis and offer green economy solutions to help the US out of this financial mess, while showing how individuals can help build community resiliency. Call 800-58-GREEN to order paper copies at $4 each (bulk discounts available) or download your free PDF copy here: http://www.greenamericatoday.org/pdf/GAMspring2009.pdf
Green America's 9 Ways to Have Fun, Save Money and Build Community
In tough times, communities help people build resilience and find ways to accomplish things together, saving time, money and resources. What better way to build the world you want to see than to join together with friends to make it happen? Here are some ideas to help get you started.
Organize a dinner cooperative. Cooking one meal once a week for a crowd requires less money, less planning and less time than cooking five to seven different meals a week.
Host a film viewing. Check your local library for free films to borrow or join a movie service such as Ironweed Film Club, Earth Cinema Circle or Netflix. Invite your friends for community viewing.
Join in conversation. Start a "conversation forum" locally or research online for in-person and on-line study or chat groups on topics as diverse as simple living, climate change, local currency or organic food.
Organize a home repair team. Neighbors can band together and do repair and renovation projects for each other one Saturday a month. Pool your tools.
Host a swap party. Barter exchanges such as clothing, sports goods or book swaps bring people together in a fun way that saves resources and cash.
Start or join a book club. Nothing beats curling up with a good book — except maybe sitting around with friends to talk about it once you're finished.
Throw a fair trade house party. Host a fair trade holiday party to gather people together for some seasonal cheer, tell them about fair trade, and help artisans around the world lift themselves out of poverty.
Join a carpool. In carpools, neighbors can meet, share stories and cut pollution while driving to in-town, out-of-town and special event destinations. Some municipal transportation authorities sponsor local rideshare services online.
Gather around food. Throw potluck, canning or cooking parties to make good food and conversation a regular part of your lives.