Dadi Janki: A Woman of Wisdom and Peace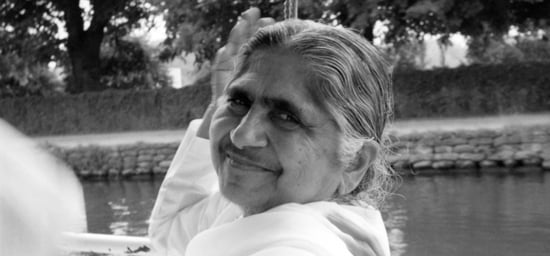 Dadi Janki is an 87-year-old spiritual lighthouse and one of two administrative heads of the Brahma Kumaris World Spiritual University. The BKWSU is an international organization that works at all levels of society for positive change.
Established in India in 1937, the University now has more than 5,000 branches globally. It is active in a wide range of educational programs in areas such as youth, women, men, environment, peace, values, social development, education, health and human rights. Local centers around the world provide courses and lectures in meditation and positive values, supporting individuals in recognizing their own qualities and abilities and making the most of their lives. All courses and activities are offered free of charge.
By her example, she demonstrates that it is possible to live an authentic spiritual life in a world of spiritual poverty.
As a current administrative head of the Brahma Kumaris, Dadi presides over a worldwide student population of 650,000 people of all ages and backgrounds. Each year she travels the world sustaining the regular students and teachers of the University and bringing a message of peace and a method of enlightenment to hundreds of thousands who attend her public talks. As a member of the United Nations' prestigious Keepers of Wisdom, Dadi is a leader in the truest sense, seeking not so much to change people, as to model a whole new paradigm. Her personality, shaped by much inner joy and wisdom, has triggered life-altering experiences in those who meet her. Whether it is giving time to an individual, meeting leaders from different professional backgrounds, or lecturing to groups often numbering tens of thousands, Dadi shares her wisdom with equal passion and enthusiasm to all.
Yet despite her impressive credentials, Dadi is disarmingly innocent and humble. Acknowledging this woman for her amazing life story brings only a smile of complicity to her face. She always deflects praise, confidently pointing her finger above, saying, "When there is understanding of the divine self and a relationship with the Supreme, then no worrisome, fearsome or sorrowful situation can affect us. When the soul experiences the strength that comes from God's love, there is nothing that can distance the soul from its original state of peace and bliss. Nothing can stop it from walking the path of righteousness and truth and inspiring others to do the same."
A Brief Life History
Born in 1916 to a philanthropic family of very high moral and religious standing, one of Dadi Janki's earliest memories is of chanting the name of God as she was rocked in her cradle. Her whole childhood reflects a deep love for God, as well as an unswerving desire to serve humanity. From the start, Dadi's parents were determined to raise her in an atmosphere free of materialism. For the first 10 years of her life, Dadi's education was through a private tutor and based solely on the study of religious scriptures. Dadi's formal education — the study of basic learning skills — began only afterwards, when she spent a scant three years attending public school before going, at her insistence and with her parents' blessings, on an extended tour of India's many holy sites. She was 14 years old.
Travelling with her father, Dadi met with all the foremost gurus, sages and saints of the day. She approached them all with the same query, "Who is God? Where is He? How can I find Him? How can I experience Him?" This intense search for God was relieved only by her intense devotion to charity. Even as a young child, Dadi was always going out to serve to the poor and needy in surrounding villages.
Dadi was 19 years old when she met Brahma Baba, the founder of the Brahma Kumaris World Spiritual University. She describes that first encounter as a "recognition." At first sight, Dadi simply "knew" that here was the instrument of the Divine that she had been seeking. She not only heard the truth from this man but she says she saw in his behavior and felt in his presence the source of truth itself. A few years later, Dadi herself became part of the Brahma Kumaris institution, surrendering her life to God.
By the early 1950's, Dadi's own spiritual development had turned her into one of the institution's foremost teachers, responsible for the establishment of BK centers throughout India. From 1953 onward, the community began outreaching to cities in response to invitations from around India. Dadi's first journey took her to Delhi and then on to Punjab. One of her first lectures was at a gathering of sages in Amritsar. She was the only female speaker amidst a host of sages and saints who were, of course, all male. Dadi's talk was completely different from those of the gurus and they did not lose time in challenging her at every level. Taking them in her stride, she responded from her own personal experience, not just from her own understanding, but also from her heart.
Apparently, it was a quite a unique sight! A woman — in India in those times — taking on the role of a spiritual guru, on the very same platform as those gurus. And a woman whose teachings were a radical departure from everyone else's! The audience of 10,000 absolutely loved her. While Dadi stayed on in Amritsar, continuing to share the truth as she experienced it, increasing numbers of people began coming to her to learn more. This was too much for the gurus! Ultimately she was handed — very politely — a train ticket. Dadi knew it was time to leave and she did so, with dignity and grace.
This pretty much exemplifies the context within which Dadi and other Brahma Kumaris began to share their ideas across the length and breadth of India at that time. They had absolutely no status, no money and no possessions; however what they did have were hearts full of love for all souls. Their eyes radiated light and they made everyone feel that at last they had found the spark of enlightenment for which they had been searching.
In 1969, at the passing away of the founder, Dadi was appointed Director of Teachers Training at the headquarters of the institution in Mt. Abu, India. In 1974, when she was in her late fifties, she arrived for the first time in London to begin a spiritual odyssey that would touch and transform the lives of millions of people worldwide. She did not come as a guru, but as someone whose intentions were as pure as they were simple — to help others awaken themselves to their true and eternal spiritual nature and, in doing so, connect them to the Source, to God. She came without being able to speak English, carrying just a tiny suitcase with a few clothes. Staying in a small, damp, terraced house in Kilburn in North London, she set the foundations of the Brahma Kumaris' work outside India. Gradually people were drawn to learn meditation and study the spiritual truths taught by the BKs. Slowly but surely the University's work expanded across the UK and into Europe, the Americas and Australia.
After 10 years of holding daily morning meditations and classes at a local community center, the first custom built center was opened in North London. In 1991, a retreat center was acquired near Oxford, and before long, other retreat centers around the world were opening. While most of the BK centers throughout the world are established in the homes of regular students and teachers, a growing number of residential and purpose-built facilities have been built which are able to service a wider international community and larger numbers of people.
Despite making no charge for any spiritual teaching, the Brahma Kumaris now have centers in over 80 countries. In 1974, there were none outside India. Thirty years of tireless, focused, loving, compassionate and dedicated service to others have borne fruits on many levels. In many ways, these are the material manifestations of Dadi Janki's inner spiritual work on herself and her selfless service to others. It is a classic example of "what goes around comes around," where the return of the deep spiritual service of a few is seen at the material level by the many.
There is also a thriving international network of friends and companions who now support Dadi in her work. They have been maturing spiritually over the last two decades, and many now find themselves in positions and roles where they can help the world through the current crop of social, economic and environmental challenges. It is in these areas, which some have described as undergoing a "crisis of last chance proportions," that there is now a fast growing openness to spiritual solutions.
Today, thirty years later, Dadi still has no personal possessions and her original motives to serve remain exactly the same. She personifies the profile of an authentic spiritual leader, whilst considering herself only a humble instrument for the Supreme. By her actions, Dadi invites us all to walk with her on the highest path of spiritual purity. By her example, she demonstrates that it is possible to live an authentic spiritual life in a world of spiritual poverty. By her words, she inspires and enlightens all who meet her, as she challenges us to look deeply inside ourselves to realize who we are and what we need to do at this time. By her vibrations, she fills each soul with courage and connects the soul to God. By the absolute purity of her heart, she draws the hearts of others to stand alongside her at a time when the world is in the chaos of transformation and in need of spiritual leaders.
At the age of 87, Dadi Janki continues to trot the globe with a childlike lightness combined with the wisdom of the deepest sage. Rising above the pain of her own ailing body, her pact is with God, His vision is her vision, in sickness and in health, till the task is done and the establishment of a better world is complete.
Reprinted with permission from Heart & Soul, Issue #19, published by Brahma Kumaris Information Services. http://www.bkpublications.com. You can find Dadi each day at http://www.companionofgod.com. For more information about the Brahma Kumaris visit http://www.bkwsu.com.
The local Massachusetts Brahma Kumaris Learning Center for Peace is located at 75 Common Street in Watertown, MA. Open meditations are held every day except Saturday, as well as various other classes and dialogues. All events are offered free of charge. Visit http://www.bkwsuboston.com or call 617-926-1230 for more information.
Please read on for an excerpt from Dadi Janki's recent book InsideOut (2003, Brahma Kumaris Publishing).
InsideOut — a better way of living, learning and loving
By Dadi Janki
People need peace as much as they need food and shelter. Some have been searching desperately for peace, for a long time. It's missing in the lives of many. Worry, depression and exhaustion are at epidemic levels in prosperous countries, even when material needs are fully met.
I want to explain where the peace comes from and how to harness and develop it. Peace is an energy created inside. Even when I speak with peace, and you listen with peace, the energy increases.
So many types of crisis take place in our lives. There may be upheaval in the body, or in relationships, or in the atmosphere of the world. I don't think that anywhere, there is a person who has gone through life free from crisis — young, old, uneducated, wealthy.
But when I have the power of peace, I do not allow the stability of my mind to be disturbed. Stability of mind is essential to leading a good life.
Just think for a few moments: when a person is worried, fearful, or experiencing sorrow, what is his state? And how does it affect others?
If I allow myself to experience worry, fear or sorrow, I will make myself restless and unhappy and the atmosphere around me will be filled with similar feelings. How does that help either me or others?
In contrast, if I free the self from these negative emotions, I will find myself having good thoughts, filled with positive feelings towards others. This will help create a peaceful and loving atmosphere, even when harmony has been absent.
My experience tells me that when I am able to stay free from sorrow, fear and worry, there are values in me that come to the fore and that will be used in my life practically, giving me much strength and power.
When there is physical illness, you may go to the doctor and be prescribed some medicine. But when you are experiencing sorrow in the mind, what will you say or do? What will your mind be like when you think negative thoughts? Whether this negativity is directed towards the self or others, the mind feels unhappy. Either way, such thoughts commit violence to the self.
Together with sorrow, there is also peacelessness. "I don't know what my mind is doing, it is chaotic." Yet it is your mind, and so why are becoming unhappy about it? When you allow yourself to become peaceless, you will interact with others in the same way and you won't be able to speak sweetly or peacefully with them.
If there is no rain, human beings and animals become thirsty. If there is no peace or love in my mind, it is as though mind and heart are dry. The mind becomes restless and races like that of a crazy person. Even with sleeping pills, people in this condition can't sleep at night and then can't wake up in the morning.
Free yourself from the crisis that you create through your own negativity. There are so many external crisis, you can't even count them. There is nothing you can do about that. But the crisis you create in your own mind, according to the quality of your thoughts — at least put a stop to that.
Your body, your wealth, your relationships and the world: all four bring a variety of situations in front of you. They don't ask your permission. They can change at any time and you can't prevent it.
One crisis hasn't finished and another begins. Natural calamities, earthquakes, floods, all of these come by themselves. They don't come as a result of someone calling them, nor do they go away to order.
But what is the condition of mind, before the situation comes? When the mind is strong, external difficulties stay external — they do not shake me inside and rob me of my stability. The mind stays peaceful, free from sorrow and worry.
When I have this strength, situations filled with sorrow can come but I won't feel sorrow inside. If a stone is thrown, it won't hit me. If someone insults me — no problem!
My head must remain cool and not instantly react. Not even reject. Let there be an acceptance of the scene. This acceptance makes me peaceful inside. Then my peaceful feelings alone will help the situation. Also, I'll know better what to do or what not to do.
To experience sorrow is an act of senselessness. Remember this very well. When you feel sorrow about something, understand that you are lacking some understanding. For whom should I feel sorrow? Does it help either me or others.
Internally, people do create many difficult situations for themselves. Arrogance, for example, makes you feel disrespect and causes you sorrow. Arrogance brings a desire for regard and respect and when you don't receive these, you feel it to be an insult. "Look, I do so much for them, but this how they repay me." If I give from the heart, and don't have arrogance, I won't have such feelings.
If I have good virtues and actions are good, my fortune will also be very good.
But to become upset, or to be unhappy about something, even to have an off-mood, is like putting a drop of poison into a pot of nectar. It spoils everything. It doesn't just take away peace, it brings unhappiness.
That is not why I am here! It is good if I can quickly make the atmosphere around me one of great happiness and joy.
Speaking for myself, I don't know how to tell jokes, but when I see someone crying, I won't leave that person until I see him or her smile. I don't need to do anything but give peace and love to that person. Internally, I feel it is just a tiny thing they are holding on to, causing then to go around with such gloomy face. But they are making others worried or afraid, thinking about what is going on in that person's mind.
People feel sorrow when they are holding on to situations. They forget that these situations are external to them. All it takes is to let go. Once they achieve this, they become happy and peaceful again and can begin to smile. How often have we looked back on some previous trouble, and wondered what all the fuss was about!
The art of living from inside to out is such that it not only enables us to let go of that which is outside of us, but builds such strength as to avoid being trapped by it in the first place.
When you too let go of things that are outside of you, and become free, you will begin to feel a state of stability filled with such happiness that no matter what happens, you cannot lose it. Happiness has the powers of peace and love merged within it. Where there is peace and love, you feel yourself to be king. You have self-respect and feel yourself to be very strong, not someone who easily becomes upset and tearful, like a baby.
You need to attend to the quality of the thoughts that you allow to come to mind. This is only sensible. It is, after all, your mind. Thoughts should be pure, elevated and determined. Then just see the results. Without rituals, postures, chanting, etc., you will experience peace of mind.
Ask your heart: Do I have pure, positive feelings for everyone, including myself? Am I paying attention to this, making it my priority as I move through life? Such feelings create an energy that automatically flows outwards, protecting you against negative influence.
If you do pay attention, you won't make mistakes. You won't feel sorrow, and you won't give others the opportunity to have thoughts about your state of sorrow. Otherwise, everyone else's attention will be drawn towards you, that this poor person is in difficulty, and you will feel low. That is no good for you, nor does it help others.
In my life, I have made a commitment: I will not feel sorrow or worry about anyone or anything. Nor will I allow anyone else to have such feelings for me. I will not be afraid of anyone nor will I make anyone afraid. I have to give cooperation with love, and help when help is required.
Even if someone else isn't giving me love, I don't have to spend anything in giving love to them. Others may not give me respect, but why should I let go of my virtue of giving respect? It is not good for me even to have the thought of not giving respect to someone who doesn't respect me, or who is an obstacle for me.
I am on a spiritual journey, and situations will definitely come. My duty is to continue driving in my own lane, and not obstruct others.
Excerpted with permission from InsideOut by Dadi Janki (2003, Brahma Kumaris Information Services, London).