Designing Your Peaceful Sanctuary Garden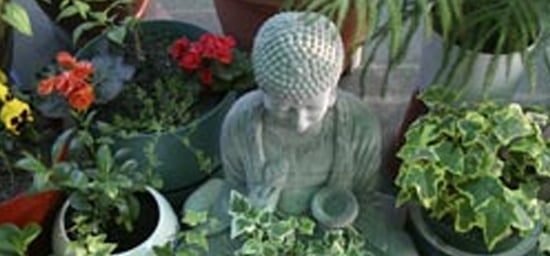 Would you enjoy having your own oasis of peace – a nature-filled garden for meditation and reflection? By following a respectful process for designing and building your garden, you can imbue the space with great power that will, in turn, strengthen your meditations. Treat each of your materials – plants, water, wood, stone, metal – as if they are conscious beings, and your garden will be alive to you.
You can make this experience happen whether you have a sunny room, a balcony, or ten acres of land. Your garden may be as simple as a collection of potted plants gathered around a sunny window and an altar, or as elaborate as a walking path through meadow and woods with sculptures and reflecting pools at interesting junctures. It can be wild with colorful flowers or serene with blended shades of green. You can have a simple bubbling fountain in a ceramic pot, or make a container pond in a wooden barrel holding a sacred lotus or water lily.
In this article, I will assume you have access to an outdoor garden area, but many of the principles are the same for an apartment-dweller's sacred space. The basic ingredients are stone, water, sky, plants, shells, wind chime and ornaments – whatever has meaning for you.
A sanctuary garden can serve many purposes:
Meditation to find the sacred within. Such a place can be simple, quiet, and austere, with a focal point such as a calm pool to concentrate your thoughts. Or you can build a labyrinth to walk the path toward center of self and world
Reflection on the sacred within nature that surrounds you. This garden could have a small waterfall and an interesting selection of native plants that attract butterflies and birds. A small weeping tree would add serenity.
Refuge as a secret place to get away and find solitude and solace. You also can provide sanctuary for threatened species by providing specifically for their needs: larval food plants for butterflies (butterfly weed, spicebush, and so on), nesting boxes for bluebirds, or water and perches for dragonflies
Healing from physical, emotional, or spiritual traumas of your life. You can also send healing to others in need or to the whole planet. The garden itself can heal a small part of Earth by restoring it to wholeness. Tibetan wind horse prayer flags – in five colors representing the five elements – can be a powerful reminder of your wish to send blessings to all beings. Your garden can include a rippling fountain and be planted with healing herbs, both for their aromatherapy scents as you sit in the garden, and for harvesting as herbal potions. Try fragrant bee balm, spearmint, fennel, thyme, sage, or juniper. Or simply surround yourself with heady scents from moonflower vines or pots of jasmine.
Memorialize a loved person or animal that has passed on from this life. You can place an interesting stone or plant a small tree or beloved flower there. Consider a fire pit as a focal point for your reflections.
To help create peace on Earth, you can start by making a garden where you can find inner peace and radiate your harmony out into the world. Peace gardens dedicated to meditating for world peace are a wonderful contribution to the cause. Such a garden can have a statue of St. Francis or other figure that represents goodness to you.
How do you begin? Depending on your practice, you can start by asking for a vision or a dream of your perfect space. A helpful device is to recollect a favorite garden from your childhood, or a place in nature that holds special memories for you. Imagine sitting in that place and soaking in its color, sunlight, breezes, sounds and smells. Get a bodily sense of the qualities that this place evokes for you: restfulness, invigoration, transcendence, or something else. Sketch the garden or write about it. Dance it! What kind of movements does it inspire? How do you want to feel? This can be a clue to the types of materials to use: flowing and soft, or sharp and energetic; water or wood; metal or stone; fiery flowers or simple greenery. Your dance can suggest the sacred geometry of the garden – spirals, circles, squares or meanders.
Here are a few more questions to ask yourself: How much space do you want or need? Will you invite others to share in your meditations? Do you need to have a place to dance, with a table on which to place writing and drawing materials and a cup of tea? What times of day and year will you enjoy the space? Do you need sun or shade, or some of each, depending on the season?
How much time will you have to construct and maintain the space? If gardening is your meditation, you can afford to go all out with a generous perennial garden that takes your focused, caring attention. If you don't want to be distracted by a spent blossom or an invasion of weeds, go simple. Very simple would be standing stones or a sculpture, a bench, and a pot of flowers, with a patio umbrella for shade if needed.
You may already have a spot in mind for your garden. If not, you can walk the yard to find the location that feels best. You don't need to be a feng shui expert; learning to tune in to your spirit's response to the energy of a place can be part of your meditation practice.
Or the perfect spot can just happen, as it did for me. For as long as my husband and I have lived in our current home (10 years), we have been searching for a private spot for reading or meditating. Last year I started building a small patio in a nook at the back corner of the house. I personalized it with beautiful stones, finished the walls with lattice, added a couple of potted geraniums, and set out a small round table and two comfortable chairs. I sank into a chair with relief, and, to my amazement, felt totally at peace.
The patio feels as grounded as the natural stones it is made of, especially because it is built into the grade and sunk into the earth a bit. Even though the patio is not well hidden from the eyes of our neighbors, we feel tucked away and secret. A handsome hinoki cypress screens us from one side. I placed a native smoke tree precisely where, from my sitting vantage point, its big oval leaves glow chartreuse in the afternoon sun. Soon we will complete the waterfall and wildlife pond nearby. We will "tune" the waterfall by careful placement of stones to make it sound musical.
Begin your construction process by honoring the spirit of the existing trees, stones and soil. Ask them which new plants they'd like to have as neighbors. Co-creating your garden with nature brings you in close contact with your many relations: earth and sun, plant and stream, bug and bird. Meditate on a single flower in your garden, and you will help restore your spirits and those of the earth.
Outdoor Garden Design Tips
"Crescent moon" meditation garden featuring a reflecting pool, surrounded by stones and hidden from view by a semi-circle of evergreen plantings.
Make a meandering path leading to the garden.
Then create a formal entrance, for example, under an archway or overhanging branch of a tree. Set a special marker at the threshold, such as a special stone or bowl of water.
Level the area and make a strong foundation, so that your furniture doesn't wobble and you feel grounded. You might create a small stone patio area, tiny lawn, or a raised deck.
Choose a chair or bench that will be comfortable and not distracting during your reveries. Stone benches may be charming, but not for lengthy sitting!
Create a background. A section of bamboo fence and a small tree behind your sitting area will help contain the energy and give you a sense of security.
Make a focal point that draws the eye and centers you. This can be a sculpture, waterfall, or simple cairn made of rocks balanced one upon another.
Use materials that have archetypal energies. For example, stone suggests our eternal nature and perfect self. Wood speaks of wisdom and knowledge, growth and rebirth. Water brings cleansing, fertility, and memory. Metallic objects made from copper and bronze echo eons of human history, and may have specific healing properties. However, plastics and resins feel "dead" and will detract from your garden's energy.
Choose colors carefully. They have a powerful impact on the psyche. You can make color choices based on the chakra system if you wish to boost certain energies. Those colors, in order from root to crown chakra, are: red (passion, vigor, courage); orange (vitality); yellow (cheer, wisdom, holiness); green (healing, fruitfulness); blue and indigo (serenity, heaven, doorway to the spirit); and violet/purple (soul, royalty). White contains all the other hues; it adds a strong element of peace in the garden and sets off other colors. An all-white "moon garden" is a delight, day or night: line a shady path with white stones or shells, then plant white-variegated hosta, sweet woodruff, white vinca, anemone, white wood phlox, snakeroot, and astilbe.
Dori Smith, M.Ed., offers workshops and consultations on designing sanctuary gardens, rain gardens, bird and butterfly gardens and more. Her ecological landscape business in Acton, MA is called Gardens for Life. She can be reached at dsmith@newview.org or http://www.gardensforlife.net.
References
The Sanctuary Garden: Creating a Place of Refuge in Your Yard or Garden by Christopher Forrest McDowell and Tricia Clark-McDowell (Simon & Schuster, NY. 1998)
Spiritual Gardening: Creating Sacred Space Outdoors by Peg Streep (Inner Ocean Publishing, Makawao, HI. 1999)
The Magic Land: Designing Your Own Enchanted Garden by Julie Moir Messervy (MacMillan, NY. 1998)
Garden Retreats: Creating an Outdoor Sanctuary by Barbara Blossom Ashmun (Chronicle Books, San Francisco, 2000)