EarthTalk: Environmentally Friendly Hand Drying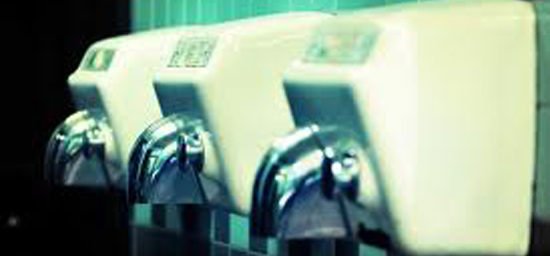 Dear EarthTalk: In a public restroom, which is the more environmentally sound and healthy option for drying your hands: a paper towel or an electric hand dryer? — Dee Janis, Binghamton, NY
Most experts would agree that wall-mounted electric hand dryers are preferable to paper towels from an environmental standpoint. Though they do use energy, they shut off automatically and therefore don't waste energy, and they eliminate the need for paper while also keeping paper out of the waste stream.
But the answer may depend upon whom you ask. World Dryer Corporation, which supplies wall mounted dryers, prepared a study for the Topeka, Kansas public school system, which concluded that switching from paper towels to 102 of its wall-mounted dryers system-wide would save annually 587 trees, 690,000 gallons of water, 34.5 tons of solid waste, 103.5 cubic yards of landfill space, and almost $90,000 per year (including electricity costs), with less than a six-month initial payback period for the cost of installation.
Others are not so quick to give the nod to dryers, and cite sanitation as the reason. The Handwashing For Life Institute (HFL), an association of food service suppliers that includes paper makers, argues that hand dryers have "no place" in restaurant or cafeteria washrooms or in other situations where food is being handled. "Most users walk away with wet hands and wet hands transfer bacteria 500 times more readily than dry hands," says the group's website. HFL advocates paper towels over dryers because they "remove bacteria from hands and reduce general bacterial counts by an average of 58 percent."
Many hand washers would agree that wall dryers do not work as effectively as paper. After all, who hasn't given their hands a final swipe across a pant leg after using a hand dryer for a few minutes? California State University facilities manager Gary Homesley was one of those, but in assessing whether or not to replace paper towels with electric dryers at a campus student union, he was shocked to learn of the significant amount of resources used to make paper as well as the large amount of pollutants that paper-making was responsible for discharging into the atmosphere.
Ultimately Homesley chose the Xlerator hand dryer. The manufacturer, Excel Dryers, claims that it will dry hands in 10-15 seconds, and that it addresses the effectiveness issue with a high-velocity air stream that actually blows most of the water off the hands, leaving the thin remaining film of water to evaporate more quickly. The product is the first electric hand dryer to be awarded the Environmental Building News GreenSpec designation for conserving energy and reducing waste, and is also the first to qualify for the U.S. Green Building Council's Leadership in Energy and Environmental Design (LEED) program.
Despite the prevalence of recycled papers and the increased efficiency of electric hand dryers, it may still be disheartening to know that no matter what you are offered at the conclusion of your public restroom visit you are having some environmental impact. For those losing sleep over that, there is always the truly green fallback of carrying your own reusable washcloth.
CONTACTS: World Dryer Corporation, http://www.worlddryer.com/environment.html; Handwashing For Life Institute, http://www.handwashingforlife.com/US/english/Integrated_solutions/paper_towel.asp; Excel Dryer, http://www.exceldryer.com; GreenSpec Directory, http://www.buildinggreen.com/ecommerce/gs.cfm.
Got an environmental question? Send it to EarthTalk, c/o E/The Environmental Magazine, P.O. Box 5098, Westport, CT 06881 or email to earthtalk@emagazine.com. Read past EarthTalk columns at http://www.emagazine.com/earthtalk/archives.php.