EarthTalk: Prison Gardens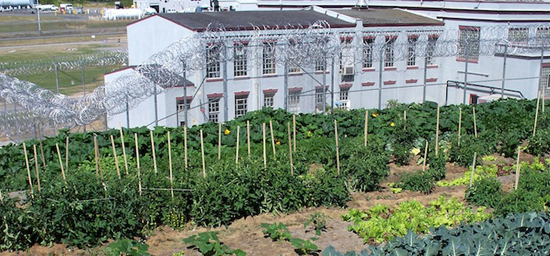 Dear EarthTalk: We've all heard about the abysmal food served in prison, as well as the economical, nutritional and even therapeutic value of growing one's own food. Are there any agricultural programs or garden projects in U.S. prisons? – Jerry Mullins, Tennessee Colony, TX
While there is no nationwide program administering prison agriculture programs, various individual prisons across the country are embracing the notion of getting inmates involved in on – site food production and agricultural research. According to Howard Clinebill, a Ph.D. who has written extensively about environmental psychology, prison gardens offer people looking to turn their lives around a place to reconnect with their natural rhythms, get healthy exercise in the fresh air, work cooperatively with others and care for Earth in a healing manner.
Perhaps the best known prison garden project in the U.S. is at the San Francisco County Jail in San Bruno, California, where inmates have been working steadily since the mid – 1980s to clear away weeds and rubble from some eight acres "inside the fence" and replace them with fresh – grown vegetables – some of which make their way into prison meals, while others are donated to needy food banks, housing projects and senior centers. According to program coordinator Catherine Sneed, who pioneered the project, participating inmates learn not only practical skills but also report that they are better able to communicate with one another and resolve disputes amicably.
"Each person cares for particular plants and learns, by watching them grow, the true nature of this life: growth, renewal and perseverance," Sneed reports. "Somewhere during the time spent quietly working the earth, something happens and something changes. Witnessing the cycle of growth and renewal allows the prisoners to see their own potential for growth and change." She adds that program graduates have a much lower rate of re – offense once they have served their sentences and return to life on the outside.
Further north, at Washington State's McNeil Island Corrections Center, a team of students from nearby Evergreen State College has been working with inmates there for the last couple of years to turn a one acre patch of grass into a field of organic tomatoes, peppers, pumpkins and other veggies used by the prison kitchen for meals. A small on – site composting unit keeps the soil healthy. Inmates manage McNeil Island's garden as part of their work detail on the prison's horticultural crew, and plan to expand into additional grassy acreage during the coming year.
Meanwhile, in Canada's British Columbia province, a pilot project at Matsqui, a federal women's prison near Vancouver, has been successful in teaching an ethic of stewardship, respect for natural processes, and a sense of accomplishment. Inmates worked with landscape architects to develop of master plan and then implemented their designs with native ornamental and food plants.
"The garden is a learning environment that allows people to slow down, listen, look, and learn on many levels," reports University of British Columbia landscape architect Tracy Penner, who helped launch and continues to work with the Matsqui program. "When released, these gardeners are more successful at integrating into society, with an ability to grow and adopt healthier, more constructive lifestyles."
CONTACTS: San Francisco County Jail, www.sfsheriff.com/jails.htm; McNeil Island Corrections Center, http://www.doc.wa.gov/facilities/prison/micc/