Ever Widening Circles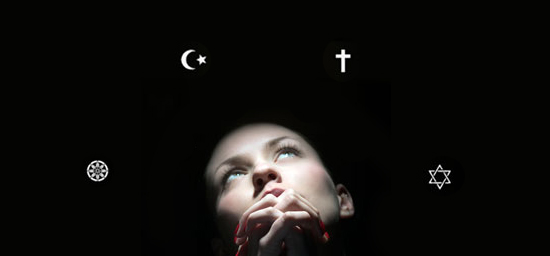 This past June, I participated in one of the most momentous occasions of my life, almost but not quite rivaling the birth of my son. I was ceremoniously graduated from One Spirit Interfaith Seminary in New York City and was ordained as an Interfaith Minister.
This sacred passage has sewn together all the seemingly disparate pieces of my life into an organic whole, and has brought new meaning to every desire, struggle and quest I have ever had.
My grandparents were Orthodox Jews and so God, prayer and ritual were always part of my life growing up. However, my relationship with God was fraught with a sense of betrayal. As a poor and fatherless child, I could not understand why some had what they needed and I did not. In college, I said I was an atheist, but was drawn to Hinduism through Yoga and Transcendental Meditation. Thus began my spiritual journey, which led me to ever widening circles of the globe and more importantly to larger understandings of God's nature and of the many ways of connecting to spirit. As Rumi, the Sufi poet says, "There are hundreds of ways to kneel and kiss the ground."
At a young age, I found I had an insatiable thirst for learning about other cultures and their beliefs. I have traveled to the Yucatan in Mexico and explored the Mayan pyramids and to Machu Picchu, the ancient Incan city in Peru and to Kenya and Tanzania to learn about the traditions of the Masai and other tribes. I have studied shamanism, Native American traditions, tai chi, Buddhism, Sufism, the Goddess, Sikhism, the Course in Miracles, the Tao and finally the mystical Kabbalah which brought me full circle back to Judaism.
As I grew into a more mature relationship with God, I could now sense God's support and compassion and did not expect God to be an instant prayer answerer. God had become less the personal capricious patriarch of my youth and more an existing and mysterious force of compassion. And when my mother died after prolonged suffering, I saw that my faith had become deep and strong and that the God I prayed to was indeed merciful and loving.
So, two years ago, when I first heard of the existence of an Interfaith seminary, I felt that I had been called to this work where I could represent and encompass the ALL, The One. After all, Islam alone has ninety-nine names of God. I did not want to ever put God into a box. So, I did not waiver for a second, but took a leap of faith onto the path of ministry.
We are all aware of the pain and divisiveness that grips our world today and we feel powerless to do anything about it, even within our own country. There is an urgency I think we all feel to do something before it's too late, to heal the needless suffering and to bring peace to the world's aching heart. There is also so much wisdom, beauty and love in this world. The question is how do we tap into and increase that love? Gandhi said, "We must be the change in the world that we want to see in the world."
I live my life in widening circles
That reach out across the world.
I may not complete the last one,
But I give myself to it.
I circle around God, that primordial tower.
I have been circling for thousands of years,
And I still don't know: am I a falcon,
A storm, or a great song?
— Rainer Maria Rilke
Reverend Malaena Nahmias is an Interfaith minister, spiritual counselor and Kabbalistic healer.