Fall 2007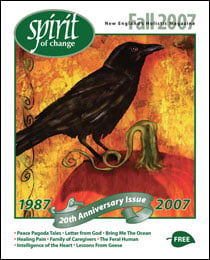 Spirit of Change Magazine
Fall 2007 Issue 20th Anniversary
SUBSCRIBE NOW
Subscribe FREE for our Latest Issue and weekly Astrology reading!
Table of Contents
Musings: Thank You For 20 Fabulous Years
Legends of the Lake (Fall 1988)
Forgiveness as Healing (Winter 1990)
The Intelligence of the Heart (Winter 1992)
Taking the Dream Career Plunge II: Make your job and love it! (Jul/Aug 1996)
Close Encounter Zen Lab (Jan/Feb 1996)
Bring me the Ocean (May/Jun 1996)
An Impatient Letter To All Of Us From God (Mar/Apr 1998)
A Natural Movement: You and Your Bowels (May/Jun 1998)
Happy 20th Anniversary Spirit of Change!
Life on the Emotional Streets: The Feral Human (Nov/Dec 1998)
It Takes a Family of Caregivers…. Tony's Story (Mar/Apr 1999)
Lessons From Geese (Mar/Apr 1999)
LeRoy White: Ambassador of Joy (Sept/Oct 1999)
The Pull Towards Pills (May/Jun 1999)
Whole Foods Healthy Cooking: Barley and Sweet Vegetable Soup (Mar/Apr 2001)
Musings: Passing of Elder Frank DeContie (Sept/Oct 2001)
Peace Pagoda Tales (Jul/Aug 2001)
Flower Child Forever (Nov/Dec 2002)
Karen Krieger Memorial Service Eulogy (Jan/Feb 2003)
Whole Foods Healthy Cooking: Soup (Jul/Aug 2003)
Heart to Heart Resuscitation (Sept/Oct 2003)
Healing Wombs: Arvigo Maya Abdominal Massage (Sept/Oct 2003)
Dr. Curtis, the Rabbit Therapist (Nov/Dec 2003)
Cultural Crossroads: Gay Marriage? It All Began With Jefferson (May/Jun 2004)
A Poem That Gives You Goosebumps (Winter 2005)
God Working Through Dog (Winter 2005)
Honor Among Dogs (Winter 2005)