Fall 2009 Music Reviews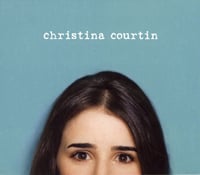 Christina Courtin
Christina Courtin
Nonesuch 254652-2
This striking, eponymously titled album from singer/songwriter Christina Courtin introduces an enigmatic, deep-thinking artist who first disarms you, then ropes you in. Courtin's seductive, little girl voice comes off as almost naïve in the opening track, "Green Jay," but turns surprisingly dark and pleading in "Laconia." Another of the ten tracks, "Rainy," features an extraordinary, heart-tugging intro played by Brooklyn Rider, a string quartet known for performing with Yo-Yo Ma's Silk Road Ensemble. Courtin's connection with Ma extends back to 2004, when the Juilliard-trained violinist first worked with Ma and his Silk Road Ensemble at a Carnegie Hall professional training workshop. After Ma learned that Courtin's distinctly non-classical singing had earned her a loyal following at Juilliard, he invited her to sing in one of the ensemble's concerts in Carnegie's Zankel Hall. Singing in a workshop with multi-faceted soprano Dawn Upshaw led to performing with her, violin performances with composer Osvoldo Golijov, and an introduction to the Nonesuch label. On this CD, it's the voice, and Courtin's deceptively simple, amazingly deep songwriting that command attention. Courtin arranged most of the strings; the fabulous supporting musicians, including pianist Rob Burger of the Tin Hat Trio, did the rest. You will not forget this album.
Tsabropoulos, Lechner, & Gandhi
Melos
ECM 2048
Where does the mystical music of Georges Ivanovitch Gurdjieff end and that of pianist/composer Vassilis Tsabropoulos and his collaborators — cellist Anja Lechner and drummer U.T. Gandhi — begin? It's hard to tell on this mesmerizing CD that intersperses improvisations on three of Gurdjieff's works with original compositions by Tsabropoulous.
Perhaps I get ahead of myself. Greek philosopher/seeker/spiritual teacher G.I. Gurdjieff (1866?-1949), author of several oft-confounding metaphysical classics on self-transformation, taught his disciples "sacred gymnastics" — movements designed to alter or heighten attention. As the students practiced at Gurdjieff's Institute for the Harmonious Development of Man, their teacher would spontaneously tap out rhythms. After humming or whistling an accompanying melody, some based on sacred music he had heard on his journeys to various spiritual centers, he would turn to his amanuensis, the Russian pianist/composer Thomas de Hartmann, who would attempt to transcribe them in Western notation.
In the 1950's, Hartmann recorded and published a number of the Gurdjieff/Hartmann collaborations written between 1925 and 1927. These classic LPs in turn inspired a host of young artists, not the least of whom was Keith Jarrett. Now, as a follow-up to Tsabropoulos and Lechner's first ECM disc of improvisations on the Gurdjieff/Hartmann collaborations, Tsabropoulos has gone a step farther, writing works in the spirit of Gurdjieff. This beautifully recorded music possesses a marvelous multi-dimensionality that invokes higher planes.
Sergei Rachmaninoff
Rachmaninoff Plays Rachmaninoff: Zenph Re-Performance
Sony Masterworks 88697-48971-2
Composer and master pianist Sergei Rachmaninoff waxing romantic from beyond the grave? As melodramatic as that may sound, Zenph Studios' computer re-creation of 13 of Sergei Rachmaninoff's short recordings makes it sound as though they were recorded yesterday. All dynamics, pedalings, and subtle shadings have been preserved, reproduced on a 1909 nine-foot Steinway D grand piano of the kind and vintage Rachmaninoff likely played.
Originally set down between 1921 and 1942, Rachmaninoff's performances of his own works and transcriptions find the genius in top form. He whirls through his transcription of Rimsky-Korsakov's Flight of the Bumblebee with a remarkably light, even touch; enlivens his arrangement of Mendelssohn's Scherzo from A Midsummer Night's Dream with elfin, whirling whimsy; and plays his own well-known Prelude in C-sharp minor, Op. 3, No. 2 to memorable effect without the heavy touch and excessive use of pedal and rubato employed by some pianists.
In an unabashed pitch to audiophiles, Sony has chosen to feature each re-performance twice: once in stereo, again in binaural stereo for the "ultimate headphone experience." Headphone aficionados will go into heat; others will lament that there are not 26 different pieces on the CD. But what we do have is marvelous.
The Aureole Trio
The Beautiful Beatles
E1 Entertainment/Koch KIC-CD-7755
Just back from Cuba, where I participated in the 40th Anniversary Venceremos Brigade, I can't get the Beatles out of my mind. I can't explain that country's fascination with the Fab Four, but 40 years after Spanish renditions of Beatles songs were blasted between sugarcane cutting excursions on the first Venceremos Brigade, Cuba remains under the Beatles' spell. You may fall under it (again) as well, when you hear these lovely, arrangements of Beatles tunes for the flute, viola and harp of the Aureole Trio. The intros to the 15 songs are quite inventive, the music approached with uncommon gentleness. No, you won't hear the Beatles' most rocking tunes. But in these women's hands, "Here Comes the Sun," "Norwegian Wood," "A Day in the Life" (with Gil Goldstein on accordion), "Let It Be" (with its intro from Pachelbel's Canon), "Yesterday," and ten other melodies captivate anew. Categories of old/new, classical/pop, and all the rest fall away, as the trio named for "a halo, a light or luminous area surrounding a celestial body" takes you on a voyage of airy enchantment.
Jan Schmidt-Garre and Marieke Schroeder
Aida's Brothers & Sisters:
Black Voices In Opera And Concert
Arthaus Musik DVD NTSC 101 367
Released in 2000, this just-transferred to DVD features performances by and interviews with many of the pivotal black classical singers of preceding decades. They have quite a story to tell. From footage of the great contralto Marian Anderson, whom First Lady Eleanor Roosevelt invited to perform at the Lincoln Memorial in 1939 after the Daughters of the American Revolution (DAR) barred her from singing in Constitution Hall, to soprano Leontyne Price, who followed Anderson to the stage of the Metropolitan Opera and, two decades later, sang like a queen before the DAR, artists and historians of major stature discuss all the glories, paradoxes, indignities, contradictions and triumphs black artists continue to face in the classical arena.
The singing is glorious; Jessye Norman's excerpt from Richard Strauss' opera Ariadne auf Naxos alone is worth the price of admission, and Ms. Price and Paul Robeson are incomparable, with the oft-provoking insights into racial stereotyping essential. ("If you are not bothered by [a white singer portraying an Ethiopian or Moor], then why would you be bothered by the fact that I'm an African-American singing the role of a French nobleman?" asks tenor George Shirley). Ten years after the great singer Shirley Verrett declared, "We're going backward," a weakening of laws fostering equal opportunity for all makes this DVD more relevant than ever.
Jason Victor Serinus is a holistic author, bodyworker, whistling virtuoso and music critic (www.jasonserinus.com) who resides in Oakland, CA. Please send music review copies to Jason at 2749 E. 17th St., Oakland, CA 94601 or email jserinus@planeteria.ne.